DIY Valentines Decorations for your Home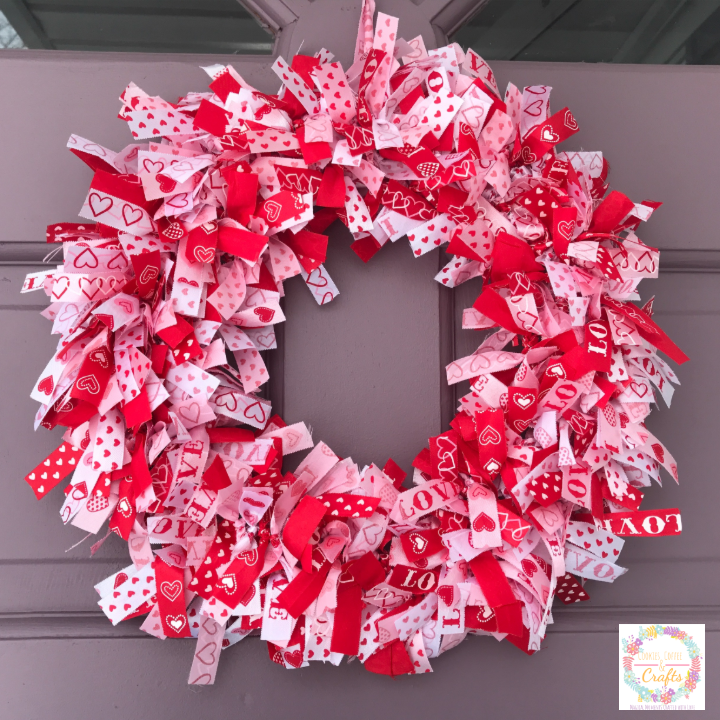 Note: As an Amazon Associate, I earn from qualifying purchases. If you click on a link from Amazon or another of my advertising affliates, I will earn a small commission at no additional cost to you. Please see my full disclosure policy here.
Valentine's Day is right around the corner and I wanted to share these fun, cute, and budget friendly decorations I have made. All of these are easy DIY Valentines Decorations you can make for your home in a short amount of time and less money than buying decorations.
Almost all of these crafts are mostly made with supplies from the Dollar Tree. I have tons of scrapbook paper (I love scrapbook paper) so I always try to use what I have. I love putting out my Valentine's decorations now because they all match.
Let's Create 4 DIY Valentines Decorations for your Home
LOVE Picture Frame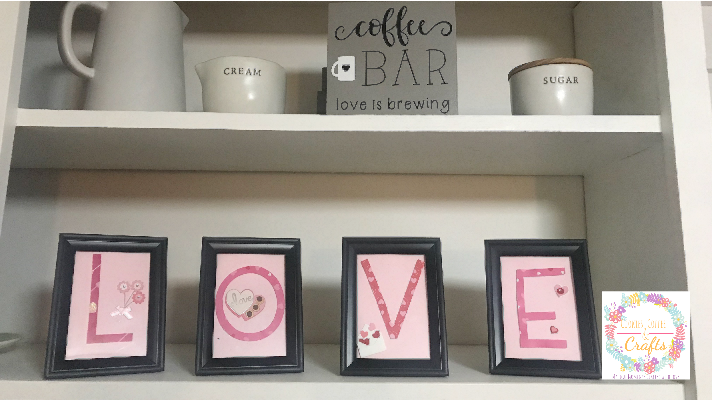 Materials for Love Picture Frame
4 3.5 x 5 Black Picture Frames
Valentines Scrapbook Paper
Pink Cardstock
Valentines Stickers
To make this I cut 4 3×5 rectangles in the pink card stock, then I cut the letters for LOVE in valentines paper. I added on valentines stickers as accents and the project was complete. One of the best things about this decoration is you can make it your own with any color paper you would like to use, I'm a pink girl so I always decorate with pink for Valentine's. I cut my letters and the paper on my Cricut Explore, but this could easily be done by tracing and cutting letters.
DIY Heart Tree Valentines Decoration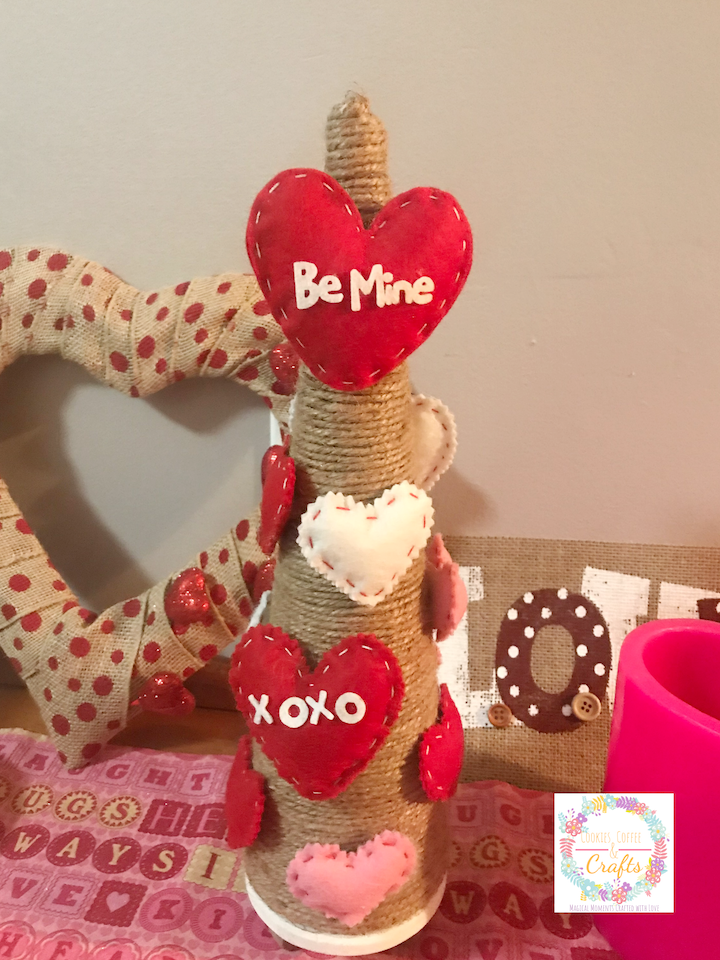 Materials for DIY Heart Tree Decoration
Twine Tree (I found it in the Target Dollar Section)
Felt Hearts
Hot glue gun/glue sticks
To make this I taped the hearts to the tree to get an idea of where they looked good and then I hot glued them onto the tree once I liked the way it looked. That's it! Super easy, cute decoration. I did find this twine tree at the Target Dollar Section, but it can easily be made with a foam cone shape and twine. I bought the felt hearts at the craft store, but I can't remember which one (I love them all).
DIY Ribbon Garland from the Dollar Tree as a Valentines Decoration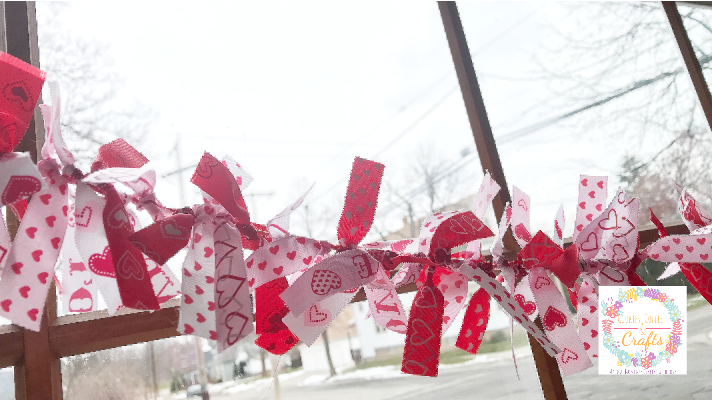 Materials for Valentines Day Garland
Valentines Ribbon (Dollar Tree)
Red Twine
To make this I cut a piece of red twine that would fit in our front window, so cut your red twine to the length of where you want the garland. Sorry the picture is dark, but we haven't had many sunny days here.
Cut the Valentines ribbon about 6 inches long. Then tie it onto the red twine. I did go back after tying all the ribbon and cut it so it looked even. I look at the valentines garland every year at the craft store and it's so expensive and now I have my own.
Dollar Tree Ribbon Wreath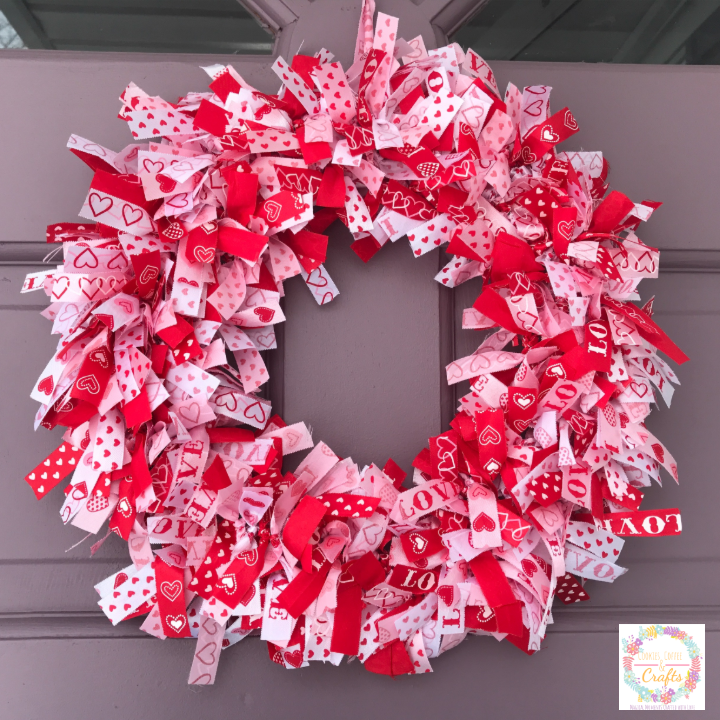 Materials for Valentine's Day RIbbon Wreath
14.25 in. Metal Wreath Form
Valentines Ribbon
To make this I cut all my ribbon 6 inches long so it was ready. Now I made this wreath super full and it has tons of ribbon. I went way over board, but I love it. I'm not sure I'll ever make another one this full because it took me a couple days, honestly my fingers got tired from tying the ribbon. I made this on the smallest wire wreath so remember the bigger the wreath frame, the more ribbon you will need.
An easier way to do this is to use an embroidery hoop and tie the ribbon around it. It comes out beautiful, but it's less tying and less ribbon. This is my St. Patrick's Day RIbbon Wreath made on an embroidery hoop wreath.
Roses are Red,
Violets are Blue,
I hope your inspired
to create these projects to!
Happy Valentine's Day!