Dollar Tree Spring Wreath (Pretty in Pink)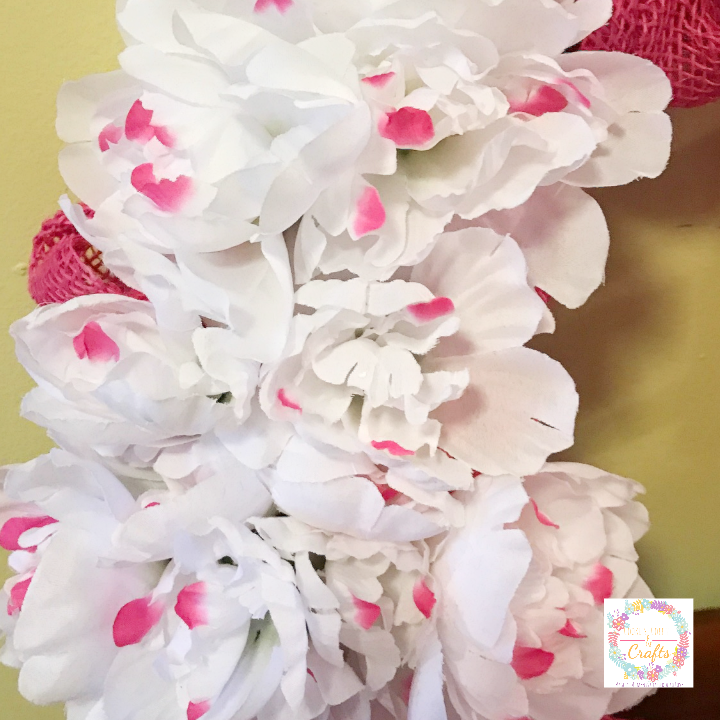 Note: As an Amazon Associate, I earn from qualifying purchases. If you click on a link from Amazon or another of my advertising affliates, I will earn a small commission at no additional cost to you. Please see my full disclosure policy here.
If you follow my blog, you know I love the Dollar Tree. I love crafting and keeping it on a budget. When I saw the pink burlap, I knew it would be perfect for a Dollar Tree Spring Wreath. Plus I love, love, love burlap. The Dollar Tree also had these beautiful white peonies with a hint of pink that matched the burlap perfectly.
Supplies for DIY Spring Flower Wreath
6 Rolls of Pink Burlap
Ribbon
White Peonies
Floral Wire
Let's Create an Easy Pink Dollar Tree Spring Wreath
This wreath is super easy to make and can be made in under 15 minutes. I love making wreaths with dollar store supplies and I have made quite a few. For Easter I made a Mini Easter Egg Wreath , for 4th of July a Patriotic Pinwheel Wreath, for Valentine's Day a Polka Dot Heart Burlap Wreath, and for fall a sunflower wreath. Remember how I said I love the Dollar Tree, I wasn't kidding. If you love the Dollar Tree too, did you know you can buy online and pick it up in the store? Pretty awesome right, everyone is about convenience these days.
I used the bubble method to make the wreath all the way around.
Each section of the wreath took one roll of burlap, so it was about 6 rolls of burlap. I had to go back to the store to get more, thank goodness the dollar tree is less then 5 minutes away.
I added the white peonies with a hint of pink to the wreath using floral wire.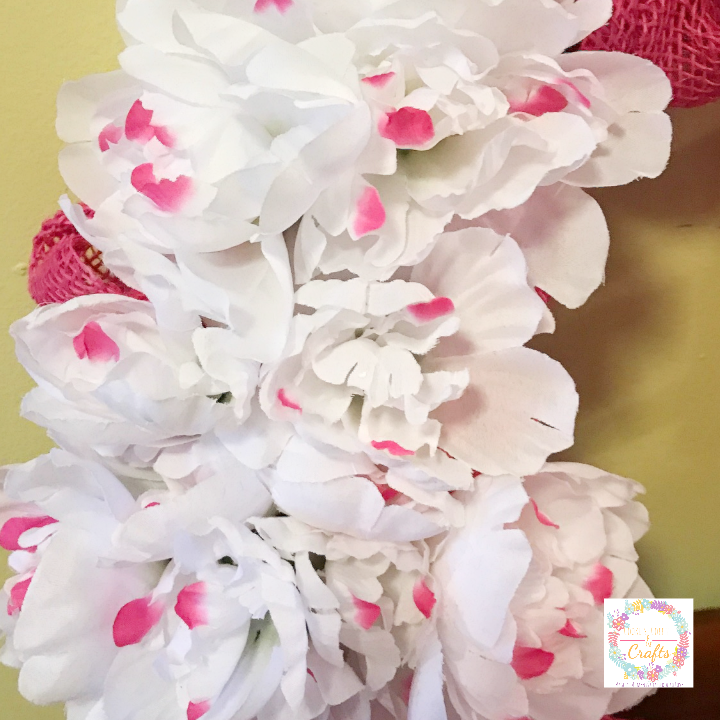 In my craft stash I had the pink plaid ribbon and I made an x with the ribbon using floral wire to attach it to the wreath.
I added a white ribbon (out of my stash) to hang it with.
This pretty in pink Dollar Tree Spring Wreath looks perfect for spring and the rebirth of the earth. Spring is so muddy and one of my least favorite seasons, but seeing the flowers sprout and begin to grow is exciting and reminds me of what's to come.