4 Fall Wood Slice Crafts for $5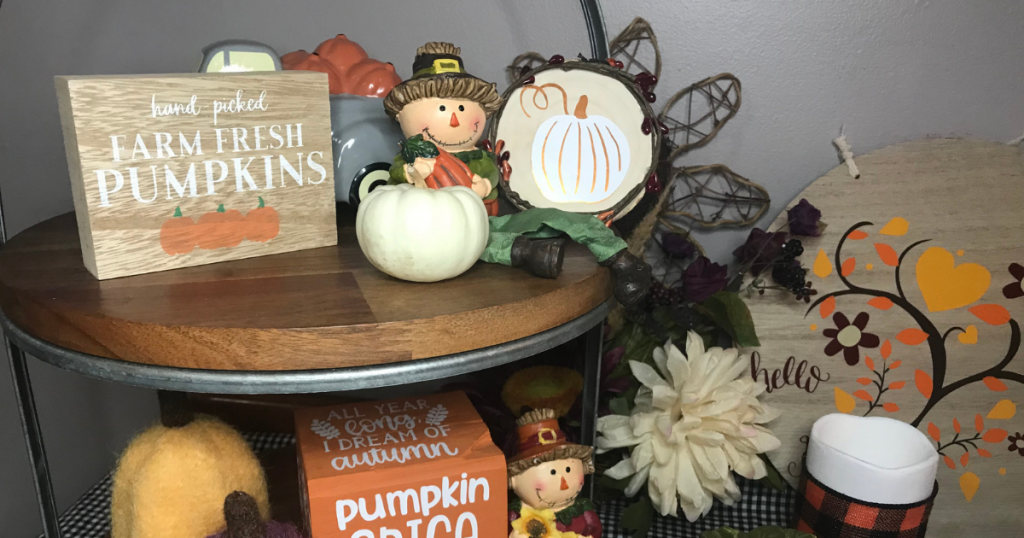 Note: As an Amazon Associate, I earn from qualifying purchases. If you click on a link from Amazon or another of my advertising affliates, I will earn a small commission at no additional cost to you. Please see my full disclosure policy here.
Do you ever just think I need a little something for here or there? Well I have the solution for you today. A really easy way to add that little something is by creating wood slice decorations for your home. The easy wood slice craft I'm sharing today can be for any holiday or season, just add seasonal berry garland and images or text to your wood slices. Here are my fall wood slice crafts that you can use from now until Thanksgiving and I'm thinking I need some Halloween ones now too.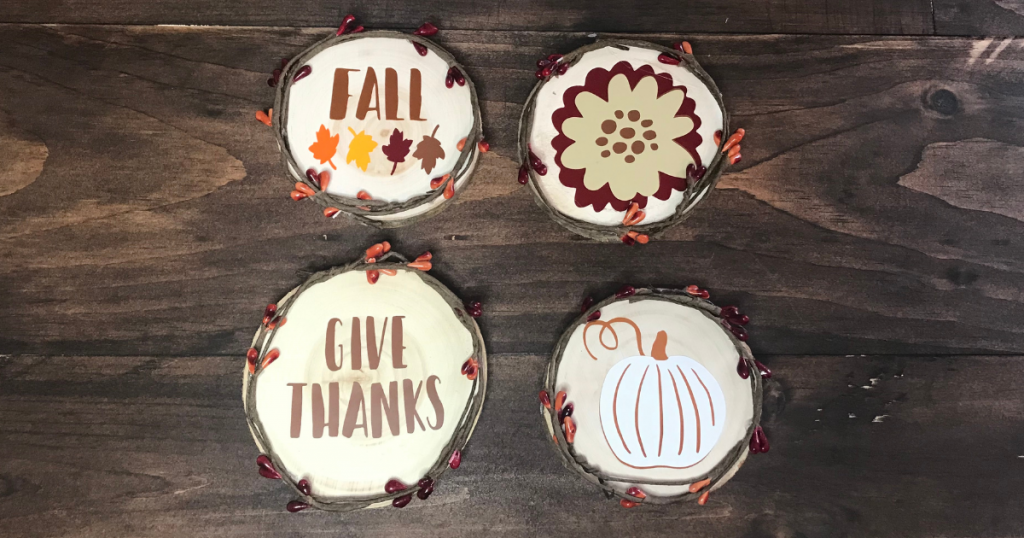 This wood slice craft can be used for many different things besides as a sign in your home decor. I'll be using mine to fill in a few spots in my fall decor.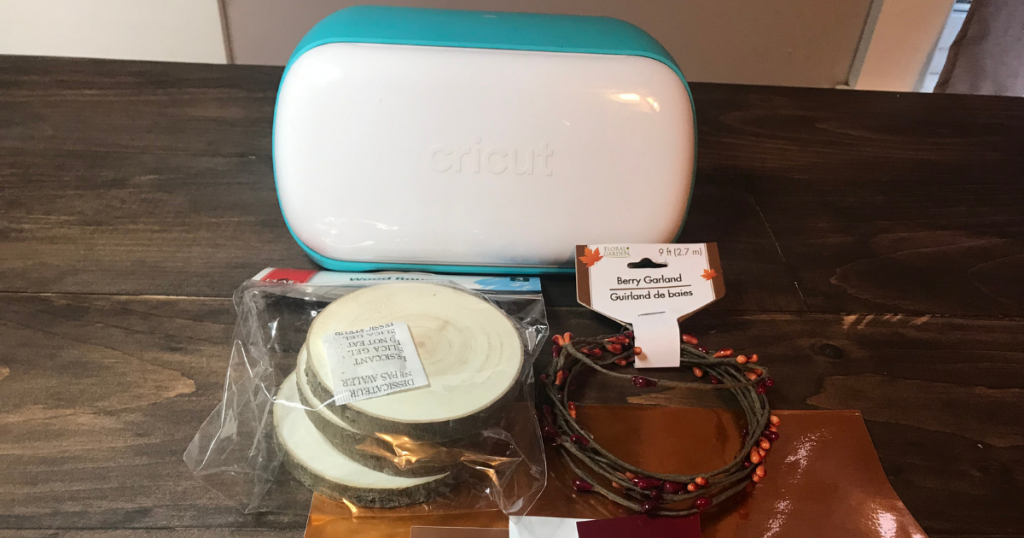 Materials for Fall Wood Slice Crafts
Berry Garland
Small Wood Rounds by Plaid Crafts
Hot Glue Gun/Sticks
Cricut Joy
Weeding Tool (Buy on Cricut or Buy on Amazon)
Vinyl (Scrap Pieces Work Great)
Transfer Tape
Scissors
For this craft I'm leaving the wood slices natural wood because it's perfect for the fall and it gives it that rustic charm. If you choose to paint the wood slices, just give the paint time to completely dry before adding the vinyl because the transfer tape could pull up the paint.
The creative ways to decorate these are endless, but I chose to use all the images and text from the Close To My Heart Pumpkin Spice Digital Art Collection Aren't these images adorable? They are can be used with any cutting machine that uses SVG. I'm so excited to share them with you.


Let's Create DIY Fall Wood Slice Crafts
The natural wood slices are about 3.5 inches wide so I made my designs about 3 inches to leave space for the berry garland to be glued around. I did make the flower a little larger because I thought it would look so pretty with the berries.
Creating the Wood Slice Decorations in Cricut Design Space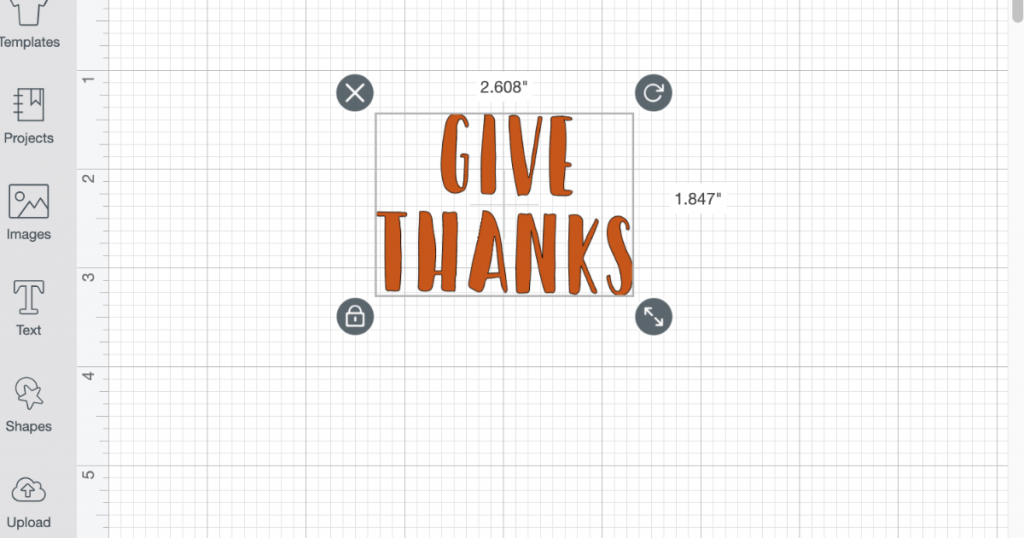 In Cricut Design Space™, I chose the images that I wanted to use for this and sized them for the rounds. If you just bought the Pumpkin Spice Digital Collection, you will have to upload the images to Design Space. Here is how to upload images.
I did have to ungroup and delete parts of some of the svg because I didn't want to use the whole image on the wood slice projects. It just would have been too much.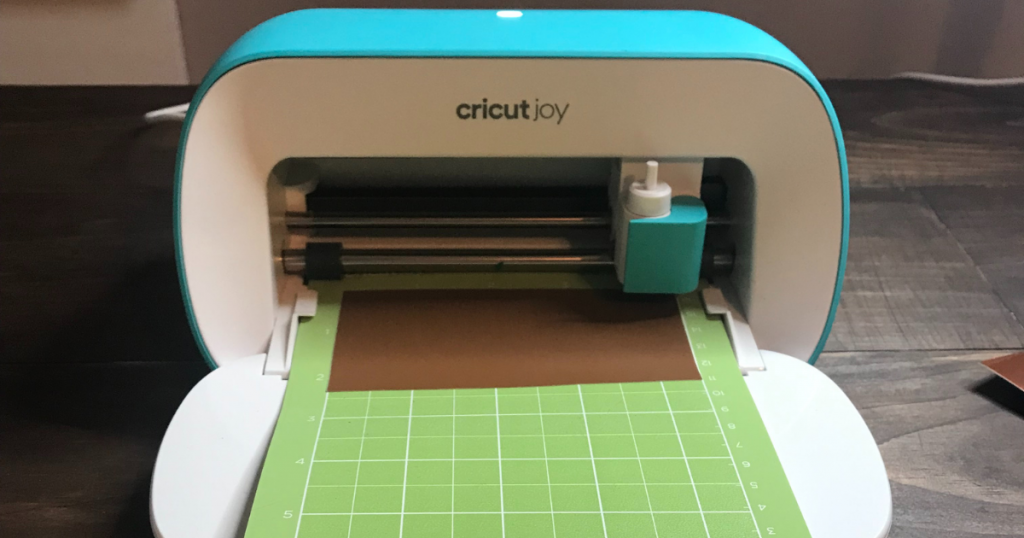 Once you finish creating and sizing the design, cut the images using the Cricut Joy or any cutting machine. The Cricut Joy is just the right size for these types of projects. This easy wood slice craft idea is also great for using up those vinyl scraps.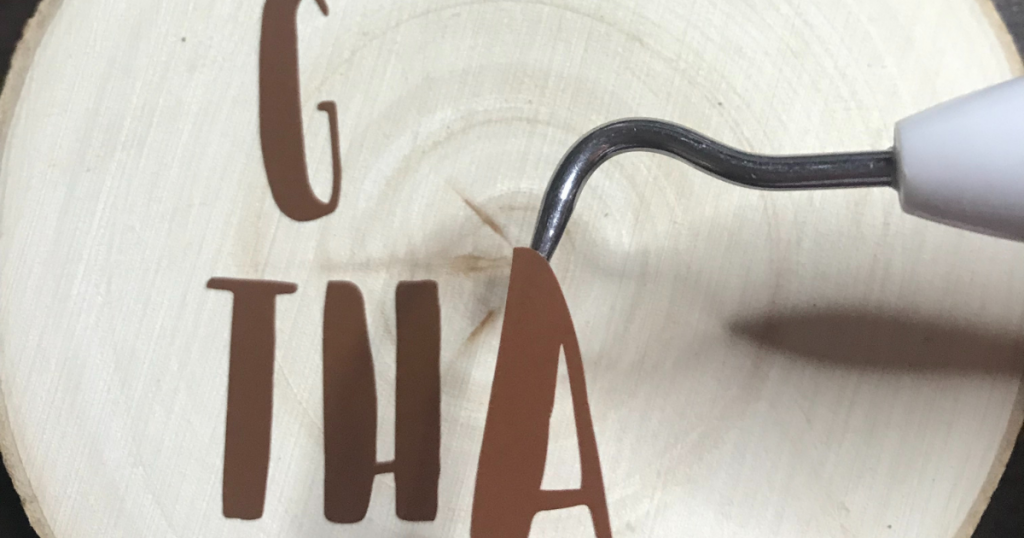 When the images are cut, weed them and add it to the wood slices. Some I just added like stickers and some I used transfer tape. Everyone crafts differently so do it how you like to add vinyl.
Adding the Berry Garland
Now it's time to add the berry garland. I found this berry garland at the Dollar Tree and I wish I had bought more. The one berry garland will do all 4 wood slices if you wrap it around twice on each wood slice decoration.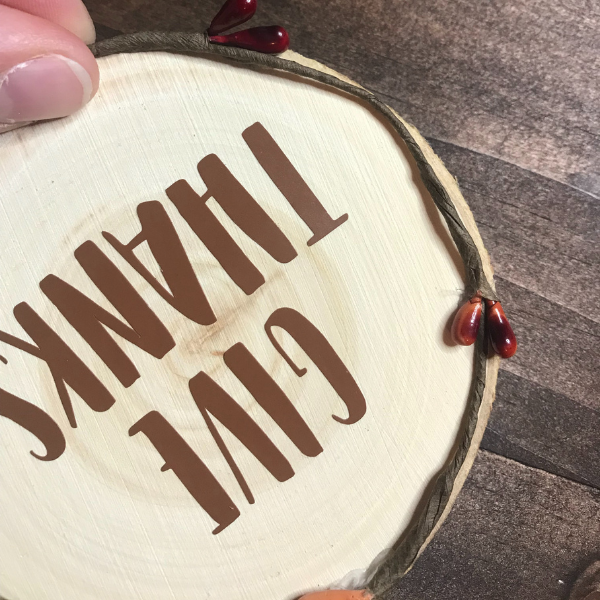 The key to this fall wood slice craft idea is to use a tiny amount of hot glue. Just add a small dab behind the berries and glue it to the wood slice. Wrap it around and you can glue every other berry to the wood slice. The garland has wire in it and it's really easy to move around the circle shape.
My cat had fun with it hanging off of my craft table.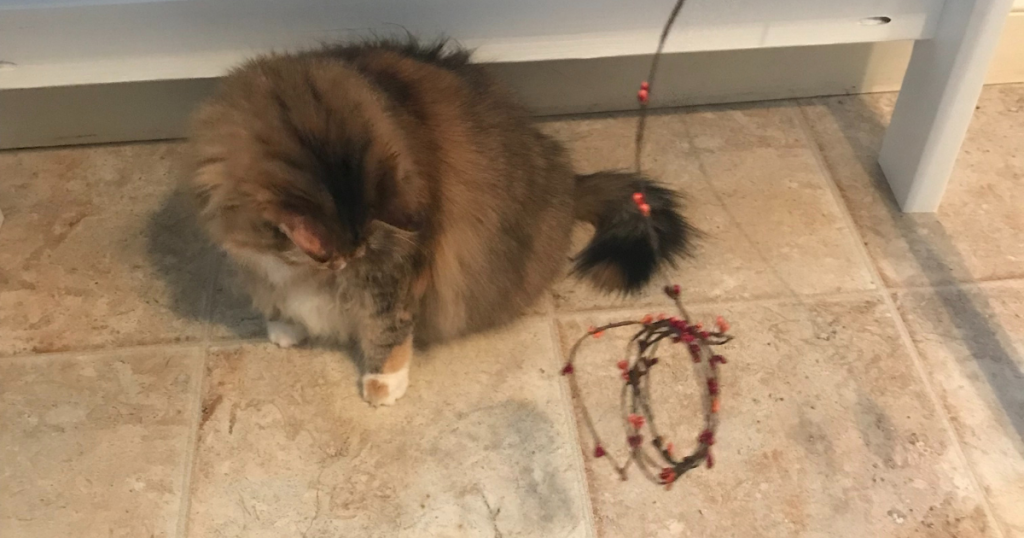 After wrapping and glueing the berry garland twice around, cut the garland with scissors and wrap the end under the garland.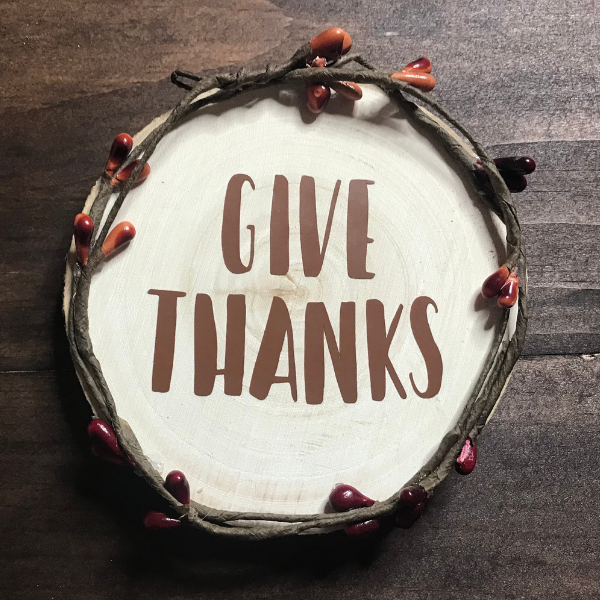 Your DIY wood slice decorations are ready to decorate your home or table. Just follow the steps to create the other wood slice projects. These fall wood slice crafts are just the right size for a few additions to my fall decor.
Thanksgiving Decoration with a Wood Slice
Here is the Thanksgiving wood slice decoration by my wooden pumpkin blocks that I made with scrap 2x6s.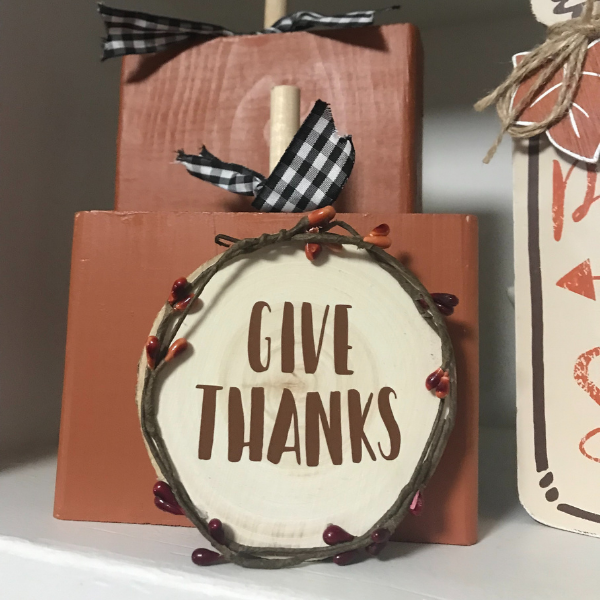 Fall Wood Slice Craft
The Fall Wood Slice decoration looks great by my home sign because it doesn't have a fall themed decoration so I turned the jack o'lantern around and added this fall wood slice project in front.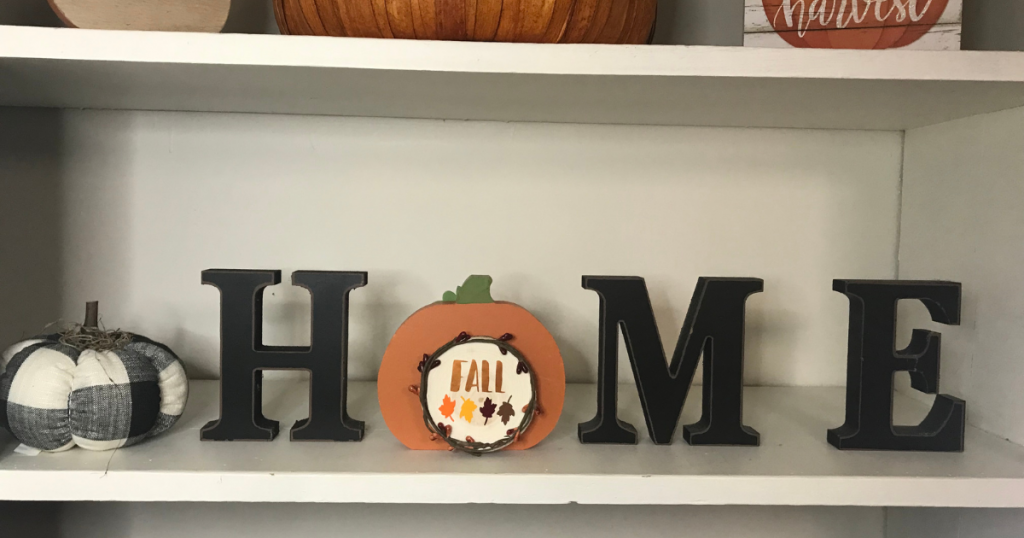 Flower Wood Slice Craft
It's the perfect touch by my basket on my open shelves.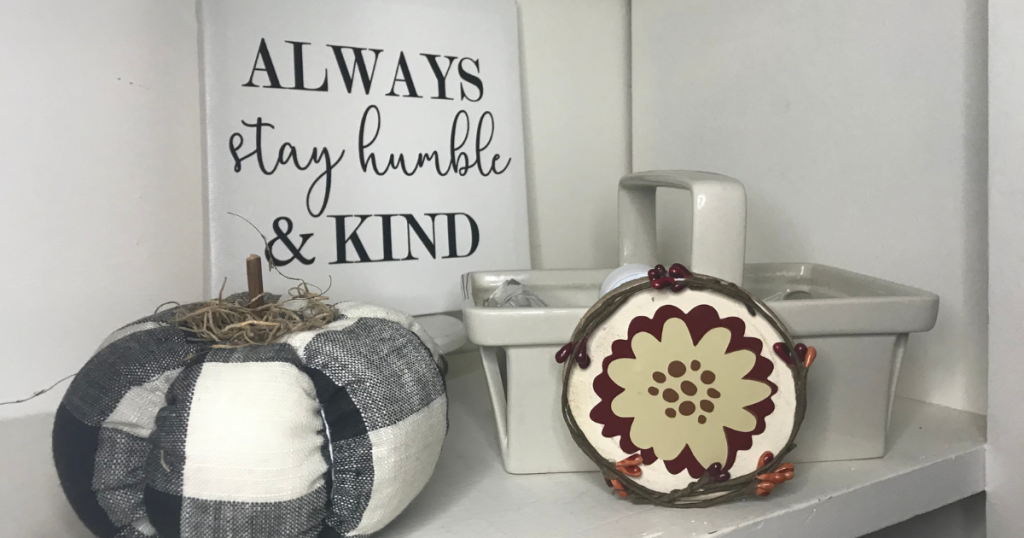 Pumpkin Wood Slice Project
This one is perfect on my tired tray by my pumpkin decorations.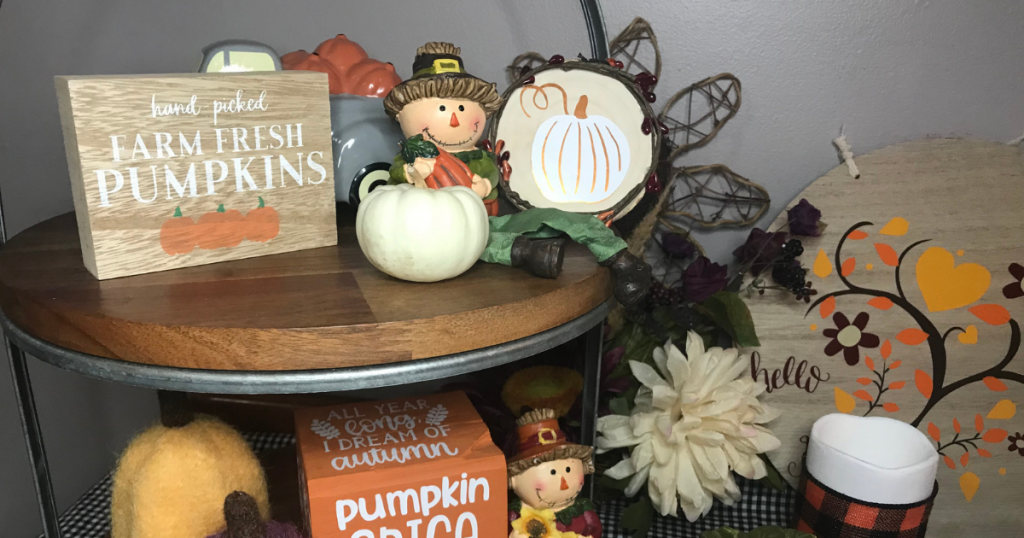 Ideas of How to Use DIY Wood Slice Decor
-place card on a table
-signs for home decor
-part of a centerpiece
-coasters
-table decor
-wreath
Creating easy small crafts that make my home feel warm and cozy is what I love to do. These fall wood slices cost about $5 to make and are so cute! You can't beat that price and you can DIY them exactly how you want to match your home decor.