4 Ideas for DIY Valentine Wood Houses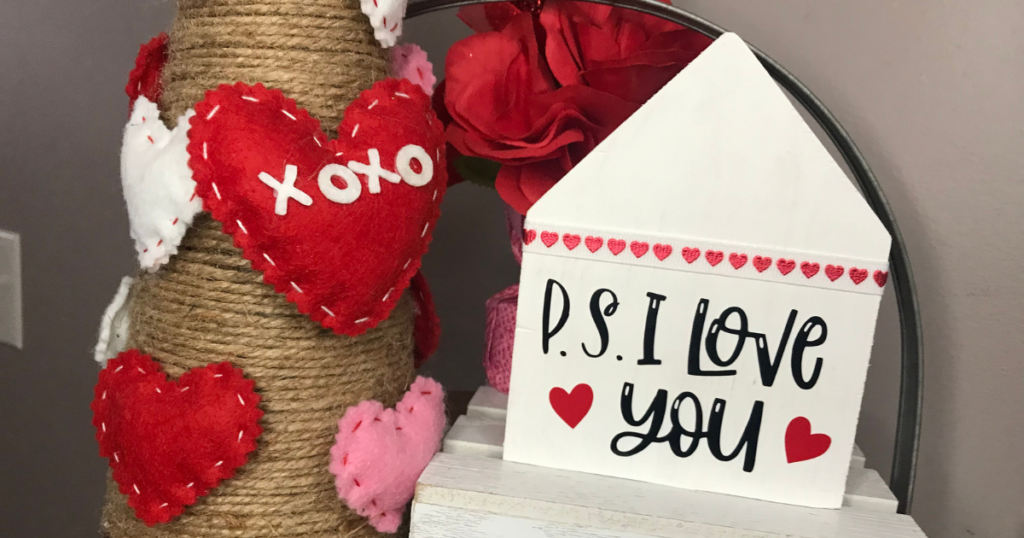 Note: As an Amazon Associate, I earn from qualifying purchases. If you click on a link from Amazon or another of my advertising affliates, I will earn a small commission at no additional cost to you. Please see my full disclosure policy here.
How come the smaller the item, the cuter it is? Like puppies, kittens and mini wood houses. Mini wooden houses have become one of the hottest trends in decor last year and it seems to be going strong again this year. The wood houses are the perfect pops of cuteness and color for tiered trays and shelves because they stand by themselves. DIY Valentine Wood houses is super easy, affordable and can be made in minutes.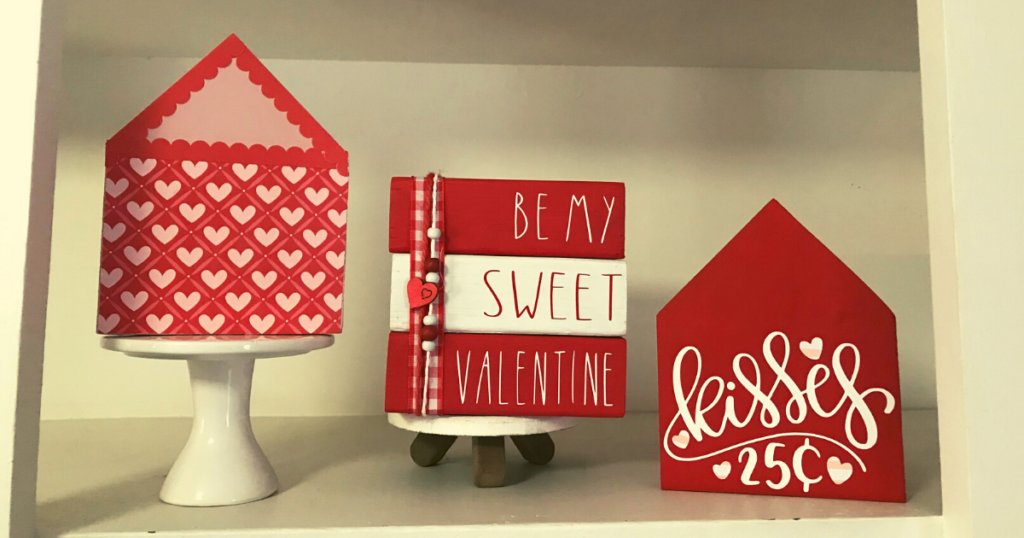 My Valentine mini wood houses were cut out of a scrap 1×5 that was just hanging out in our scrap wood pile. I printed a template off of google and my husband uses his miter saw to cut them. Then they just need a little sanding on the edges. If you aren't able to make them yourself, I've seem that at the Dollar Tree and on Amazon. I totally want that little wood house on Amazon because the roof is so cute. Also for Dollar Tree you can do Free Shipping to your Local Store, how easy is that and they even have lower quantities for some of the items.
Let's Create DIY Valentine Wood Houses
I've made 4 different style houses that you can make too. Two do use a Cricut, but I will give other options that you can use as well. I'm putting the materials for each house separate because the list just looks overwhelming, but each house only uses a few materials. You can make your favorite or make all 4.
Ribbon Themed DIY Valentine Wood House
Materials: Variety of 5/8 Valentines themed ribbon, Apple Barrel White Paint, Paintbrush, Hot Glue Gun/Glue Sticks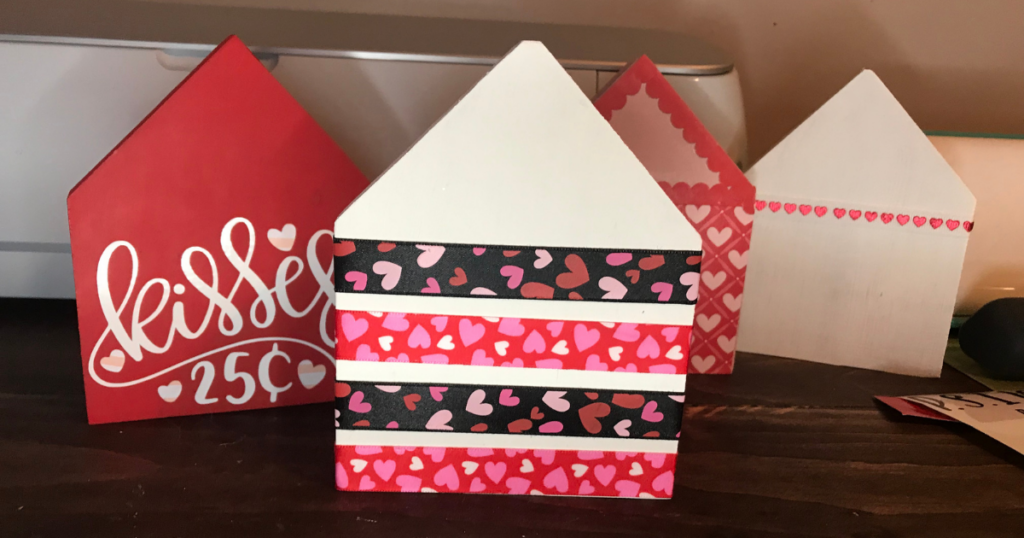 How cute is this with all this pretty heart ribbon? I love cute ribbon and buy it just to buy it (total crazy ribbon lady here).
So I took this all out of my ribbon cart and cut the ribbon to fit around the house.
Spread the ribbon as evenly as possible on the house and hot glue it. Then repeat this same step for all the ribbon that you chose to use on the mini house.
Scrapbook Paper DIY Valentine Wood House
Materials: Valentines Themed Scrapbook Paper, Rounded Border (sticker or paper will work), Satin Mod Podge, Mod Podge Brush & Smoothing Tool, Waverly Ballet Slipper Chalk Paint, Chalk Paintbrush
Did you know that you can seal chalk paint with mod podge? Yes you can and that's exactly what I did on this wood craft. It's super easy. Doesn't this cute Valentines day house look like a love gingerbread house?
Paint the wood house with the ballet slipper chalk paint and let it completely dry. Then use the satin mod podge to add the scrapbook paper to the bottom of the house. The mod podge brushes make applying it so easy and smoothly (every crafter should have these). After it's applied use the mod podge roller to roll over it and get a nice clean finish with no bubbles and a strong adhesive to the wood.
Next add the border to the roof. Let the mod podge dry for about 20 minutes from adhering the scrapbook paper and cover the entire house with the satin mod podge using the mod podge brush.
Satin mod podge is my favorite for this type of project because it makes the wood craft not shiny like glossy would and not plain like a matte finish would give. Satin is the perfect sheen for your wood crafts.
Cricut DIY Valentines Wood House
Materials: Apple Barrel Bright Red & White Paint, Paintbrush, Cricut Joy, Smart Vinyl for Cricut Joy, Smart Transfer Tape, Cricut Tool Set
I love crafting with my Cricut and love my halloween wood houses so I had to make some like that for Valentines Day too.
Paint one wood house with the bright red paint and the other with the white paint. Both will need two coats of paint.
Create the house designs in Cricut Design Space and cut the designs using the smart vinyl. I made my designs to fit the rectangle at the bottom of the houses.
Also if you add ribbon to your Cricut houses, hot glue it on first and size your design to fit under the ribbon. The PS I love you house is my favorite (don't tell the other houses).
Kisses Valentines Wood House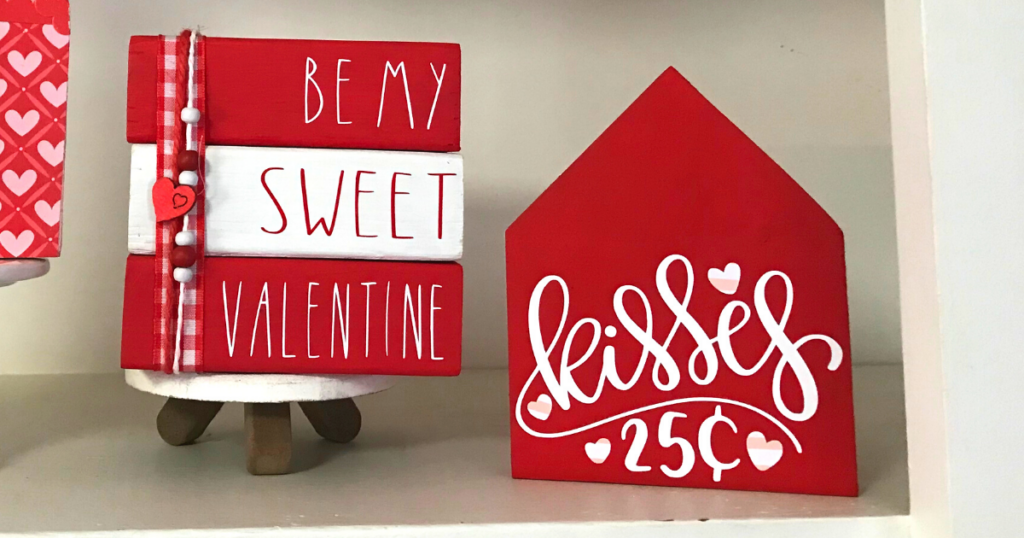 PS I Love You Wood House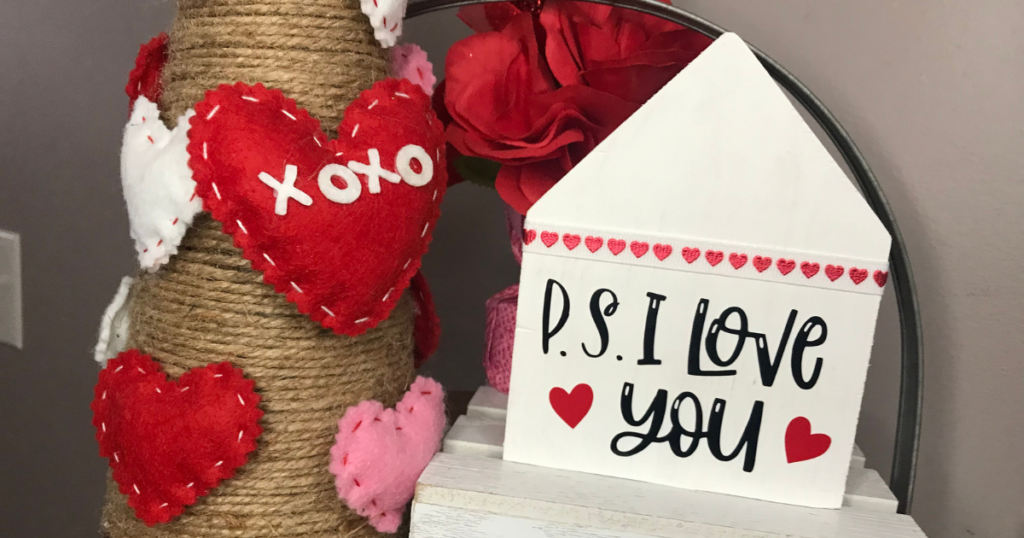 The DIY Valentine wood houses are perfect for tiered tray decor, using up scrap wood and are just a fun wood craft to make. Just get crafty and creative and create some mini wood houses today.