Cute DIY Rainbow Bookends From the Dollar Tree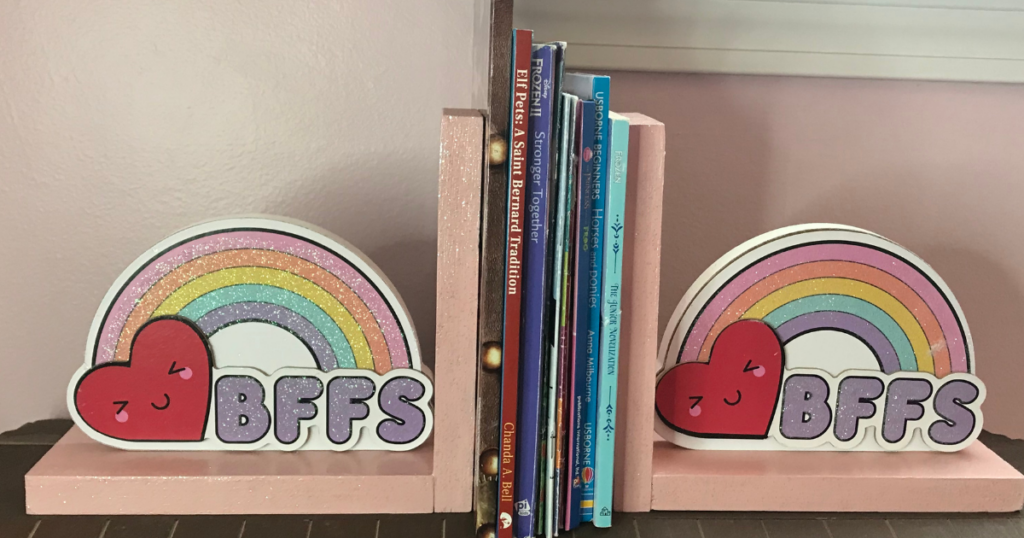 Note: As an Amazon Associate, I earn from qualifying purchases. If you click on a link from Amazon or another of my advertising affliates, I will earn a small commission at no additional cost to you. Please see my full disclosure policy here.
One thing my kids have a ton of our books and I just keep buying more (my husbands always like more books???!!!). Giving your child a love of reading can take them to so many magical places. I'm so happy that my kids love books and reading as much as I do. But having so many books has caused a huge book storage problem in the kids bedrooms. It was time to help out the books (and my daughter) with some super easy DIY rainbow bookends.
**This post also contains affiliate links and I will be compensated if you make a purchase after clicking on my links.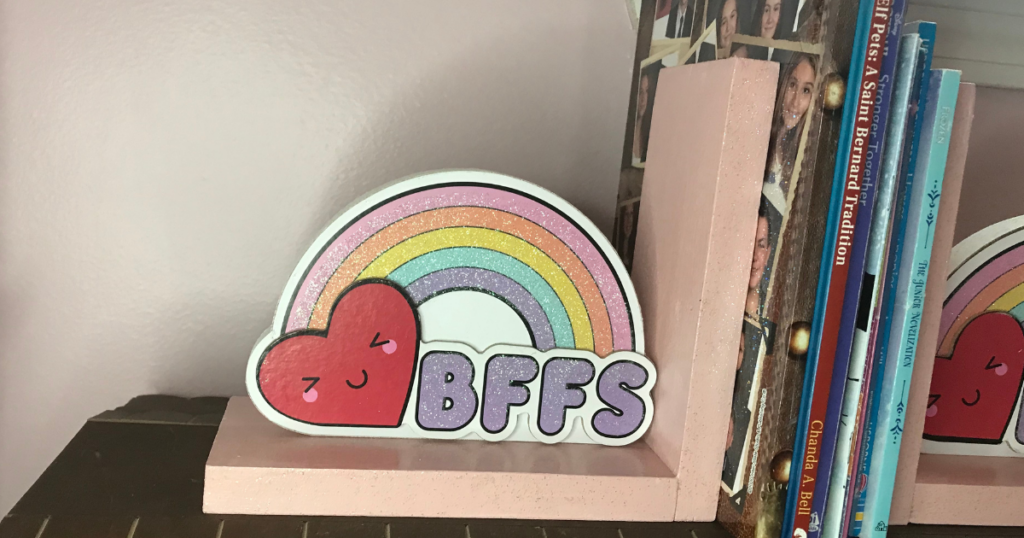 When I started this project the bookends were suppose to be unicorns. Then my daughter comes up to me and ask me to make rainbow ones. She's 6 years old and well they change their mind a lot. I said I would go to the Dollar Tree and see what I could find. I couldn't believe my eyes when I saw these glittery rainbows in the craft aisle. Dollar Tree always has great shapes like this so keep your eyes open for something your little one would like. Did you know that you can get Free Shipping to your Local Store?
Let's talk price too. I couldn't believe the cost of kids bookends (wow) they are expensive, but these homemade ones are going to cost less than $10 even if you have to buy everything. A 1×4 cost about $3, the rainbows are $1.25 at the Dollar Tree, paint, and sparkle mod podge. Plus you probably have many of these supplies already like wood glue and paint. If you have a scrap wood pile, I would start there before buying any new wood. That's what I did so my project only cost $2.50 because all I needed was the rainbows.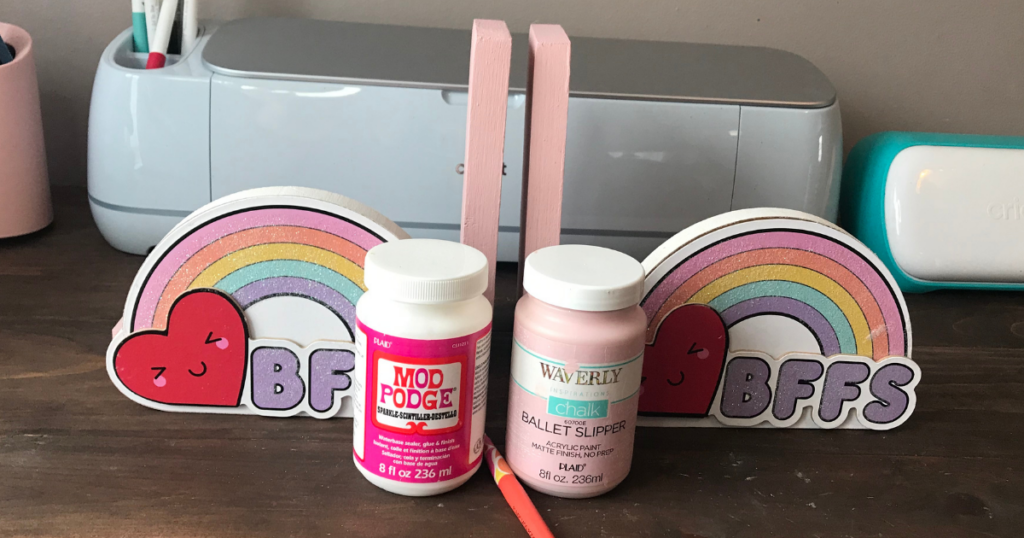 Materials for DIY Dollar Tree Project
2 Rainbow Shelf Decor from Dollar Tree or any kind of Home Decor
4- 1×4 cut to 7.5 inches
Wood Glue
Nail Gun
Miter Saw
Waverly Ballet Slippers Chalk Paint or any kind of craft paint
Chalk Paint Brush or any type of Paint Brush Set
Sparkle Mod Podge
Mod Podge Brush

Let's Create DIY Rainbow Bookends for Kids
To get started cut the 1×4 to 7.5 inches and cut 4 of them. Then using wood glue, attach them at a 90 angle and for sturdiness nail them together with a nail gun. As far as DIY's go this one is really easy and doesn't take long. If you have a scrap wood pile, use any size wood that will work with the rainbow.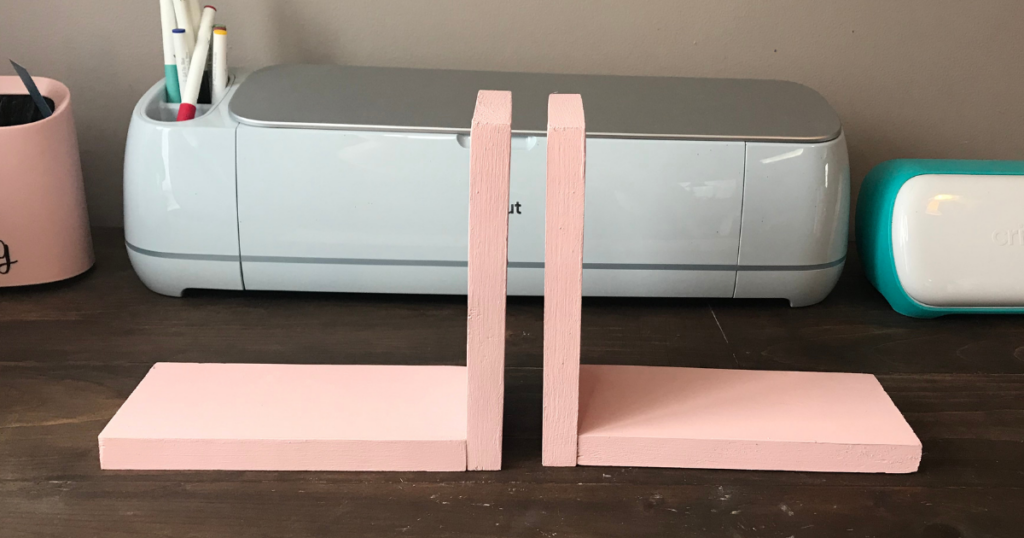 Next paint the bookends with the Waverly Ballet Slipper Chalk paint with two coats. It's the prettiest pink and perfect for a little girls bedroom or nrusery. When the bookends are completely dry, use the sparkle mod podge to seal them. Cover the entire bookends with the sparkle mod podge and apply it with the mod podge brush. The mod pod brushes are fabulous. The sparkle mod podge gives a nice sheen of like a very fine glitter. If you like chunky glitter, use the mod pod glitter. I used the glitter mod podge on this Dollar Tree Love Sign. The sparkle of the bookends matches the rainbows perfectly.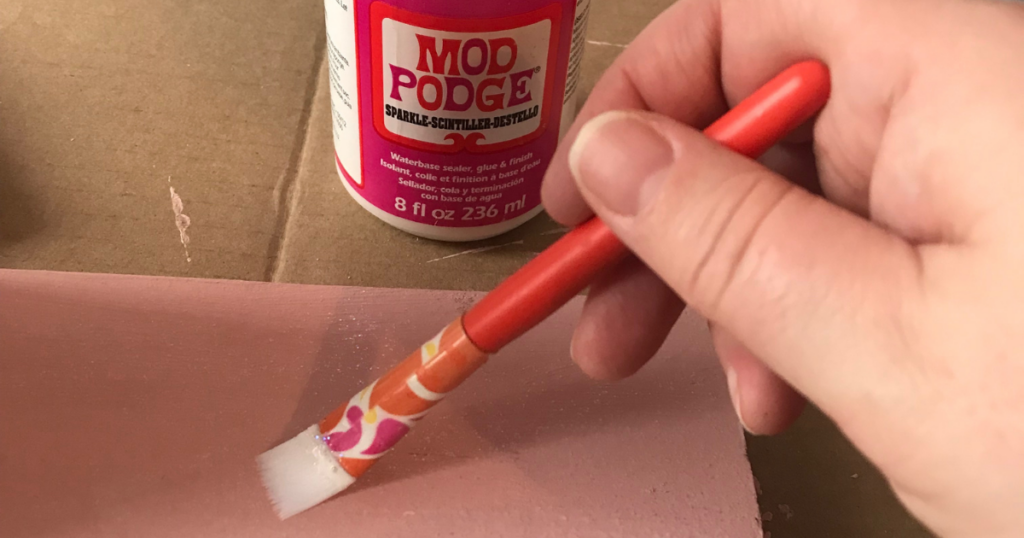 Apply two coats of the sparkle mod podge for a nice sparkle. If you want more sparkle, just add more coats. The secret of the mod podge is to let it completely dry before applying the next coat.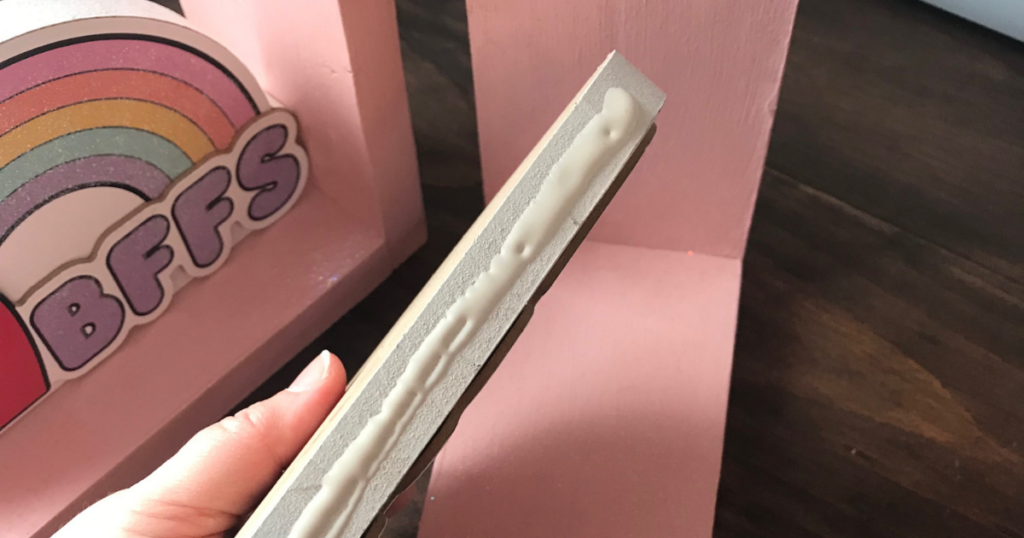 The wooden bookends are now ready to become rainbow bookends. What little girl would't want these adorable sparkly rainbows? The are just magical. The rainbow bookends are creative, cute and make very pretty decor. Using wood glue attach the rainbows to the wooden bookends. Let them dry before using them.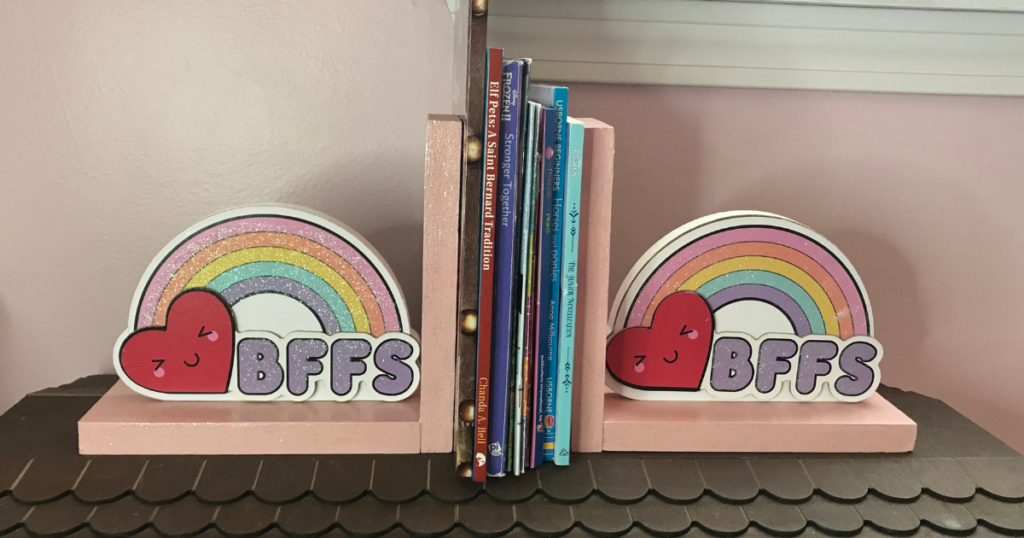 Who knew you could make simple DIY bookends from the Dollar Tree that any little girl would love as bookends and room decor. Making homemade bookends is easy to do with a little wood and paint. My son is now requesting some so my DIY kid bookends craft time is not over.