7 Buffalo Plaid Christmas Decor Ideas
Note: As an Amazon Associate, I earn from qualifying purchases. If you click on a link from Amazon or another of my advertising affliates, I will earn a small commission at no additional cost to you. Please see my full disclosure policy here.
Do you like to celebrate Christmas in July? I never did until I had kids. My kids would celebrate Christmas every ay (if they could). The best part of Christmas in July is Cookie, our elf, coming for a visit. Christmas in July always starts making me think of Christmas. So how about some buffalo plaid Christmas decor ideas. Start your Christmas crafting now and enjoy the Christmas season.
Buffalo Plaid Christmas Decor Ideas
A few of these crafts use dollar tree supplies and buffalo plaid ribbon. Seriously grab your buffalo plaid ribbon as soon as it comes out. The Dollar Tree did have black and white buffalo check last fall. So I'm really hoping they have black and red for Christmas this year. If you already know what you want to make, then getting the supplies will be super easy.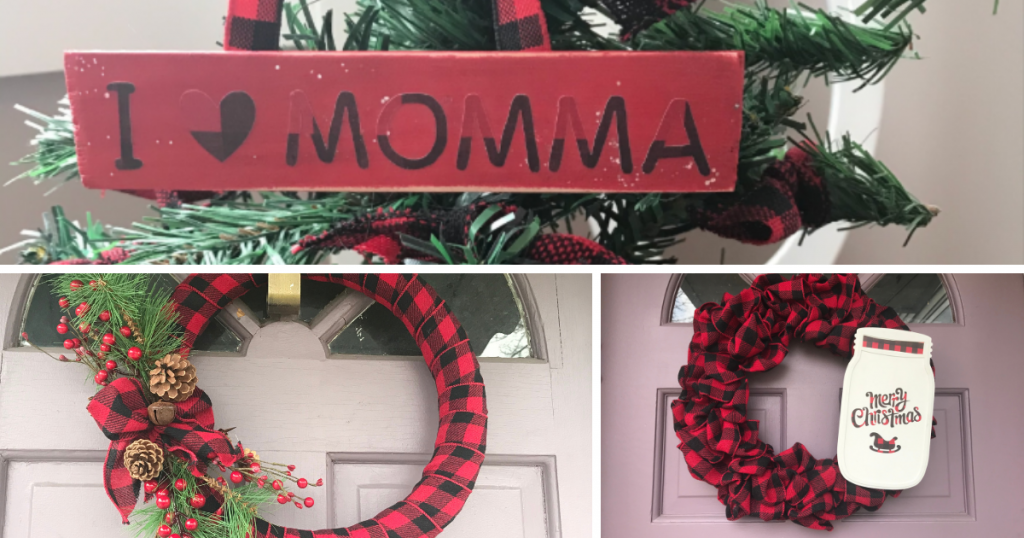 Plaid and check have always been favorites of mine and I'm so happy its popular now. For a long time, the buffalo check was hard to find and now you have to grab it before it's sold out.
In my Christmas decor, I like to add pops of buffalo check in each area of my home. Some of you may get mad at me, but I think you could overdo it with the buffalo plaid. I love to put buffalo check ribbon on my tree and on my doors. I love making my buffalo check Christmas wreaths with ribbon and burlap. Then I have a few simple decorations and ornaments to finish out my buffalo check decor.
I'm all about a simple crafty life, so all of these ideas are easy and affordable. We all know how expensive Christmas can be, but your decor doesn't have to be. All of these buffalo check ideas are beautiful and work well together.
Buffalo Check Christmas Ideas