Our Pretty Buffalo Check Christmas Tree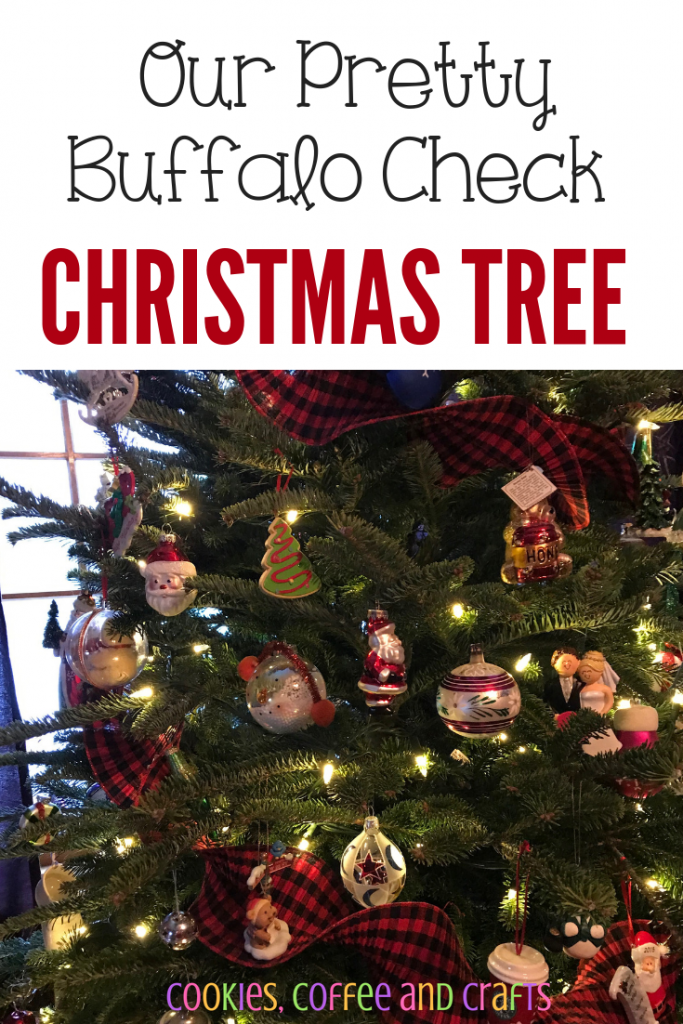 Note: As an Amazon Associate, I earn from qualifying purchases. If you click on a link from Amazon or another of my advertising affliates, I will earn a small commission at no additional cost to you. Please see my full disclosure policy here.
This year we went a different route with our Christmas tree and decorated it differently. I have always been a fan of checks and plaids, way before they were popular. I was so excited for all the plaids and buffalo check this Christmas, I'll be using it long after the trend ends. It's just my style. Don't you love it when your style comes back into style? This is our simple, but pretty Buffalo Check Christmas Tree.
Welcome to Day 10 of the Fourth Annual 12 Days of Christmas Series!
We have teamed up with 50 plus bloggers to bring you a oodles of DIY Ideas and Recipes to make your holiday season merrier. There are 12 different posts in the series and we have spread them out over a four week period with three posts per week. Now is the time to subscribe!
Go Here for the complete list of Dates and Topics plus a collection of most popular holiday ideas including ornaments, games, recipes and more from all 50 plus talented bloggers!
It's Day 10 and we are sharing our Christmas Tree!
If you haven't had a chance to see all the Christmas magic and ideas, here they are:
Day 1: Buffalo Check Pine Berry Wreath
Day 2: How to Make a Personalized Cake Carrier
Day 3: DIY Candy Cane & Burlap Christmas Countdown
Day 4: DIY Kids Jingle Bell Bracelets
Day 5: Easy Spinach Artichoke Dip for a Christmas Party
Day 6: Jack Skellington Christmas Ornament
Day 7: Simple Farmhouse Christmas Entrance Decor
Day 8: Merry Crafters Christmas in a Jar
Day 9: Pretty Coffee Cup Gift Card Holder using the Cricut Maker
---
Choosing Our Christmas Tree
Every year we get a real tree and head to the nursery. I had found this new tree farm to go to with sleight rides and precut trees so we went there first. I was excited to start a new family tradition, but we soon found out it wasn't for us. The tree farm said precut trees were $49 (on their website), but the only tree that was $49 was like a Charlie Brown tree that was shorter then me (I'm pretty short). The prices were high, so we went back to our favorite nursery. Mike (my husband) said no more new places, let's stick with what we know. I have to agree because we have an amazing tree this year.
At Northridge Nursery, all the trees were so pretty, it was a hard choice. I'm happy to say the kids behaved this year (last year it was a mad dash through the Christmas trees) because they were more interested in the trees and choosing one. Here is our To Perfect Christmas Tree from last year.
To prepare Autumn our cat, I moved her favorite chair out of the front window a couple weeks before we got the tree so she could get used to it. Last year we moved the tree to the side of the window because we were worried about her ruining it. We just didn't like it, so it was going back in the front window this year. Autumn doesn't care at all and has only taken one jingle bell off the tree. It's a win!
Decorating our Buffalo Check Christmas Tree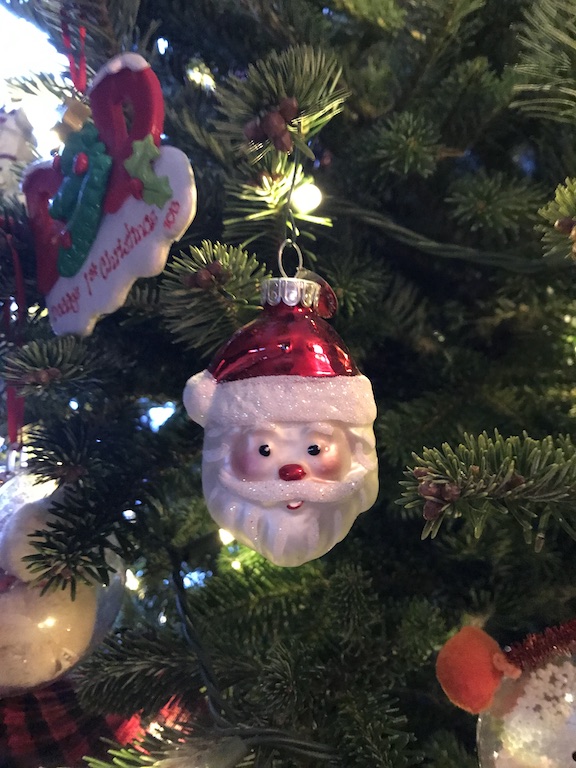 We usually decorate our tree with colored lights, but that wasn't going to flow with the buffalo check. So we bought some white lights instead and we are loving the glow of them. One of my favorite parts of the Christmas season is just sitting in the room with only the light of the Christmas tree glowing. So romantic and magical.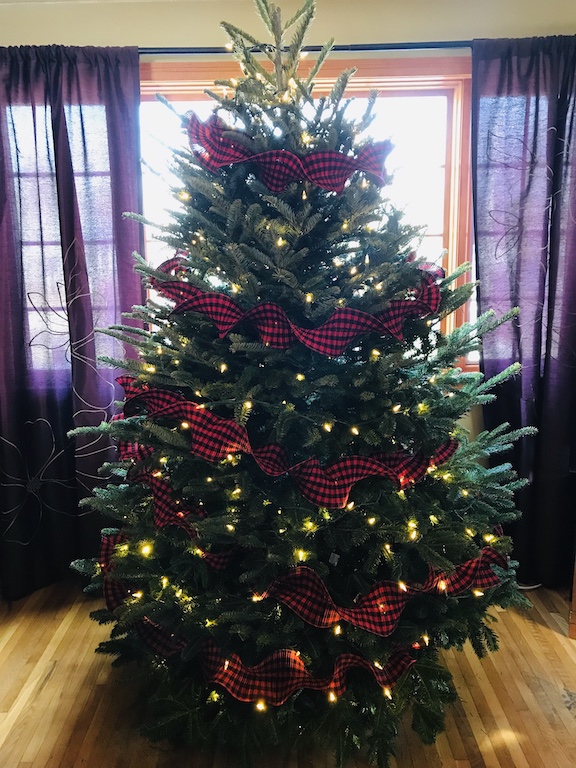 Since I'm crazy for buffalo check this year, I found some crinkle buffalo check ribbon at Joann's. I wasn't sure if this would work, but I'm in love with the crinkle ribbon on the tree. This is my first time wrapping the tree in ribbon and I would recommend the crinkle ribbon. I ran out of crinkle ribbon and had to run to the store for more. Thank goodness they still had some.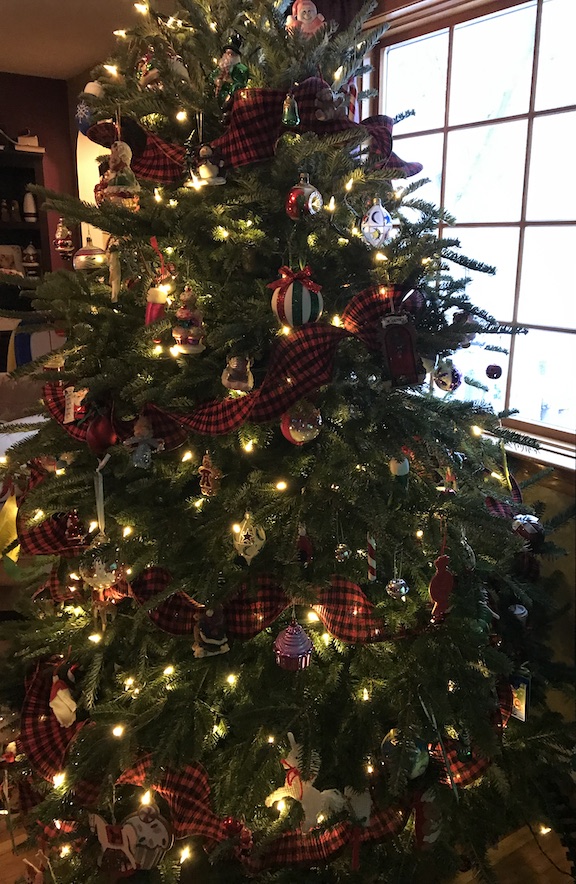 Our Christmas tree is decorated with memories of times past, things we love, ornaments for those special milestones, and those unforgettable homemade ornaments as gifts from my children. I definitely need to make more unbreakable ornaments. We lost 3 ornaments decorating the tree, but one can be glued. The kids were so excited to decorate and were great helpers. I just rearranged a little after they went to bed. They had about 3 ornaments on the same branch.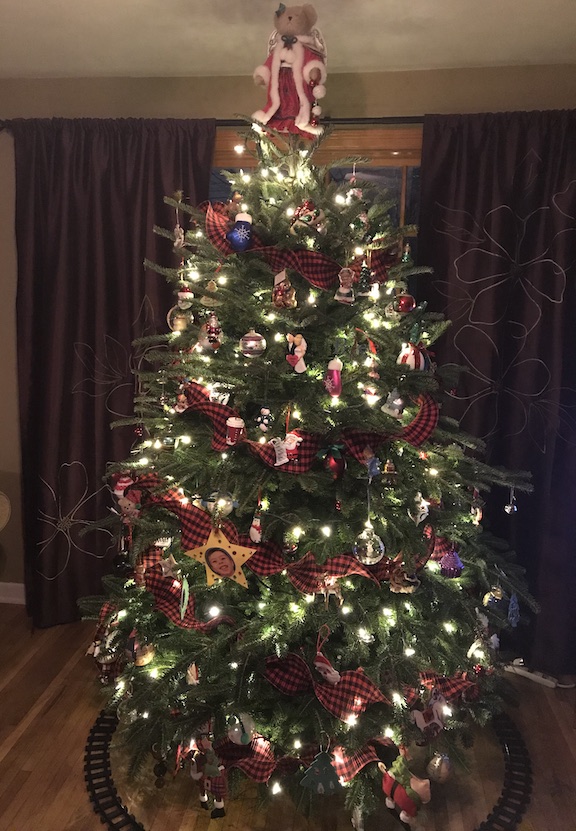 Creating these Christmas memories and traditions is what Christmas is all about! We can't wait for Santa and love lighting our beautiful tree everyday. From our family to yours we wish you a Merry Christmas and a magical season!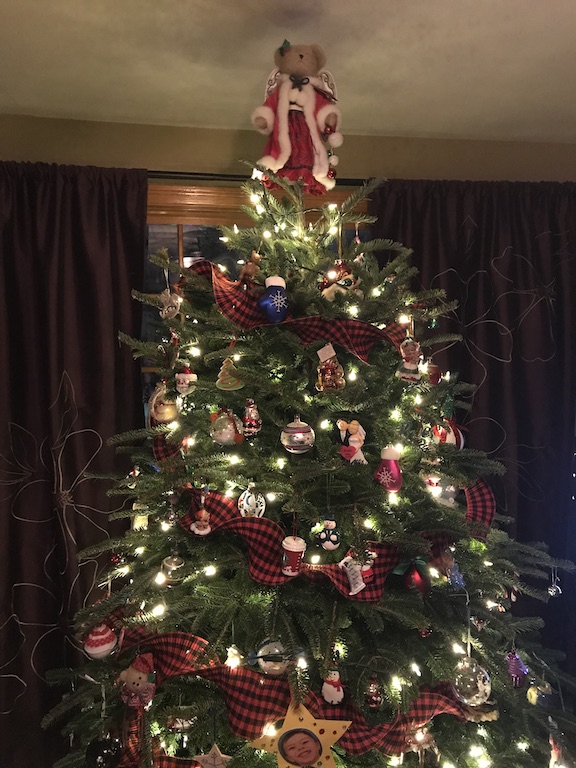 Scroll down for many more Christmas Tree decor ideas you can use this holiday season!
---
Loading InLinkz ...