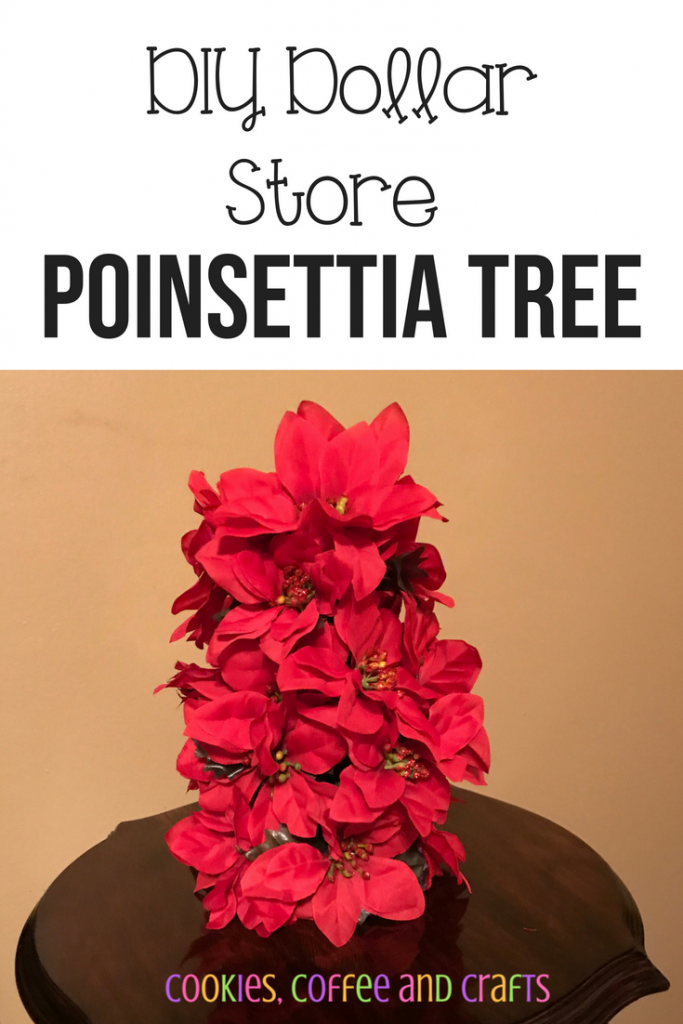 Note: As an Amazon Associate, I earn from qualifying purchases. If you click on a link from Amazon or another of my advertising affliates, I will earn a small commission at no additional cost to you. Please see my full disclosure policy here.
One of the prettiest parts of Christmas is the Poinsettia, the Christmas flower, but since we have a cat and a dog we can't have a real one. I wanted to find a way to add the poinsettia to our Christmas decor and I found my inspiration at the dollar store.
---
They have all been busy as Elves creating, decorating, cooking and crafting tons of new ideas for you to try this holiday season!
Shirley~Intelligent Domestications I Alli~An Alli Event I Michelle~Our Crafty Mom I Marie~DIY Adulation 
Erlene~My Pinterventures I Beverly~Across The Blvd. I Debra~Shoppe No. 5 I Victoria~Dazzle While Frazzled
Megan~C'mon Get Crafty I Michelle~Michelle James Designs I Amanda~Domestically Creative
Deborah~Salvage Sister & Mister I Jeanie~Create & Babble I Sherry~Olives & Okra
Jenny~Cookies Coffee & Crafts I Emily~Domestic Deadline I Bonbon~Farmhouse 40
Leanna~Of Faeries & Fauna I Pam Larmore~P.S. I Love You Crafts I Kelly~North Country Nest I
Marie~The Inspiration Vault I Gail~Purple Hues and Me I Lynne~My Family Thyme I
Karen~Dragonfly and Lily Pads I Trisha~Blowing Away Out West Lorrin~Embrace The Perfect Mess I
Terri~Christmas Tree Lane I Sam~Raggedy Bits I Cyn~Creative Cynchronicity  Valeria~Val Event Gal 
Yami~The Latina Next Door I Jeannee~Centsably Creative I Tania~Little Vintage Cottage
 Lauren~Wonderfully Made I Vanessa~DIY 180 I Kimberly~A Wonderful Thought I
Kim~Everyday Parties  I Dru~Polka Dot Poplars
---
I went into a different dollar store in a plaza I never go to and it was wonderful. It had so many aisles of Christmas and so many new things to look at, that I have not seen at my usual dollar stores. I am starting to think I go to the dollar store to much, but I love a good dollar store find. Did you know that Dollar Tree has a Christmas Catalog?
While looking at all the Christmas I came up with the idea for a poinsettia tree. I have made ribbon trees, burlap trees, and cupcake liner trees, but this time I am trying out a poinsettia tree. Plus this Christmas decoration has the great price of $4. I was going to create this on a foam cone, but the dollar store didn't have any so I took a chance with the tinsel tree and it turned out great.
Below are some affiliate links and I may make a commission for purchases made through the following links.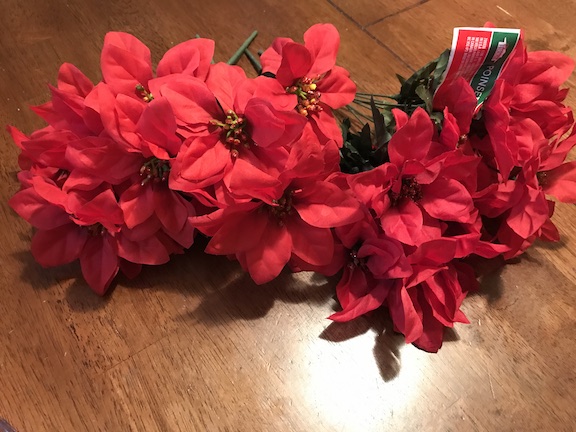 Supplies (all from the dollar store)
Poinsettias
Tinsel Tree
Hot Glue Gun
Hot Glue Sticks
Wire Cutters/Scissors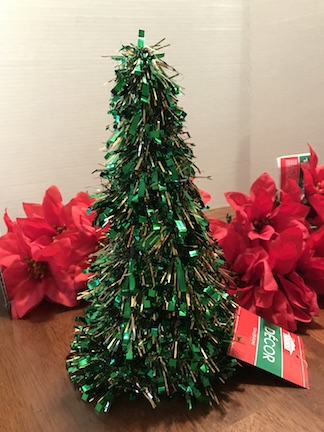 How to Create a Poinsettia Tree
Cut the tinsel off of the tree and use the tree frame to place the poinsettias in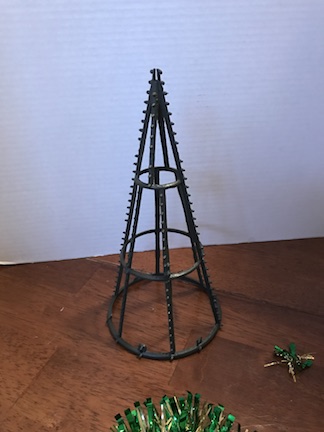 2. Cut the poinsettias off the plant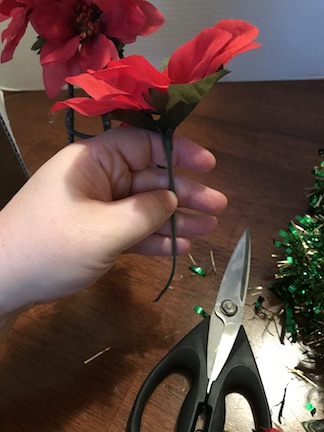 3. Start placing some poinsettias in the tree frame. I started at the top and put 2 poinsettias in each opening. I didn't attach them with anything, but the flowers can be hot glued or wired to the frame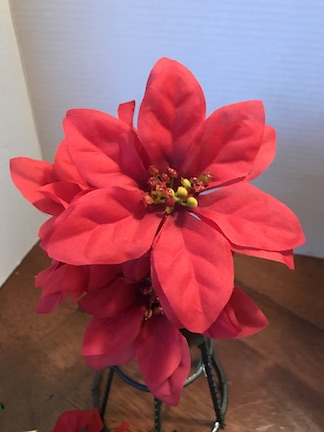 Keep placing the poinsettias in the tree frame of the first two sections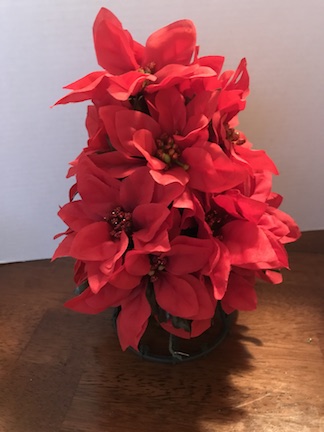 5. In the last section hot glue one poinsettia to each of the plastic poles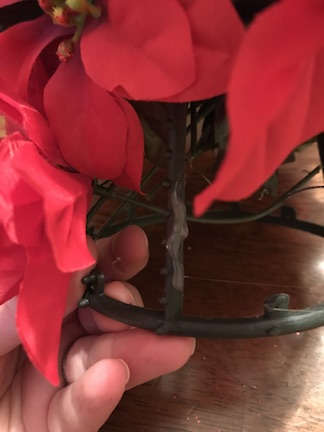 6. After glueing a poinsettia to each of the plastic poles, hot glue the petals or the leaves around the bottom to make sure the tree frame doesn't show.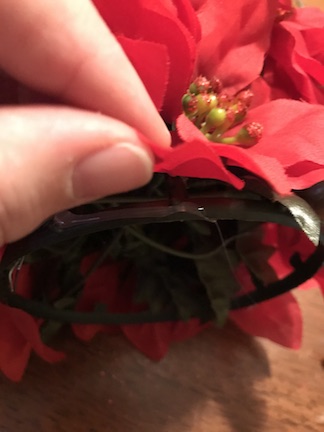 7. Hot glue the poinsettia petals to the top of the tree so that the top of the tree frame doesn't show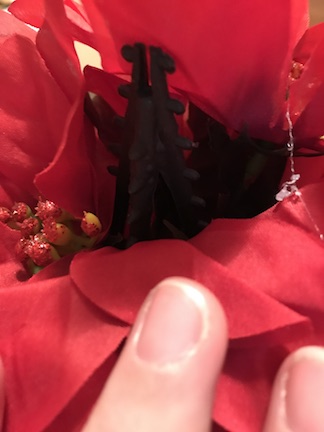 These make a beautiful centerpiece for your table or as a pretty addition to your Christmas decor. Another great idea is to use the foam balls and create poinsettia topiaries. Have fun creating this beautiful, easy and cheap Christmas craft.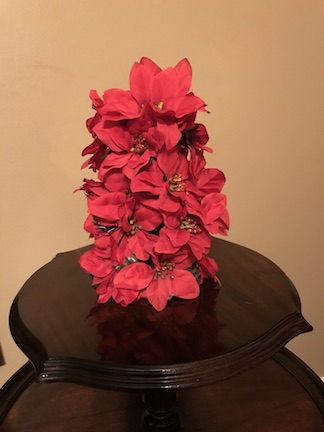 ---
Be sure to visit our fellow 12 Days of Christmas Bloggers below for even more creative ideas this holiday season!
document.write('