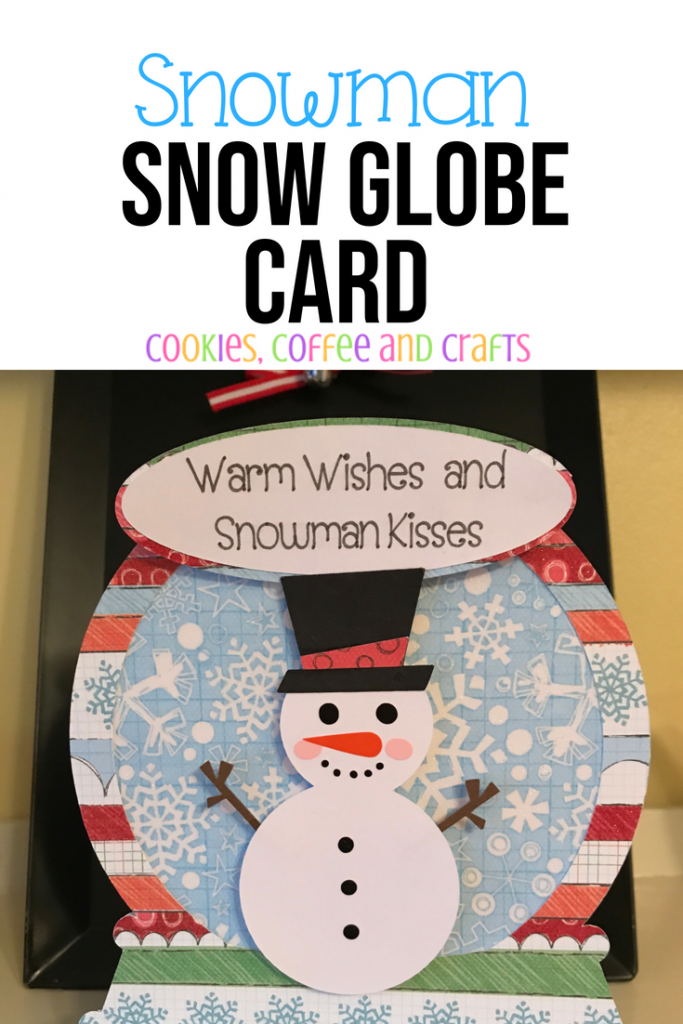 Note: As an Amazon Associate, I earn from qualifying purchases. If you click on a link from Amazon or another of my advertising affliates, I will earn a small commission at no additional cost to you. Please see my full disclosure policy here.
This snowman snow globe card is perfect to send holiday cheer to someone special. This happy snowman is sure to delight children and adults of all ages with his bright smile. Who doesn't love wishes and kisses? Find out how to make this winter wonderland snowman snow globe card to delight your friends and family.
---
They have all been busy as Elves creating, decorating, cooking and crafting tons of new ideas for you to try this holiday season!
Shirley~Intelligent Domestications I Alli~An Alli Event I Michelle~Our Crafty Mom I Marie~DIY Adulation
Erlene~My Pinterventures I Beverly~Across The Blvd. I Debra~Shoppe No. 5 I Victoria~Dazzle While Frazzled
Megan~C'mon Get Crafty I Michelle~Michelle James Designs I Amanda~Domestically Creative
Deborah~Salvage Sister & Mister I Jeanie~Create & Babble I Sherry~Olives & Okra
Jenny~Cookies Coffee & Crafts I Emily~Domestic Deadline I Bonbon~Farmhouse 40
Leanna~Of Faeries & Fauna I Pam Larmore~P.S. I Love You Crafts I Kelly~North Country Nest I
Marie~The Inspiration Vault I Gail~Purple Hues and Me I Lynne~My Family Thyme I
Karen~Dragonfly and Lily Pads I Trisha~Blowing Away Out West Lorrin~Embrace The Perfect Mess I
Terri~Christmas Tree Lane I Sam~Raggedy Bits I Cyn~Creative Cynchronicity Valeria~Val Event Gal
Yami~The Latina Next Door I Jeannee~Centsably Creative I Tania~Little Vintage Cottage
Lauren~Wonderfully Made I Vanessa~DIY 180 I Kimberly~A Wonderful Thought I
Kim~Everyday Parties I Dru~Polka Dot Poplars
---
Below are some affiliate links and I may make a commission for purchases made through the following links.
Supplies:
Cricut Explore
Cricut Pen
Cricut Tools
Cricut Scoring Stylus
Christmas Card Stock Paper
White Card Stock
Black Card Stock
How to Make a Snowman Snow Globe Card
This snowman card is designed in Cricut Design Space. The snowman svg is from https://lovesvg.com/2017/11/snowman-4652/ and the snow globe card svg is from https://www.birdscards.com/free-svg-cut-files/christmas-svgs/christmas-snowmen-snowflakes-and-snowglobes/. Each of these svg have to be uploaded into Cricut Design Space. I used Recollections Festivus Paper Stack that I have had for many years.
Insert the snow globe card svg into design space. This card is 10.9 by 7.1. Then add the score line (click shapes) and attach the score line to the card
Then design your card with the snowman and the saying. For the saying I used the font Alphalicious, which has to be purchased in design space. In my original design I had the oval saying at the bottom of the snow globe, but after the paper was cut I loved the snowflakes across the bottom. So I decided to put the saying at the top of the snow globe.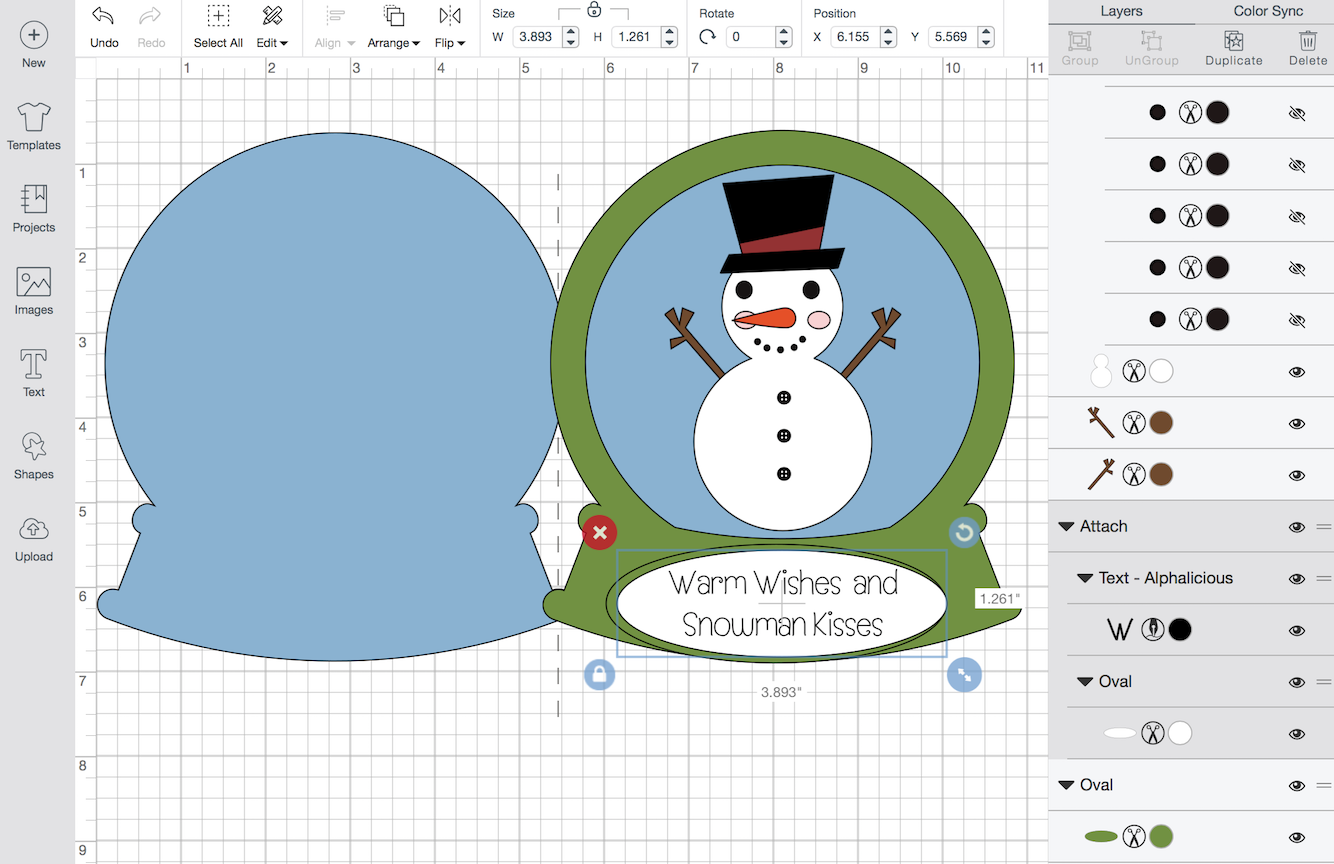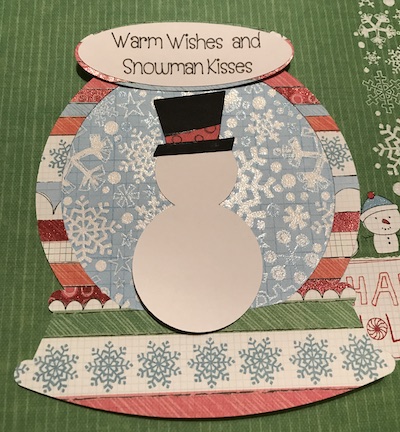 Cut your images and card with the Cricut Explore. I did a mix of paper and vinyl on this card because I find it easier to use the vinyl for small pieces. The vinyl works great because it's self adhesive.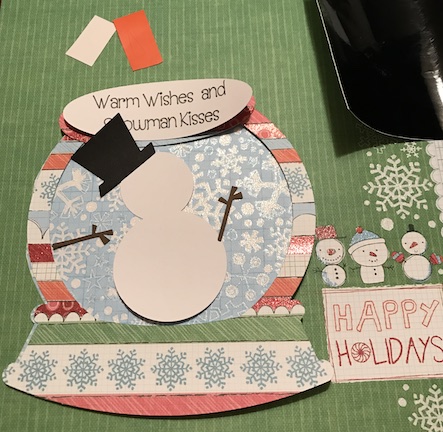 Star with the snowman and glue the black hat to the snowman and the sash onto the hat. Then start on the snowman's face. I used my Cricut tool to lay the vinyl pieces onto the snowman. Make sure you add the pink cheeks before the carrot nose.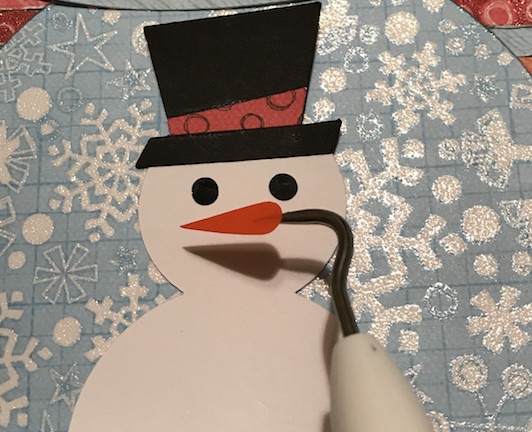 Glue on the outline of the snow globe using a glue pen.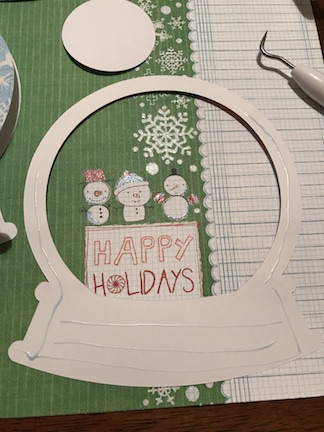 Then add the snowman and the saying using 3D Pop Dots to give the card a 3 dimensional look.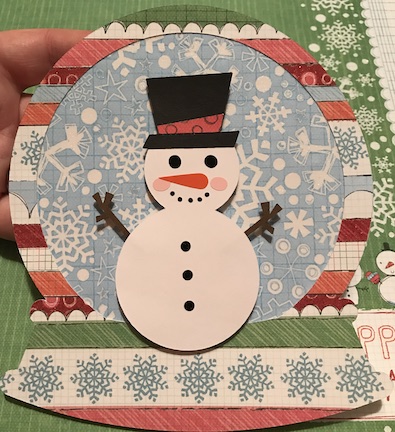 The inside of the card is blank so it can be personalized. This card is really neat when it stands because it rocks. When I think of snowman, I think of snow globes and the wintry scenes of the snow falling down and I feel like this card captured that feeling and scenery of a snow globe.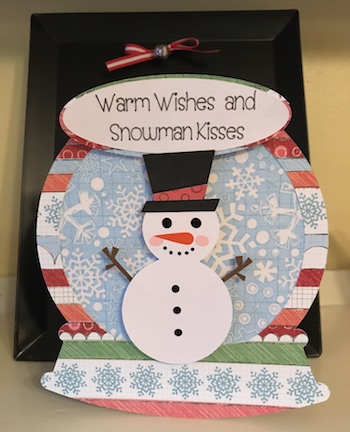 ---