DIY Halloween Centerpiece for Kids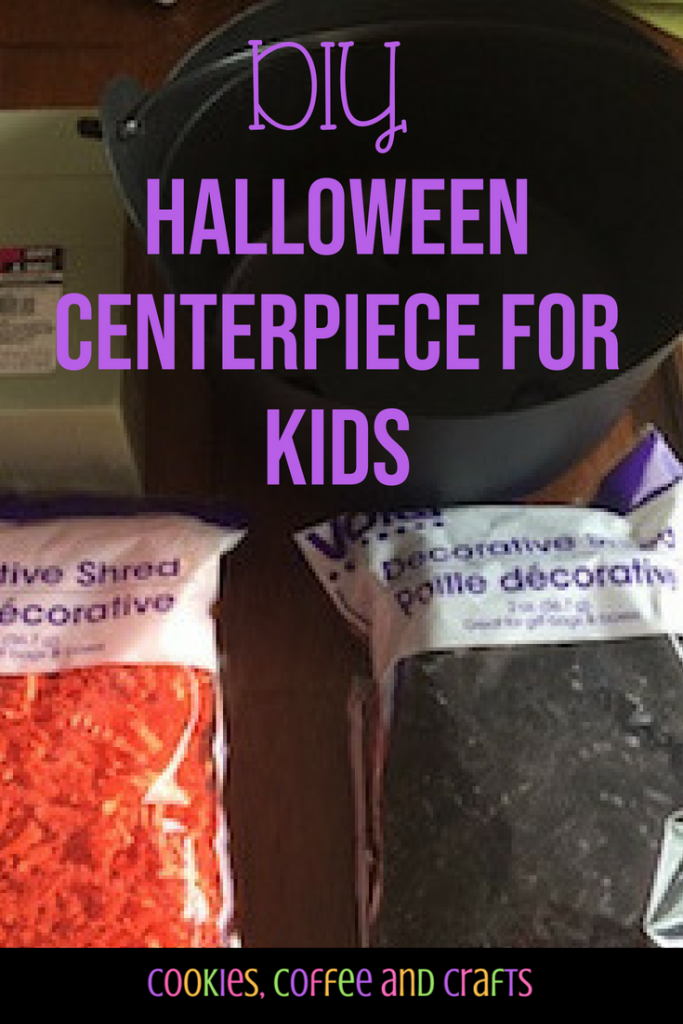 Note: As an Amazon Associate, I earn from qualifying purchases. If you click on a link from Amazon or another of my advertising affliates, I will earn a small commission at no additional cost to you. Please see my full disclosure policy here.
It's Halloween Party time! I was undecided about table decor & then when I was in the dollar tree inspiration struck when I saw a cauldron. It was perfect for a centerpiece. I let my son pick out the images I cut on the Cricut. When I finished it and showed him, he said "That's beautiful." It made my heart sing! It's cute, spooky and fun!
This project is very simple and required a few supplies. Plus this was a cheap project to! This whole project cost me $4. I already had the cardstock, the kabob sticks, glue gun, and glue. I also didn't use the orange shredded paper either because when I put it in, the oranges just didn't match at all. At the store I thought it would look awesome to mix the orange and black, but it didn't work out. Now I have orange shredded paper for another project.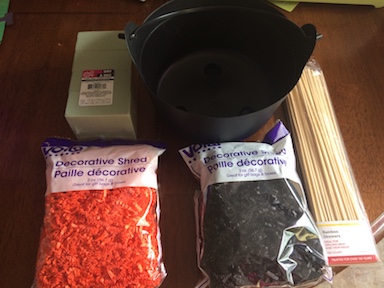 Supply List:
Cauldron
Kabob sticks
Foam Block
Cardstock: orange, black, purple, white, pink, yellow
Black Shredded Paper
Orange Shredded Paper
Glue Gun & Glue
Zig Memory Systems 2 Way Glue
I cut out the images on the Cricut and glued them together using the EK Tools Zig Memory System 2-Way Squeeze and Roll Glue Pen, New Package
. This glue is amazing and one of my favorite items to craft with. Then I put the foam block into the cauldron. I kept the foam block in the plastic since it was 4 individual blocks, but I wanted to keep it as a big rectangle for the centerpiece. Then I used 4 kabob sticks for the ghost, pumpkin, trick or treat, and the spider image. For the Happy Halloween sign I cut about 4 inches off the bottom of the kabob stick. Then I used the hot glue to glue the images onto the sticks.
After that I rolled newspaper to put on the sides of the foam block in the cauldron, so I wouldn't have to use to much shredded paper because the newspaper would fill in the extra space.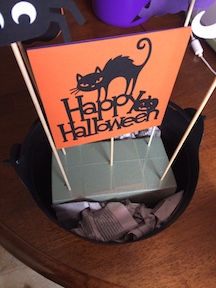 Then I added the shredded paper and decided the orange shredded paper did not go and had to pick it out.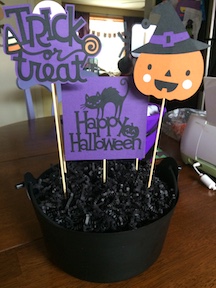 The centerpiece is cute, spooky, and fun!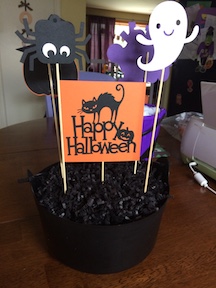 Hosting a Kids Halloween party can be fun and stressful. This simple DIY Halloween Centerpiece Idea is perfect for a kids party and you can get most of the supplies from the dollar store. Just create the adorable images on your Cricut.