Create a Cute DIY Halloween Tic Tac Toe Game for Kids in 2 Easy Steps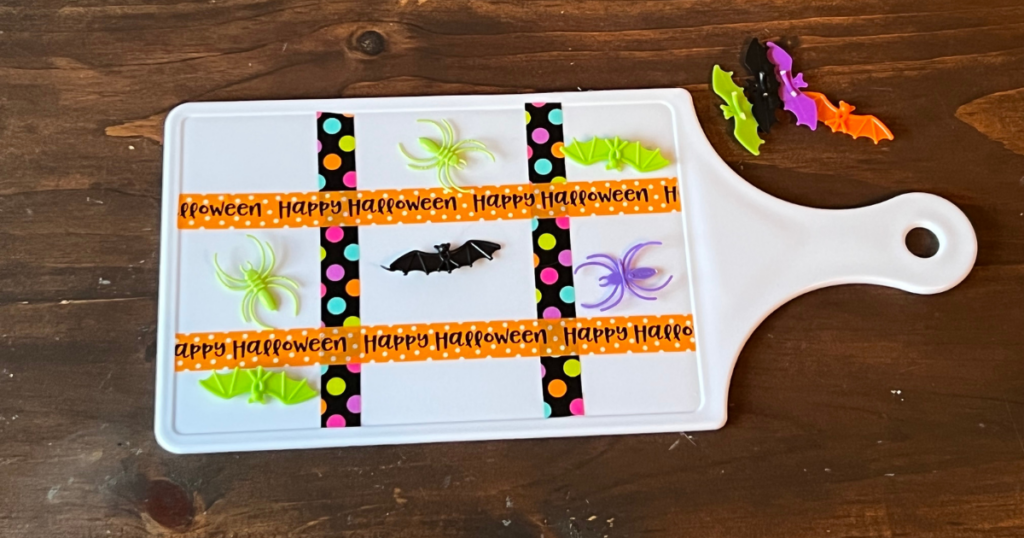 Note: As an Amazon Associate, I earn from qualifying purchases. If you click on a link from Amazon or another of my advertising affliates, I will earn a small commission at no additional cost to you. Please see my full disclosure policy here.
Parties are so much fun, but so much work! Today though I have the best, simple and fun Halloween party game for you that's perfect for all ages. You know when parties start and you are waiting for everyone to arrive, well this is the perfect activity to have on the tables for everyone to play. It will keep the kids busy while they wait for everyone to arrive without getting crazy. This easy DIY party game is also perfect for Halloween classroom parties too. Everyone knows how to play tic tac toe so it's a great game to have at a party center. Here is a DIY Halloween Tic Tac Toe party game that cost about $2.50 to make and takes only 2 steps to make!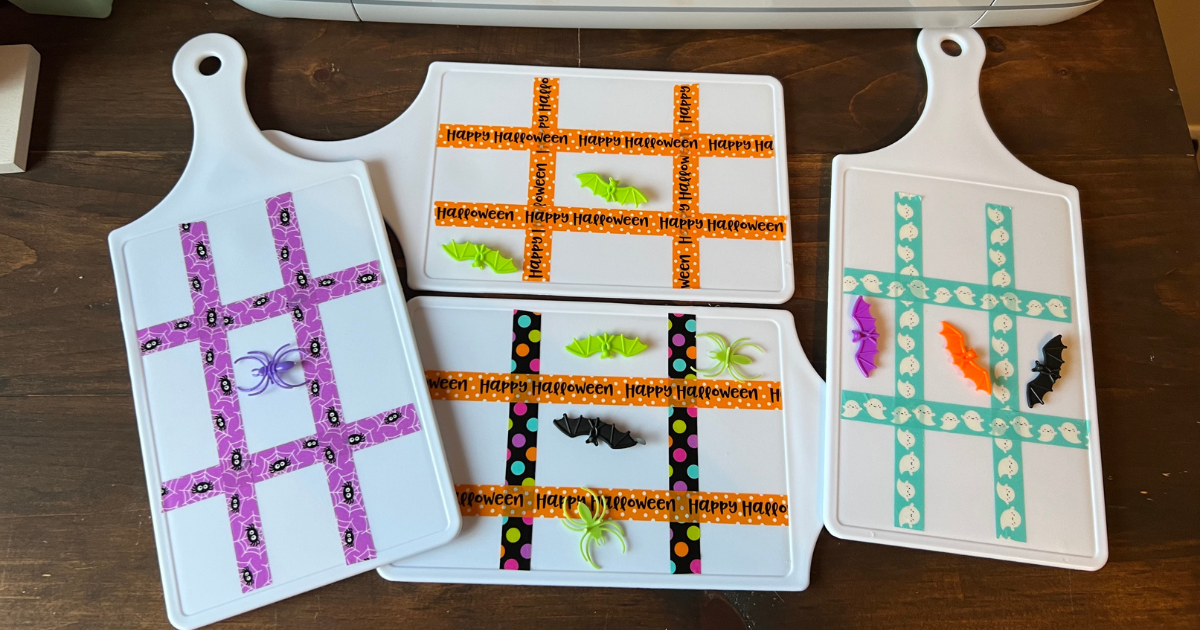 You might even have some of these supplies in your craft stash (if your crafty) or if you are a parent who stocks up on Halloween goody bag treats. I'm both of these things, but I still had to head to the Dollar Tree for some supplies.
Supplies for Easy Halloween Party Game
Dollar Tree Paddle Cutting Board in White
Plastic Halloween Rings or Erasers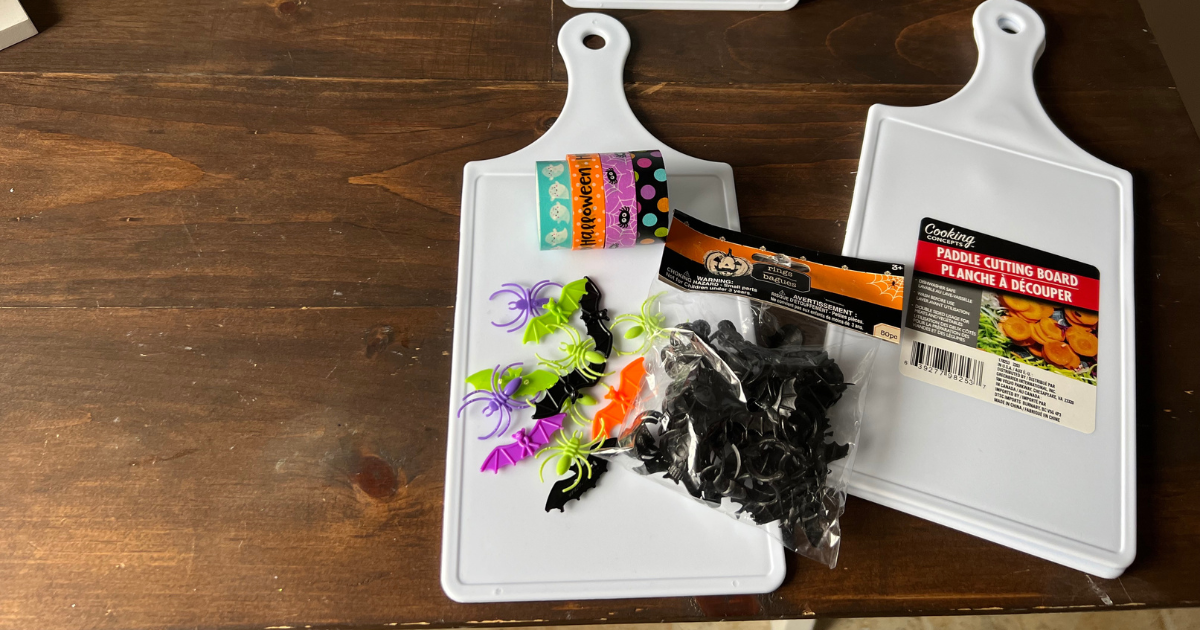 How To Make a DIY Halloween Tic Tac Toe Party Game
Remember how I said it only takes 2 steps? Well I made 4 of these games in less than 10 minutes for our Halloween Party.
Step 1: Create the Tic Tac Toe Board Game in Washi Tape
Washi Tape is very forgiving and I just eyeballed it as I created the Tic Tac Toe Board. The Washi Tape easily peels back up and you can move it around to straighten it out.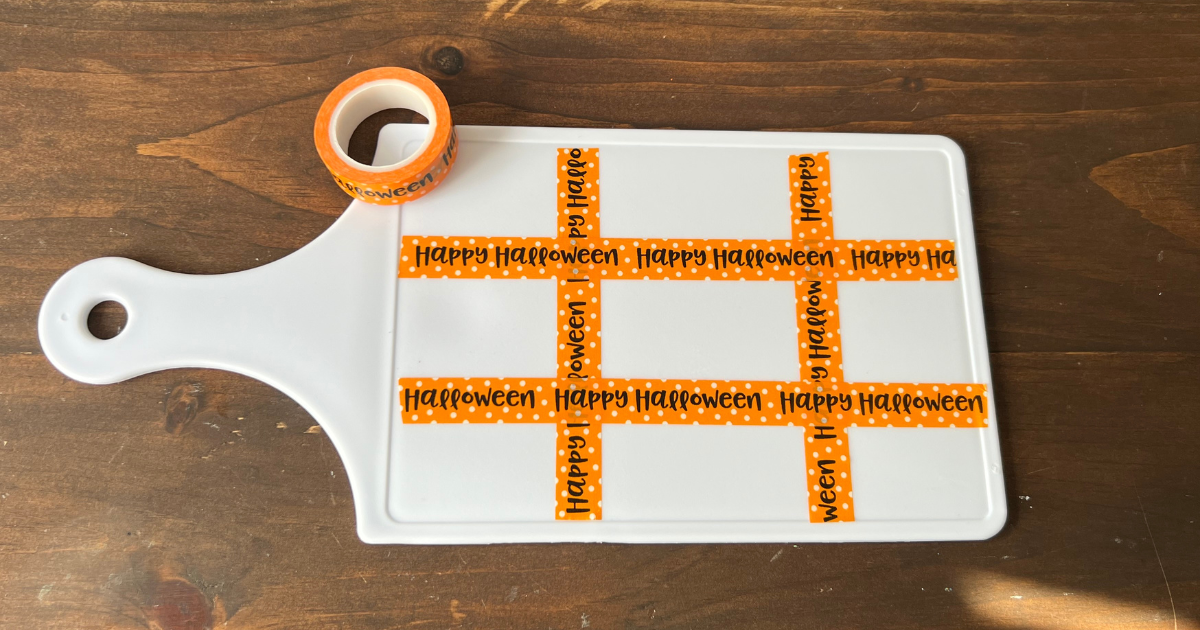 Step 2: Create Tic Tac Toe Board Pieces
Now you can use small Halloween erasers and call it a day or you can use the Halloween plastic rings. To use the Halloween plastic rings, just cut the plastic ring holders off the back of the rings with a pair of scissors. Be careful because some of the pieces fly as you cut them. The plastic is super easy to cut through and it takes no time at all.
Just look at the ring packages and try to pick one that has several of each ring I bought the Dollar Tree Halloween rings and mine was full of skulls and I only had enough bats for one game. So I'm on the hunt for more plastic rings.
Dollar Tree Halloween Game
Tic Tac Toe is a classic party game that everyone loves and putting a Halloween spin on it, makes it spooky, cute and fun! I feel like these games will get used so much because the kids will go to them every time they come to the table.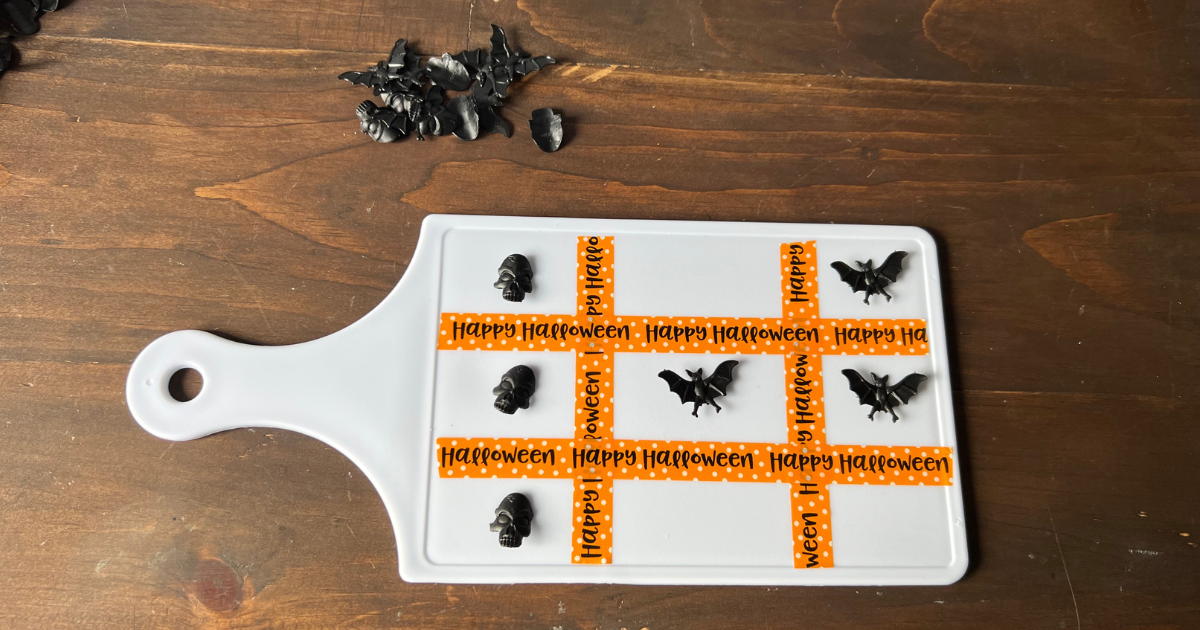 If you like making DIY Party Games, then you have come to the right place. Here are a few quick and fun party games that will work for classroom Halloween parties or parties at home. Just decorate them for Halloween!