Dress Up Storage Pinterest Challenge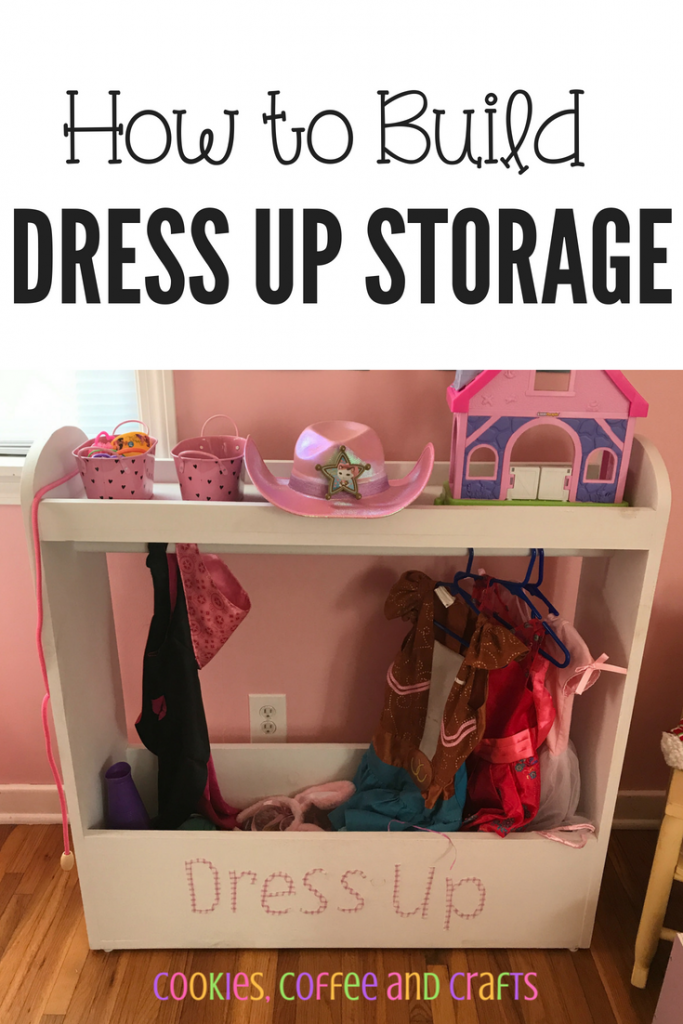 Note: As an Amazon Associate, I earn from qualifying purchases. If you click on a link from Amazon or another of my advertising affliates, I will earn a small commission at no additional cost to you. Please see my full disclosure policy here.
Welcome to the April Pinterest Challenge Blog Hop! The purpose of this hop is to motivate us to not just hoard pins, but to make it happen! So this month, I chose to make a Dress Up Storage from Ana White.
Dress Up Storage by Ana White

To join next month's #pinterestchallenge, click here to sign-up ⇒ May Pinterest Challenge
Dress Up Storage Pinterest Challenge
Our house is full of toys and we are always trying to come up with ways to keep the mess (I mean the toys) organized. My daughter is starting to get into dress up and needed an area to put her dresses, cowgirl hat, and accessories. In our house we are the opposite of the popular commercial, everyday is cowgirl day in our house.
I did very little of this project, just painting and decorating. My husband did all the building, measuring, sanding, puttying, drilling, sawing, and anything else it took to make this adorable dress up storage. I gave moral support. To be honest this is my husbands first building project in a long time. He said in college he had made a fish tank stand. So he says "any idiot with a hammer can do it." We decided that would be a great blog name.
For the Dress Up Storage we learned:
-the shopping list had everything you needed
-the price for the shopping list was very low (said around $50) and it cost $80 for just the wood, screws, putty, and the the heavy duty felt pads
-the plans and measurements were perfect and easy to follow
We did a few things differently on our Dress Up Storage. Instead of wheels on the bottom, we put on the heavy duty felt pads because we didn't want the kids trying to roll the dress up storage around the house and we added a shelf on top for storage. On the top shelf I used small storage containers for rings, bracelets, and necklace.
Then in the bottom of the the dress up storage goes all the accessories and bags. From the scepter to her pom poms, the bottom bin works out perfectly. I love this part because it can be messy and no one can see it.
As I was taking pictures my daughter came in and wanted to play dress up.
Decorating the Dress Up Storage
To decorate the dress up storage, I painted it with white chalk paint. Then I added fabric letters that I cut on my Cricut Maker to spell Dress Up on the front. The fabric I used is the same fabric in her room decor.
My daughter really likes it and enjoys playing dress up. Honestly it only looks neat and pretty like the post when I go in and clean it up. It was the perfect addition to her bedroom!
Here are My Other Pinterest Challenges
January Pinterest Challenge- Snowball Sensory Bin
February Pinterest Challenge- Confetti Cake Batter Cookies
March Pinterest Challenge- 2×4 Scrap Wood Bunny
---
Now let's see what other things Pinterest inspired! Head over and visit the other hosts to see what they crafted, cooked, built, or tried!
Erlene – My Pinterventures • Lauren – Mom Home Guide
Debbee – Debbee's Buzz • Laurie – My Husband Has Too Many Hobbies
Marie – DIY Adulation • Julie – Sum of their Stories
Marie – The Inspiration Vault • T'onna – Sew Crafty CrochetShoppe No. 5
Roseann – This Autoimmune Life • Terri – Our Good Life
Lisa – Blogghetti • Marci – Stone Cottage Adventures
Leslie – Once Upon a Time & Happily Ever After
Cherryl – Farm Girl Reformed • Candice – Fearlessly Creative Mammas
Kelley – Simply Inspired Meals • Joanne – Our Unschooling Journey • Pili – My Sweet Things
Jenny – Cookies Coffee and Crafts • Gail – Purple Hues and Me • Sam – Raggedy Bits
Beverly – Across the Boulevard • Samantha – Little Bits of Home
Kristie – Teadoddles • Shirley – Intelligent Domestications
Kelli – Olympic Nest • Chelsea – Making Manzanita • Ola – J'adore Le Decor
Rebecca – Simple Practical Beautiful • Hil – Raising Fairies and Knights