Easy Pinwheel Craft for Kids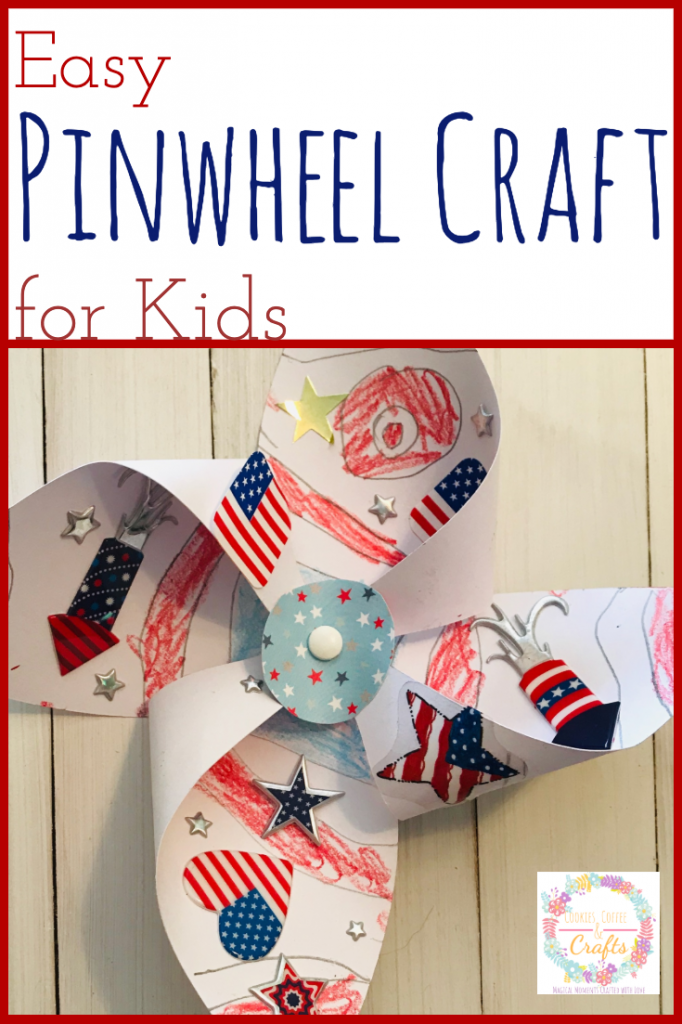 Note: As an Amazon Associate, I earn from qualifying purchases. If you click on a link from Amazon or another of my advertising affliates, I will earn a small commission at no additional cost to you. Please see my full disclosure policy here.
Pinwheels are summer to me and the kids love them. My kids love crafting and love to make stuff all the time. I created this easy pinwheel craft for kids and it's perfect for any season or age. Are you ever too old for pinwheel?
This month I'm participating in the Summer Fun Link Party! Come and party with us for all things summer. From recipes, to home decor, to crafts, to activities. Let's celebrate summer!
Supplies for a DIY Paper Pinwheel
White Card Stock
Hole Punch
Paper Straws
Brads
Decorations for Pin Wheel
Cricut Maker to make the pinwheel or make with scissors
Ideas to Decorate Your Paper Pinwheel
-Crayons
-Markers
-Stickers
-Watercolors
-Bingo Dabbers
-Washi Tape
Let's Make a Fun Pinwheel with Brads
I made the pinwheels using my Cricut Maker in Cricut Design Space, but don't worry if you don't have a cutting machine. Creating a pinwheel with paper is super easy and simple. My 6 year old figured it out and created more after we were done (with the Cricut ones). A fun part of this craft is getting to decorate the pinwheel so I made mine with white card stock. You can always use decorative scrapbook paper if you like.
I let my kids decide how they wanted to decorate it and let them get started. I just reminded them not to decorate the skinny part because that part will fold in.
When the pinwheel is decorated I pulled in each corner and put the brad through. Then at the top of the paper straw, you have to squeeze the straw together, then hole punch through the straw. Put the brad through and you have a pinwheel.
My son loved making them and made some more, he loves being creative. Since the 4th of July is a couple weeks away, he started with a red, white, and blue pinwheel. I have one for my daughter for when she wakes up (she's been up since 4 am today) so she's taking a much needed nap.
Creative Pinwheel Craft for Kids
After making the 4th of July pinwheel, he made a Valentine's Day pinwheel, a Christmas pinwheel, and a special pinwheel for me. He's so sweet!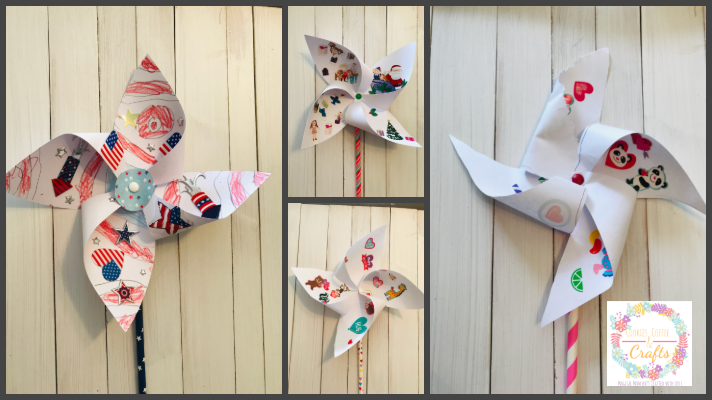 We all hoped the pinwheels would spin, but they don't. No one seems to really care though, the fun was decorating and creating their very own pinwheel. Plus the pinwheel is completely safe for kids since it uses the brads to hold it all together. If you have creative kids, try out the Easy Popsicle Craft with Washi Tape or a Toilet Paper Roll Butterfly .
Would your kids like to make this pinwheel project this summer? My kids have already requested more pinwheels!