Picture Frame Update for a Girls Bedroom from the Thrift Store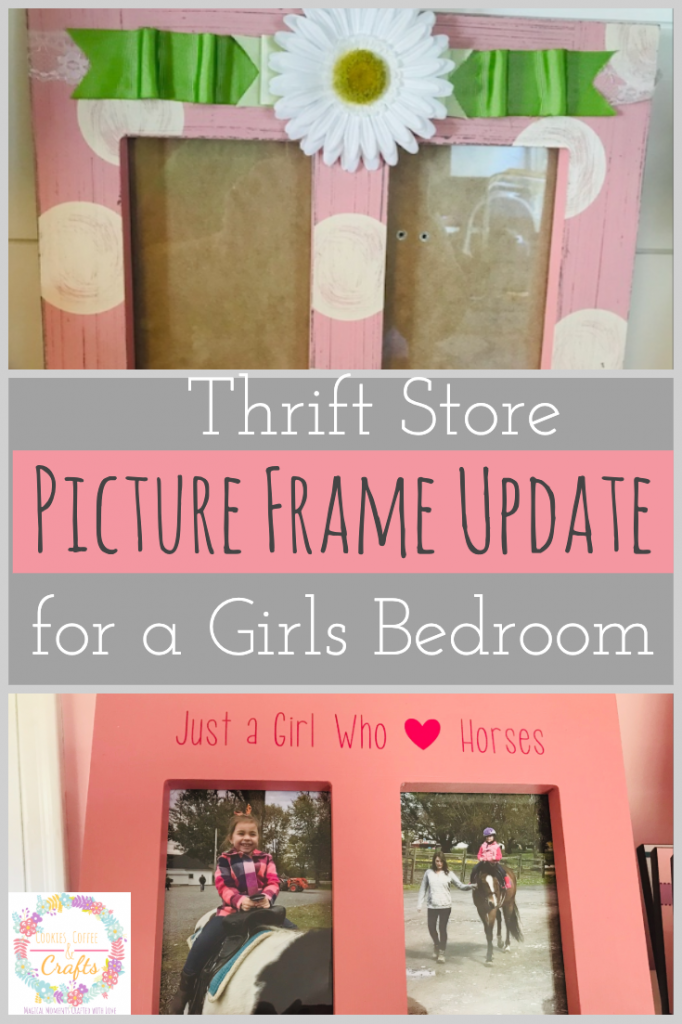 Note: As an Amazon Associate, I earn from qualifying purchases. If you click on a link from Amazon or another of my advertising affliates, I will earn a small commission at no additional cost to you. Please see my full disclosure policy here.
I feel like I hit the jackpot this month at the thrift store. I found a Hobby Lobby frame for $3.49- that is a steal. A picture frame update from the thrift store is always fun and this one just needed some paint and a refresh. Now I love Hobby Lobby and walking around the store gives me pure joy, but the price sometimes does not. Do you have a favorite store you just love to go and browse at? While driving home I was trying to decide what color I should paint it or where should it go? Well my daughter decided all that for me. She fell in love with it at first glance and wanted it for her room, of course I said yes. This post contains affiliate links which means I may make a small comission of any sale that is made by clicking on any of the products with no cost to you. Your support is greatly appreciated.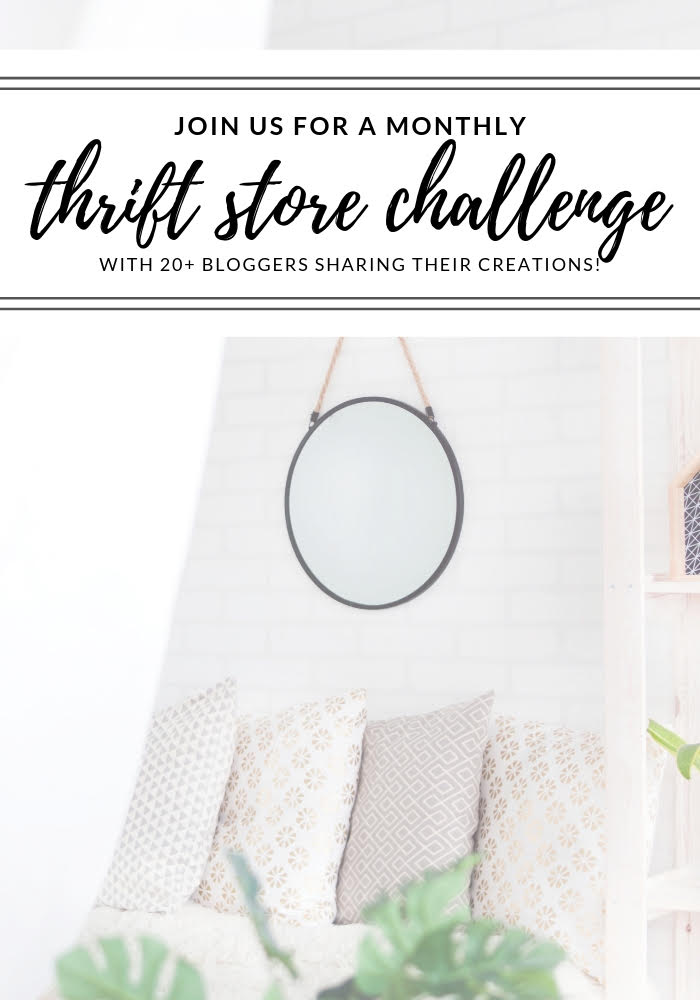 The Rules:
Upcycle an item(s) from a thrift store, resale store, or garage sale into a new piece of decor.
There's no monthly theme.
There's no budget to stick to.
Meet the Hosts
Angela | Simply Beautiful By Angela – Angie | Grandma Creates – Meredith | Southbound Blog – Amanda | Domestically Creative – Molly | Just a Little Creativity – Jenny | Cookies Coffee and Crafts – Michelle | Michelle James Designs – Marie | DIY Adulation – Pili | My Sweet Things – Gail | Purple Hues and Me – Denise| My Thrifty House – Emy | Semigloss Design – Michelle | Our Crafty Mom – Lynne | My Family Thyme – Chas | Chas' Crazy Creations – Kathleen | Our Hopeful Home
Make sure you follow our board on Pinterest for more upcycled decor inspiration!
And now for more thrifty goodness!
The thrift store is the perfect way to decorate your home on a budget, you just have to be patient and wait for the right item that needs a little love. I've been waiting to find a
wooden tray
and I finally did last month. I just love the way it looks on the kitchen table with flowers. Thrift store frames are my number one item at the thrift store because picture frames are so expensive and usually they just need an update. As with all things from the thrift store, give it a good cleaning.
Before Picture Frame
Let's Do a Picture Frame Update
For this frame I had to remove the ribbon, lace and flower because they looked dingy. Some of the glue came off easily and some did not. I just used a
Sanding Block
and removed the old glue until the frame was smooth.
I'm still amazed I found this beautiful frame so cheap because it has a great wood grain design in the frame.
Then I painted it with 2 coats of Memorable Rose from Sherwin Williams. It was a warm, sunny day so as my daughter rode her trike, I painted. It was a win win.
This color is a shade darker than my daughters bedroom walls and it complements the room nicely. I've made her a
step stool
, a
Barbie Organizer
, and a
Hair Accessories Organizer
. It's the perfect pop of color by her white furniture in her bedroom. I love white, pink, gray for a little girls bedroom. Another great way to refresh a picture frame is with spray paint. After It dried I was truly undecided of how to decorate it. The pinks were so close in color, it's almost hard to tell I painted it. She likes a little bit of everything from her princess wall decor to her unicorns and horses.
I have always wanted to try the
I Love Glitter Font
, but I've never had the right project until now. In
FontLab Pad
I created Fiona as an SVG, uploaded it to Cricut Design Space and cut the design in
pink vinyl
. For Just a Girl Who Loves Horses, I created it in Cricut Design Space using KG Call Me Maybe.
I weeded the design and used
Transfer Paper
to add it to the frame. Then she chose pictures of her horse riding to put in the frame. It looks fantastic on top of her dresser, it dominates over the smaller frames. I'm still hoping to find a candlestick lamp at the thrift store for her room because it would be so pretty.
After Thrift Store Picture Frame
My daughter loves it and it's the perfect addition to her bedroom. I'm hoping I find another great frame like this soon. If you need picture frames, check out your local thrift store, you might be amazed at what you find. Paint also works magic on old picture frames and makes them new again.
Check out what my fellow upcyclers created below!
amzn_assoc_placement = "adunit0"; amzn_assoc_search_bar = "true"; amzn_assoc_tracking_id = "jsparmo-20"; amzn_assoc_ad_mode = "manual"; amzn_assoc_ad_type = "smart"; amzn_assoc_marketplace = "amazon"; amzn_assoc_region = "US"; amzn_assoc_title = "My Amazon Picks"; amzn_assoc_linkid = "b4dd351e28e08cf431bde524726ed7c3"; amzn_assoc_asins = "B00ATJSD8I,B077Z6XLR9,B01MRTEOHI,B002Z8HB2A";