Gingerbread House Miniature Golf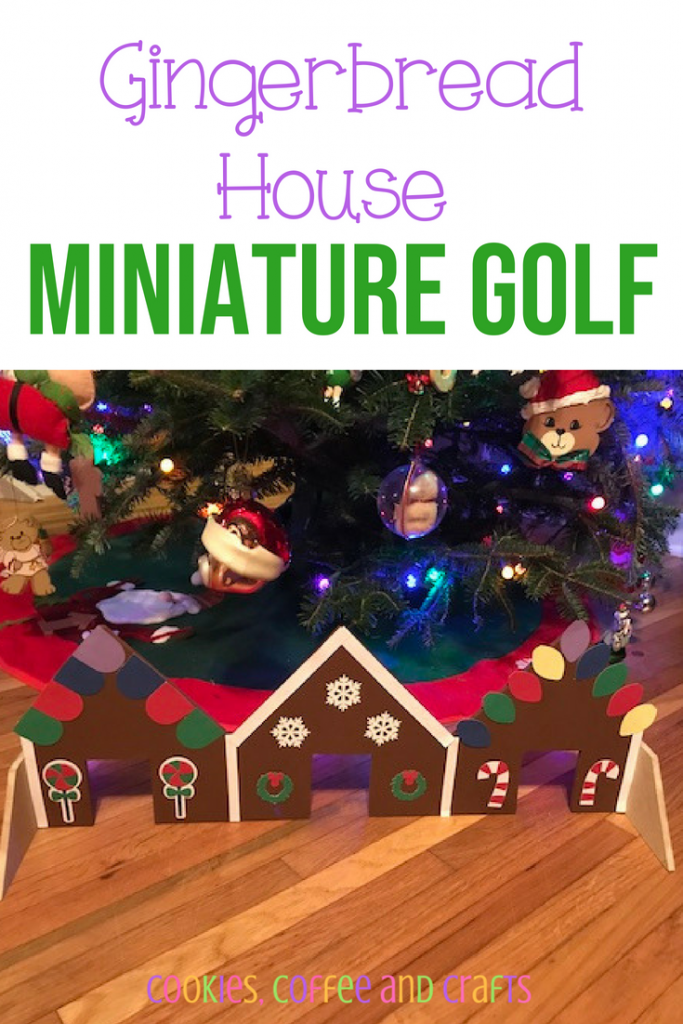 Note: As an Amazon Associate, I earn from qualifying purchases. If you click on a link from Amazon or another of my advertising affliates, I will earn a small commission at no additional cost to you. Please see my full disclosure policy here.
Welcome to the 6th day of the Christmas Blog Hop. I hope you have been enjoying the post each day and getting new ideas for Christmas. Today is a fun one with party games. Find out how my husband and I created this fun gingerbread house golf game.
---
They have all been busy as Elves creating, decorating, cooking and crafting tons of new ideas for you to try this holiday season!
Shirley~Intelligent Domestications I Alli~An Alli Event I Michelle~Our Crafty Mom I Marie~DIY Adulation
Erlene~My Pinterventures I Beverly~Across The Blvd. I Debra~Shoppe No. 5 I Victoria~Dazzle While Frazzled
Megan~C'mon Get Crafty I Michelle~Michelle James Designs I Amanda~Domestically Creative
Deborah~Salvage Sister & Mister I Jeanie~Create & Babble I Sherry~Olives & Okra
Jenny~Cookies Coffee & Crafts I Emily~Domestic Deadline I Bonbon~Farmhouse 40
Leanna~Of Faeries & Fauna I Pam Larmore~P.S. I Love You Crafts I Kelly~North Country Nest I
Marie~The Inspiration Vault I Gail~Purple Hues and Me I Lynne~My Family Thyme I
Karen~Dragonfly and Lily Pads I Trisha~Blowing Away Out West Lorrin~Embrace The Perfect Mess I
Terri~Christmas Tree Lane I Sam~Raggedy Bits I Cyn~Creative Cynchronicity Valeria~Val Event Gal
Yami~The Latina Next Door I Jeannee~Centsably Creative I Tania~Little Vintage Cottage
Lauren~Wonderfully Made I Vanessa~DIY 180 I Kimberly~A Wonderful Thought I
Kim~Everyday Parties I Dru~Polka Dot Poplars
---
I have to give all the credit (excpet for the decorating of the houses) to my husband. We were brainstorming ideas and he came up with this idea. At Halloween I made a Jack O'Lantern Miniature Golf game for our kids Halloween Party and the game was a hit. This one is gingerbread themed with more "doors" for the players to be able to have more chances to get a hole in one. He does the cutting and sanding and I do the tracing, designing, and painting. We make a great team!
This game could also be created using posterboard or cardboard, plus lots of options to decorate the houses. This is perfect for kids or adults to play.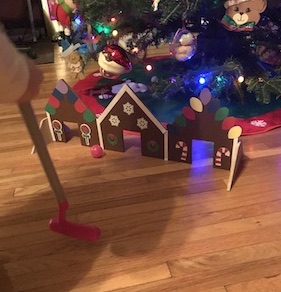 Supplies:
1/4 2×2 MDF Board
Jigsaw
Stickers
Card Stock in a variety of colors
Brown Acrylic Paint
Small Boards
Cricut Explore
White Vinyl
How to Make a Gingerbread House Miniature Golf Game
Trace or draw an outline of a gingerbread house. In Cricut Design Space using Cricut Access Premium I used the outline of a gingerbread house to trace.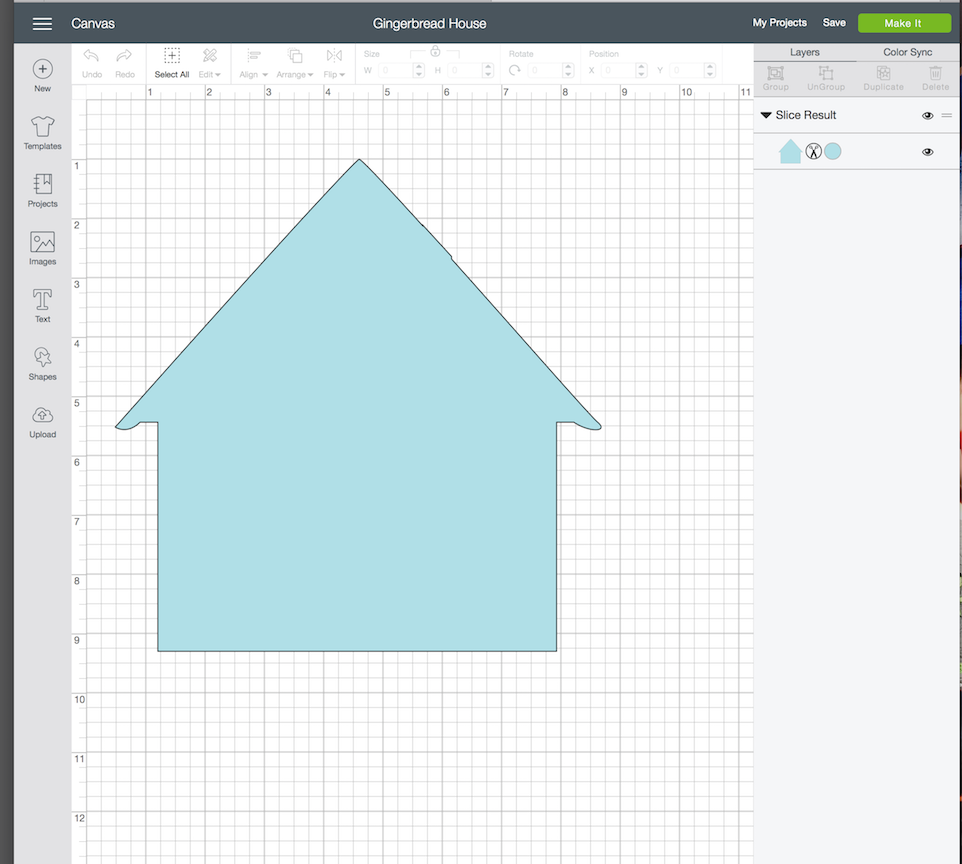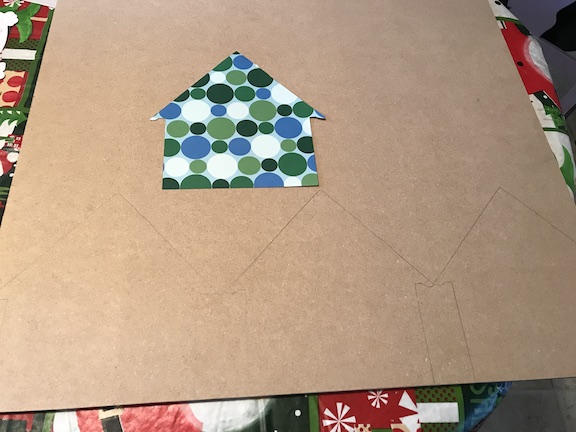 Cut out the gingerbread house outline using the jigsaw and cut doorways for the holes to putt the ball in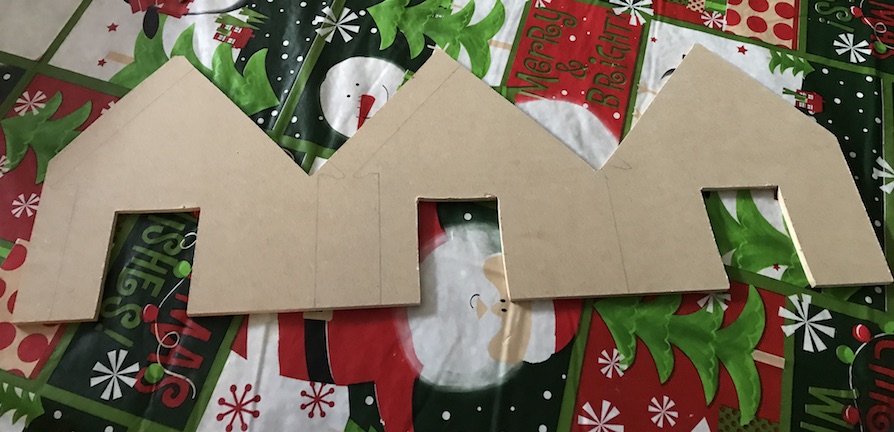 Sand the rough edges and spots
Paint it with brown acrylic paint, it will take 2 coats of paint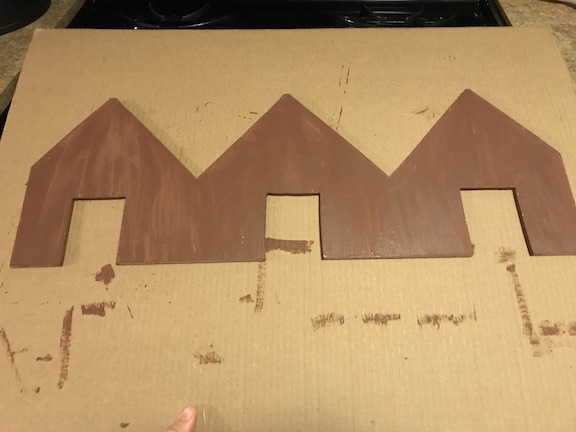 Now it's time to decorate the gingerbread houses. I have created all the decorations on my Cricut Explore and hot glued them to the houses. I created all the decorations using card stock except for the snowflakes (I used white vinyl). At first I lay out all the pieces (like in the photos below) and then I glue them.
House with Lights and the Candy Canes: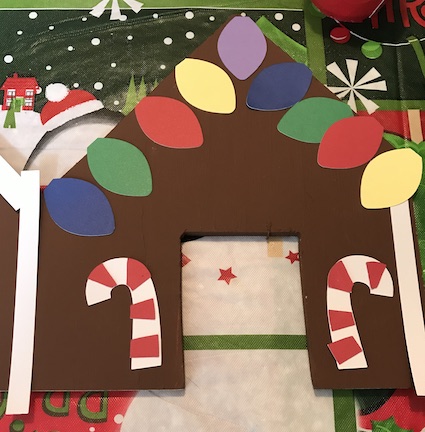 Snowflake House: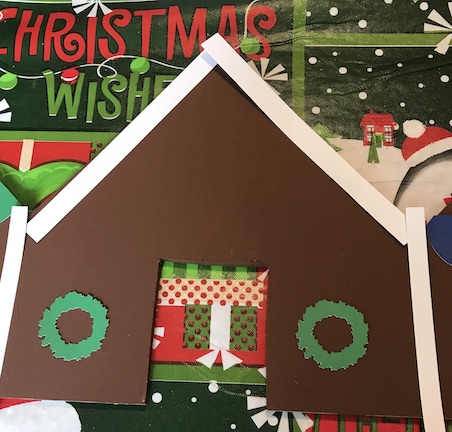 Gum Drop House: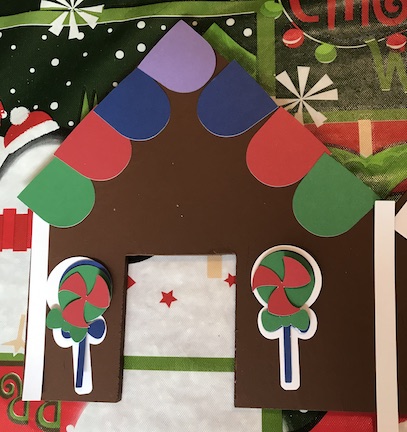 You could also use stickers or paint to decorate the houses.
My husband used the scrap pieces to make the gingerbread golf stand up. The left over pieces from cutting out the gingerbread houses are trapezoids and the perfect shape for the sides. He glued the trapezoids on and then nailed them.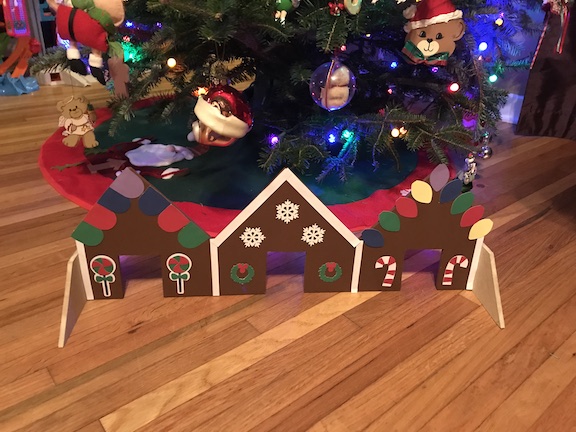 7. To play the game, you can use ping pong balls as golf balls (or any size small ball) or pom poms or rolled up wrapping paper and a small child size golf putter. My daughter has a golf set and we use her putter.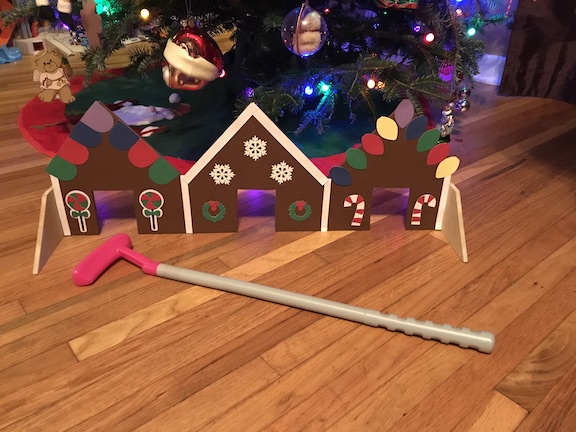 The kids loved playing it as soon as it was ready to go. My daughter kept saying "my turn." Plus we ended up playing with our cats ball because the kids lost the ball I had out to play in the seconds it took to snap a picture. The cats ball worked great and it jingled as well when the kids putted it.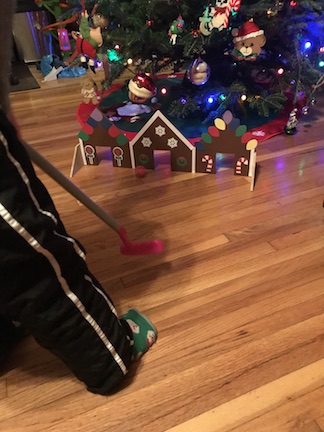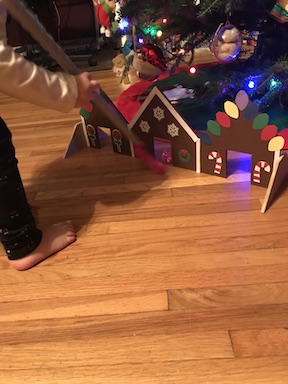 This game will be a fun addition to our Christmas traditions, plus kids and adults can play together for bragging rights of gingerbread golf champion.
Below are some affiliate links and I may make a commission for purchases made through the following links.
---
Be sure to visit our fellow 12 Days of Christmas Bloggers below for even more creative ideas this holiday season!
document.write('