Simple Hot Chocolate Bar for Kids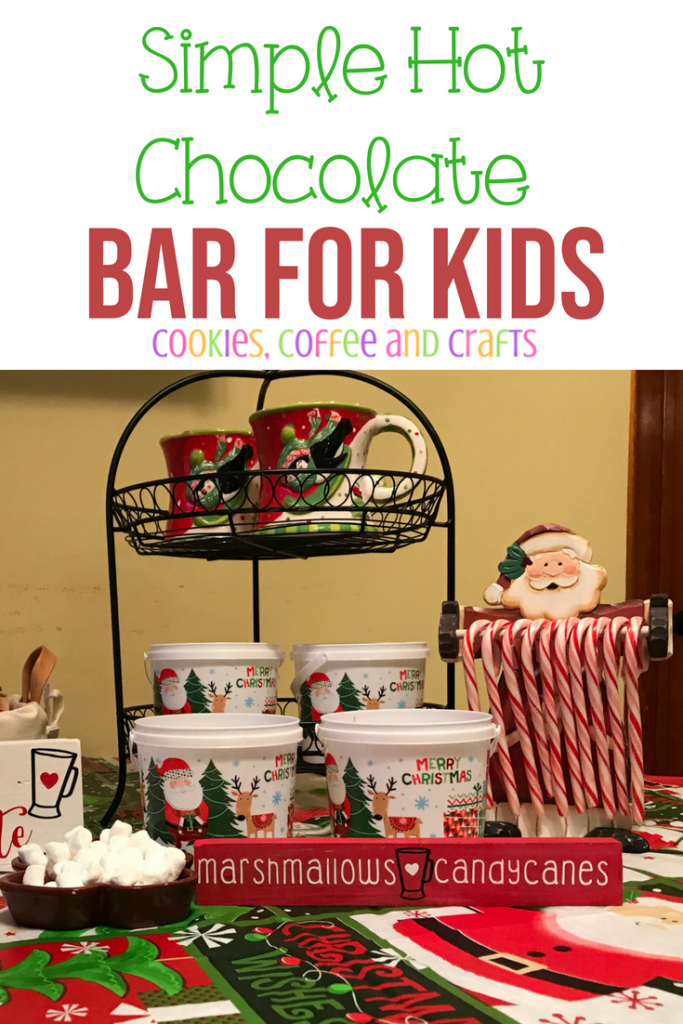 Note: As an Amazon Associate, I earn from qualifying purchases. If you click on a link from Amazon or another of my advertising affliates, I will earn a small commission at no additional cost to you. Please see my full disclosure policy here.
Many of my winter childhood memories are about sledding, Cupcake (our dog) stealing our mittens, and hot chocolate. I'm a traditional hot chocolate with mini marshmallows kind of girl. So tasty when the marshmallows start to melt into the hot chocolate. I have created a hot chocolate bar all from Aldis for under $15.
---
They have all been busy as Elves creating, decorating, cooking and crafting tons of new ideas for you to try this holiday season!
Shirley~Intelligent Domestications I Alli~An Alli Event I Michelle~Our Crafty Mom I Marie~DIY Adulation
Erlene~My Pinterventures I Beverly~Across The Blvd. I Debra~Shoppe No. 5 I Victoria~Dazzle While Frazzled
Megan~C'mon Get Crafty I Michelle~Michelle James Designs I Amanda~Domestically Creative
Deborah~Salvage Sister & Mister I Jeanie~Create & Babble I Sherry~Olives & Okra
Jenny~Cookies Coffee & Crafts I Emily~Domestic Deadline I Bonbon~Farmhouse 40
Leanna~Of Faeries & Fauna I Pam Larmore~P.S. I Love You Crafts I Kelly~North Country Nest I
Marie~The Inspiration Vault I Gail~Purple Hues and Me I Lynne~My Family Thyme I
Karen~Dragonfly and Lily Pads I Trisha~Blowing Away Out West Lorrin~Embrace The Perfect Mess I
Terri~Christmas Tree Lane I Sam~Raggedy Bits I Cyn~Creative Cynchronicity Valeria~Val Event Gal
Yami~The Latina Next Door I Jeannee~Centsably Creative I Tania~Little Vintage Cottage
Lauren~Wonderfully Made I Vanessa~DIY 180 I Kimberly~A Wonderful Thought I
Kim~Everyday Parties I Dru~Polka Dot Poplars
---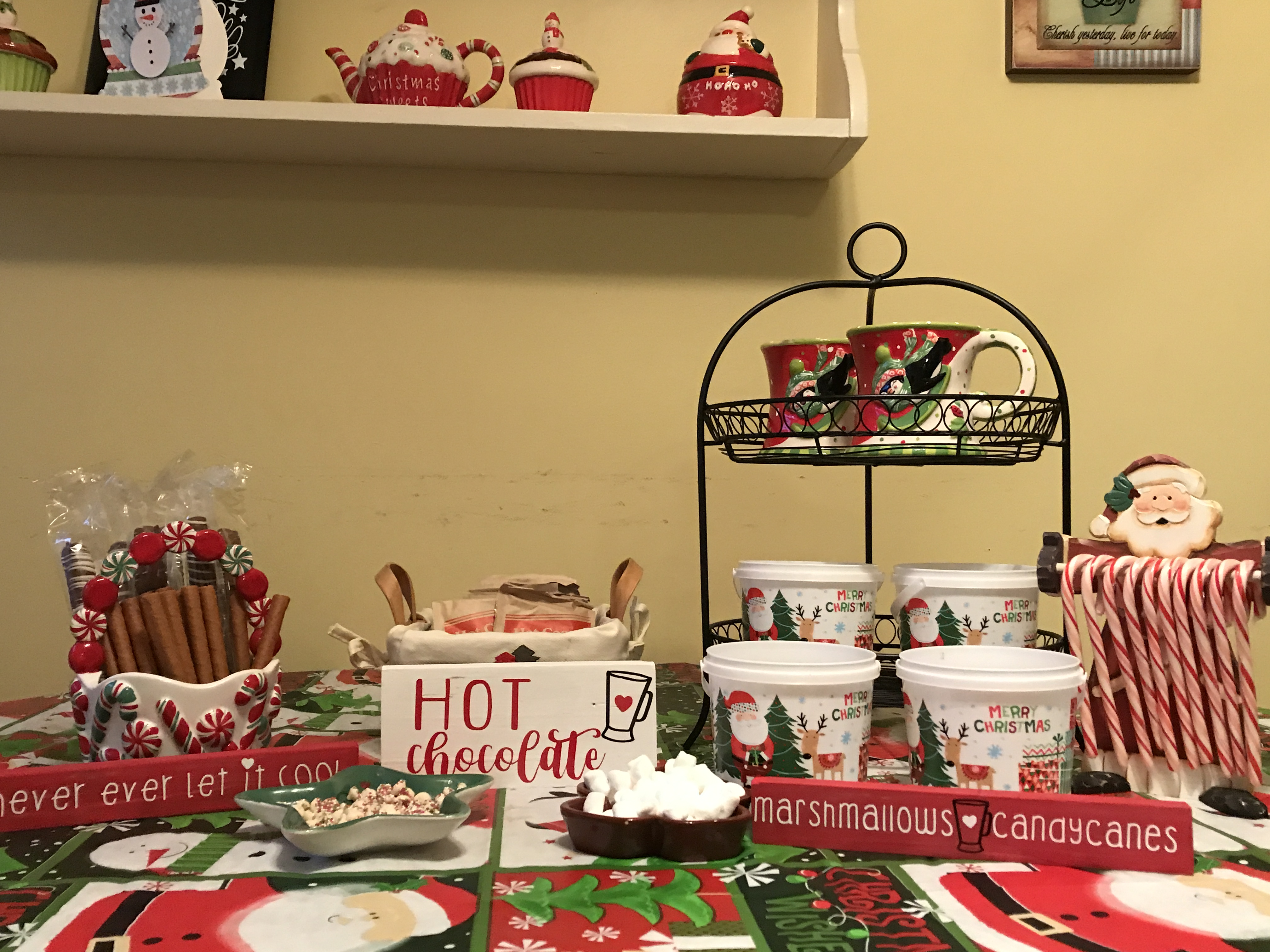 I have young children so I knew they would love adding chips/morsels to their hot chocolate. I found all of the ingredients at Aldis except for the peppermint chips, I bought them in the bulk department of our local grocery store.
I created homemade signs, found these adorable buckets at the dollar store to put the delicious chips in, and kid friendly mugs for the hot chocolate (also from the dollar store). The tiered tray works perfectly for the mugs and buckets. I found this cute Christmas tablecloth at Wegmans.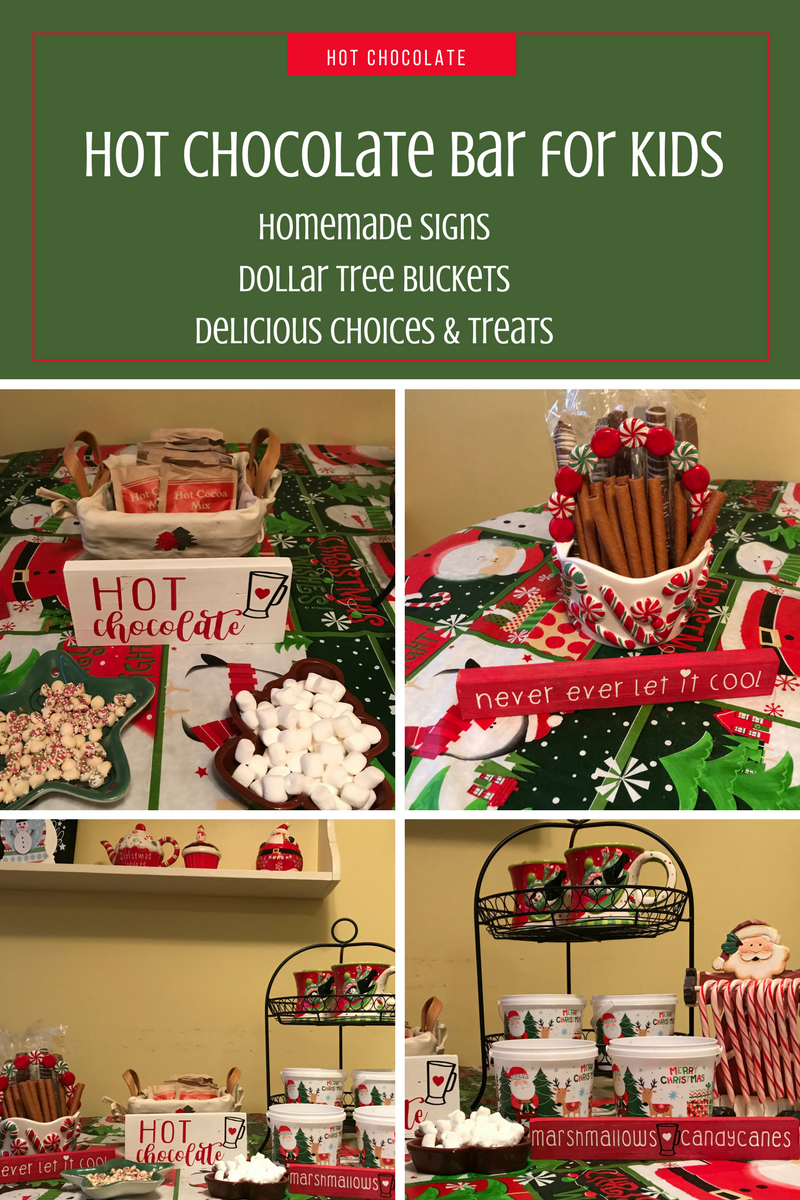 Hot Chocolate Bar Ingredients:
Hot Chocolate
Mini Marshmallows
Whip Cream
Red & Green Chocolate Chips
White Chocolate Chips
Peanut Butter Chips
Peppermint Chips
Chocolate Pretzel Sticks
Wafer Rolls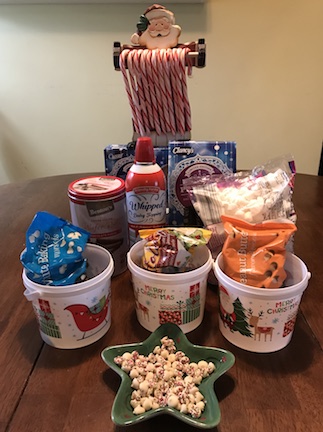 Spread holiday cheer and chocolate wishes with this hot chocolate bar. Everyone will love creating delicious hot chocolate drinks and having a sweet treat.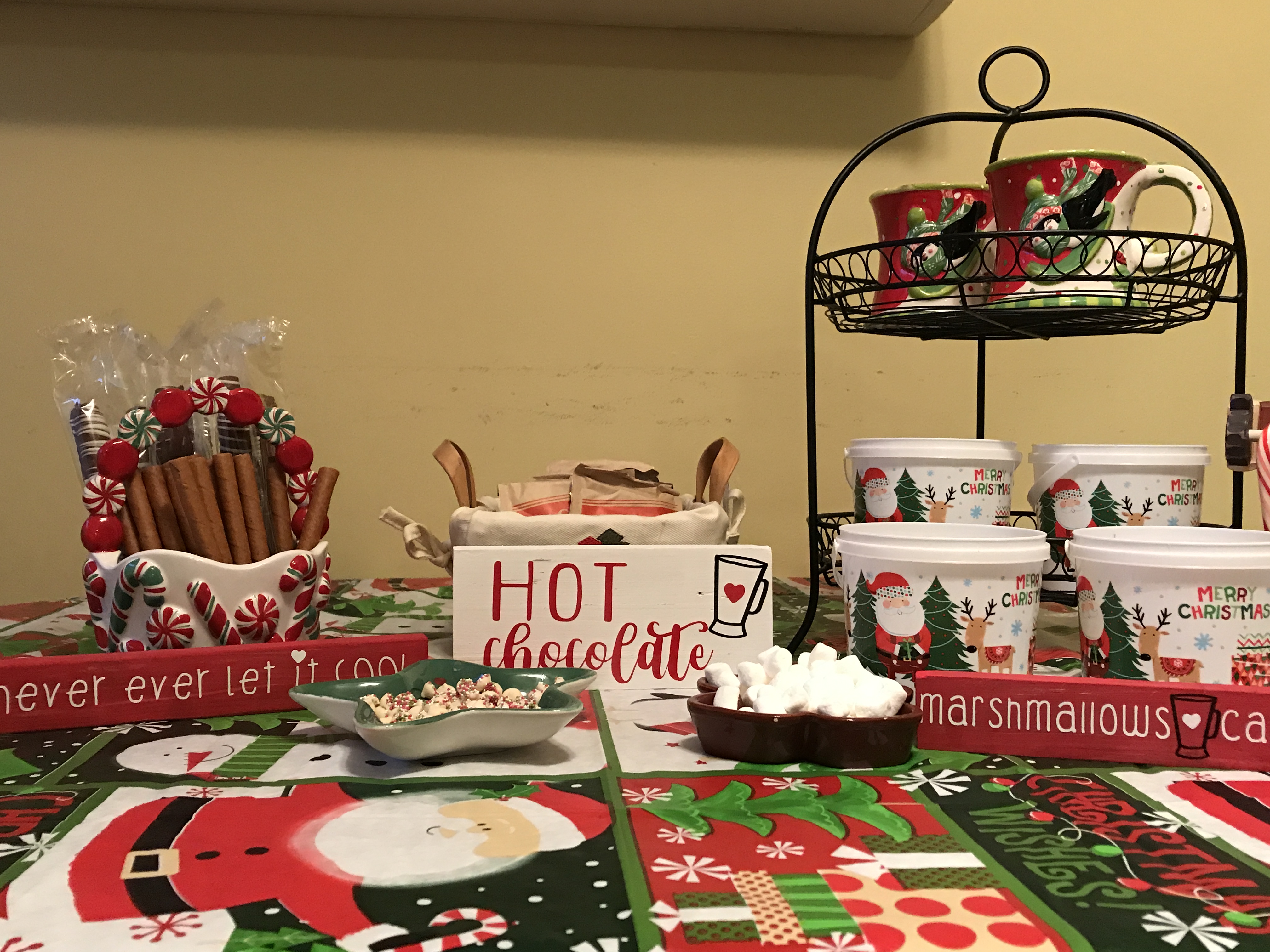 ---
Be sure to visit our fellow 12 Days of Christmas Bloggers below for even more creative ideas this holiday season!