Spooky & Cute Halloween Decor for your Home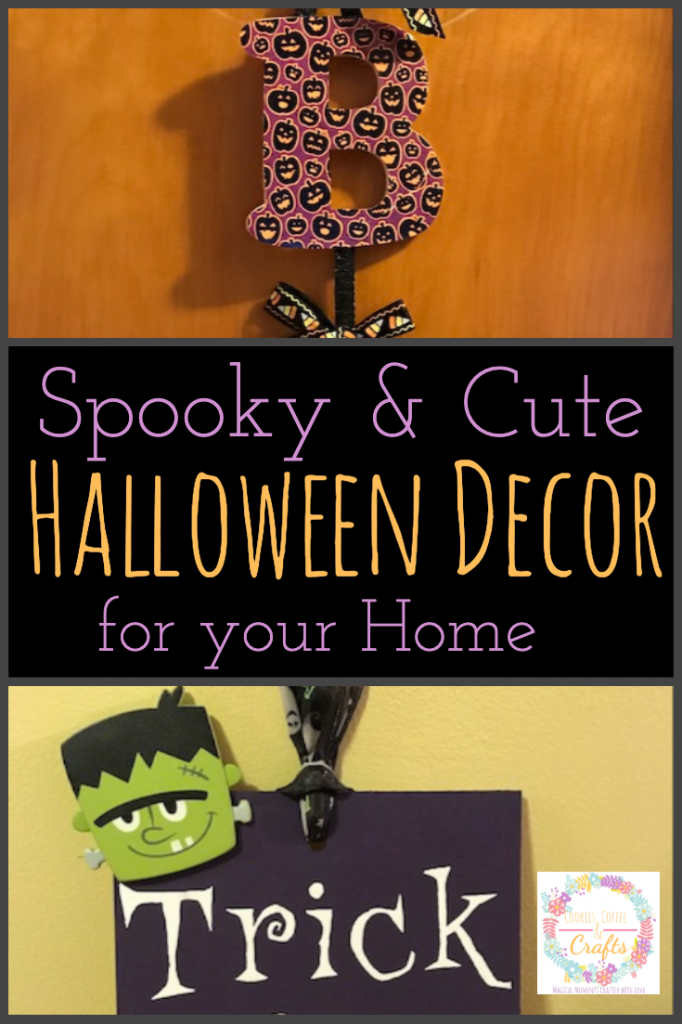 Note: As an Amazon Associate, I earn from qualifying purchases. If you click on a link from Amazon or another of my advertising affliates, I will earn a small commission at no additional cost to you. Please see my full disclosure policy here.
Decorating with spooky and cute Halloween decorations is one of my favorite pastimes. My son loves Halloween to and is always asking for more decorations. Today I'm sharing homemade Spooky & Cute Halloween Decor for your Home that you can make to!
Below are some affiliate links and I may make a commission for purchases made through the following links.
Spooky & Cute Halloween Decor For Your Home
BOO Sign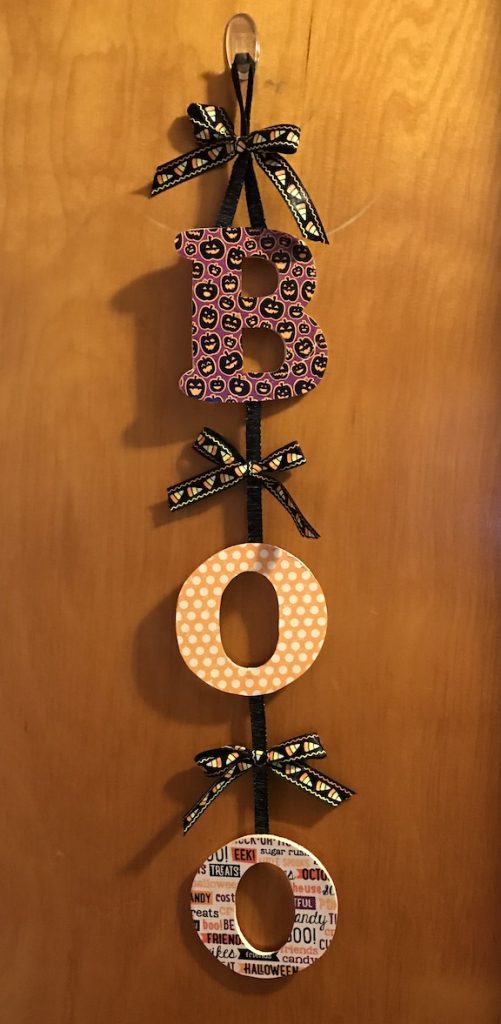 I love this sign! It's made with wooden letters, scrapbook paper, mod podge, and ribbon.
Trick or Treat Sign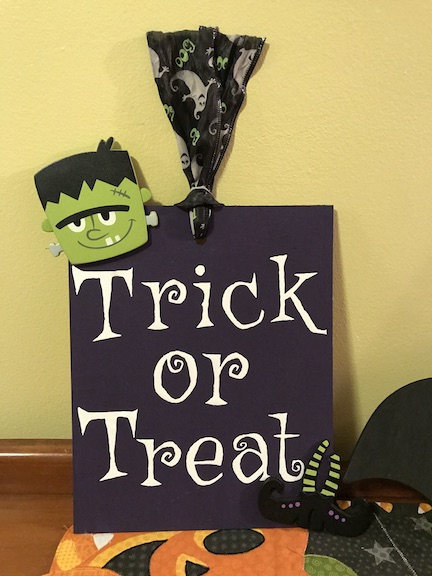 To create this sign I used a wooden sign, craft paint, ribbon, and the wooden Halloween decorations from the craft store. Then using my Cricut I cut out the words in vinyl.
Spooky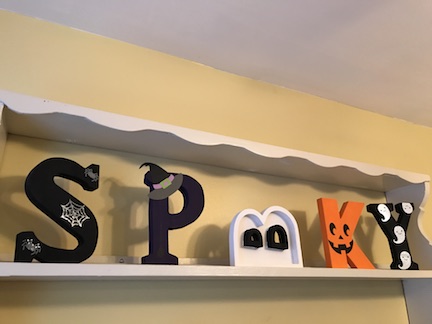 These letters were super fun to create! I was so excited when I found them at the craft store for 80%. I couldn't find two letter o's so I used a B and put it on it's side. The letters are all painted and have vinyl and paper embellishments to make each one unique.
Halloween Centerpiece
I created this fun centerpiece with card stock using my Cricut. I put it in a cauldron and it makes a great centerpiece for parties or just to decorate with. Every year the kids have a Halloween Party and here are some Easy DIY Halloween Party Ideas .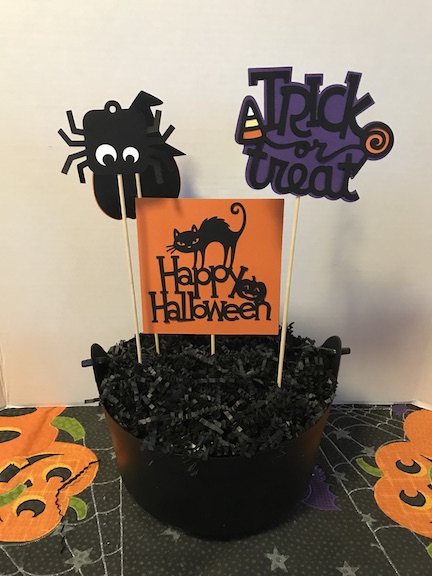 Halloween Porch Decor
Yes we even decorate for Halloween outside too! We put out yard stakes, flags, and lights. For the lights, I cut and tied on plastic tablecloths in black, orange, and purple. This took a lot of time, but it looks great. It's been outside for 3 years now and it still looking spooky and cute.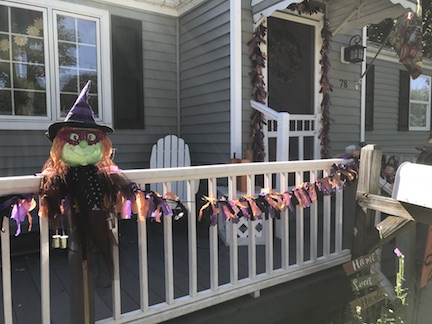 Halloween Countdown Sign
The kids ask all the time "When's Halloween?" and this board has been a life saver. I just direct them to the Countdown Board and they can visually see when Halloween is. This is made with card stock, vinyl, and a magnetic dry erase board.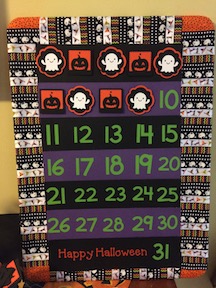 Halloween Fabric Wreath
I love wreaths and I always have a wreath on the door. I also add them into my inside decor to because wreaths look great inside to. Here is the fabric wreath of how to create the fabric wreath. I love fabric wreaths because you can customize it with any fabrics you want.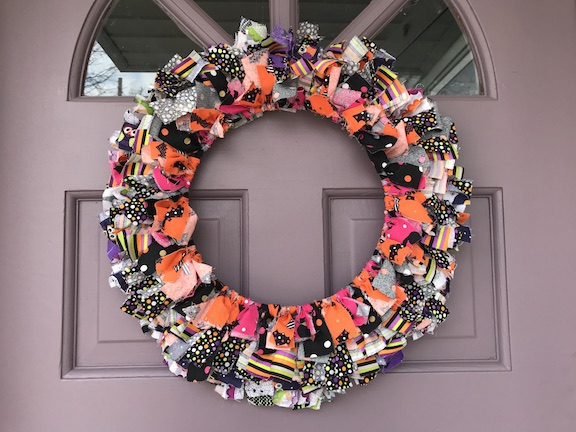 Witches Broom Decoration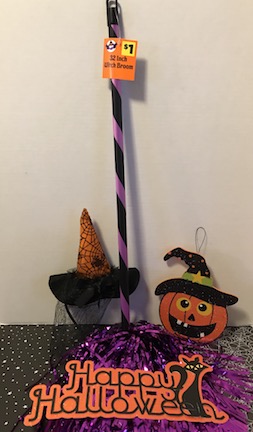 When I brought this broom home, the kids fell in love with it and I had to go back to the store and buy more. This is a simple DIY door decor
Halloween Mason Jars
Mason Jars make great crafts. Plus these match great with the SPOOKY on the shelf. These are easy to make, you just need paint, vinyl, and mason jars. Here is the mason jar tutorial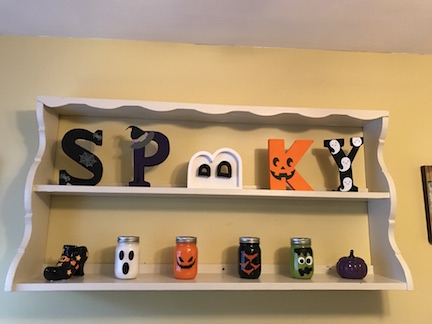 Do you like to decorate for Halloween?