5 Easy Cricut Joy Valentines Cards | Free in Design Space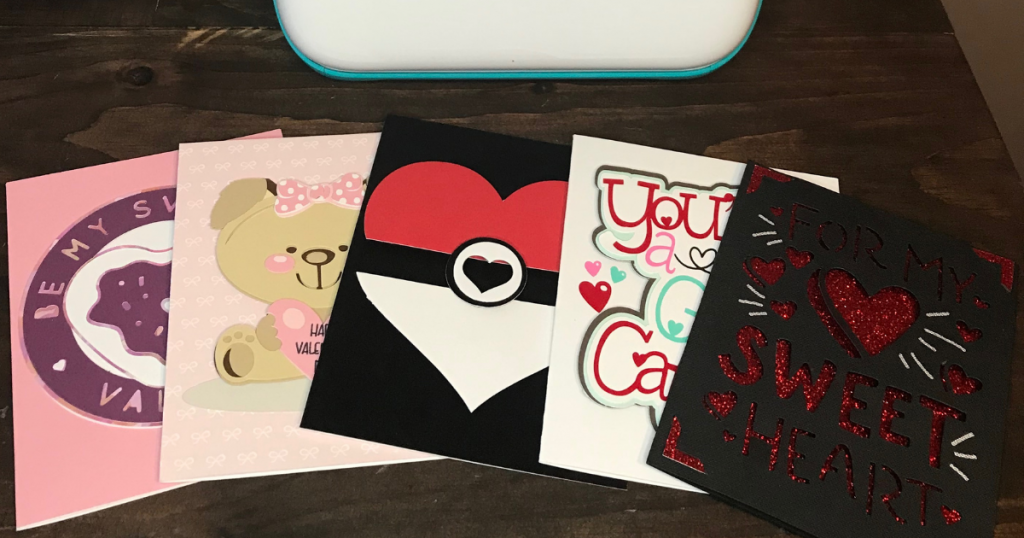 Note: As an Amazon Associate, I earn from qualifying purchases. If you click on a link from Amazon or another of my advertising affliates, I will earn a small commission at no additional cost to you. Please see my full disclosure policy here.
Valentine's day is all about chocolate and sweet cards for everyone. Everyone loves to be loved and thought of. One way to do that is by making homemade cards for all of those special people. I'm sharing the Cricut Joy Valentines Cards that I made this year for my family. Making cards in Cricut Design Space is super easy and fun. I just love glueing paper together.
Each of these cards uses a little different technique or materials but they are all super easy to make. I chose to use Close To My Heart card stock because it cuts the best on the Cricut and some of their Valentines themed paper. Check out their new Smitten Valentines Collection.
For all of these cards I used blank 4.25×5.5 (A2 sized) cards that are pre-made and blank. Then I just add my designs to them. Also for the base layers, I cut them on my paper trimmer because the Joy won't cut card stock on the mat in the card size.
All of these Valentine cards are free with a Cricut Access Membership Plans. These images are all available in Cricut Design Space™ and the insert card is available on the Cricut Joy app. The membership is totally worth it and every month new images are added to the collection.
5 Cricut Joy Valentines Cards for You
Be My Sweet Valentine Card Idea
Using a pink base I created a donut inspired card using card stock and the self adhesive paper.
Happy Valentine's Day Puppy Card
How adorable is this puppy? My niece loves dogs and I knew this would make the perfect card for her. The base of the card is a Valentines themed scrapbook paper and the puppy is in Design Space.
I attached the writing of "Happy Valentine's Day" to the heart that the puppy is holding to make it more Valentine themed.
Just glue the puppy together and add it to the card, for a one of kind puppy love Valentine card idea.
You're a Great Catch Cricut Valentine Card Idea
Another super cute Valentine themed Design Space image for any fish lover. My son loves ocean creatures and this ones for him. For the finer details on the cards, I like to use vinyl because it's so much easier than glueing tiny pieces of paper. Plus it's a great way use up scrap vinyl.
One way to elevate your cards are to use 3d foam dots on the images. It gives the card a nice depth and makes it look fancy- ooh la la.
Pokemon Cricut Valentine Card Ideas
If you know a Pokemon fan, then you need to make this card for them. My daughter loves Pokemon and can't wait to be a Pokemon trainer. This card design can't be found in Design Space, but it can easily be made by using a heart shape and slicing it into two pieces. For the poke ball center on the heart, slice a heart out of the circle to create the center or you can use this Pokemon Valentines Card Idea file for Design Space.
Cricut Joy Valentines Cards- For My Sweetheart Insert Card
The Cricut Joy is known for the insert cards created with the card mat so I had to make one for Valentine's Day and who doesn't love a glittery card. This card was created with the black/red insert card set. All the cards are black and the inserts are red glitter paper.
I find the easiest way to make insert cards are on the Cricut Joy app. It takes less than 5 minutes to make. I'll be making insert cards for all the teachers at school for Valentine's Day because it's the easiest for a large quantity.
I hope you found some inspiration to create your own Cricut Valentine cards and to spread the love on Valentine's Day. Cricut Design Space has so many great images that you can just cut and add to cards for easy, simple and free greeting cards.