Cute DIY Teacher Gift Idea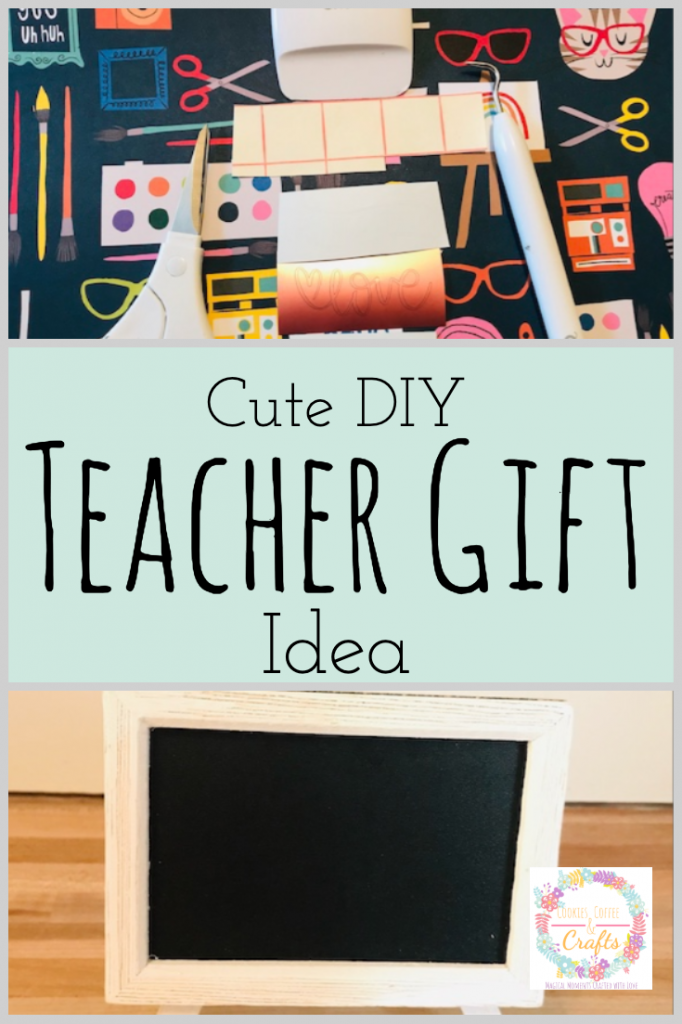 Note: As an Amazon Associate, I earn from qualifying purchases. If you click on a link from Amazon or another of my advertising affliates, I will earn a small commission at no additional cost to you. Please see my full disclosure policy here.
Summer always goes by so fast, why can't winter do that? I wonder this every year, as I get ready for the kids to go back to school. I took the kids to Michaels over the summer for Camp Creativity and they had so much fun. As they created, I got to enjoy Michaels. I found the cutest mini chalkboard easels for $1.99 and new right away they would be the cutest Homemade Teacher Gift Idea.
This post contains affiliate links which means I may make a small comission of any sale that is made by clicking on any of the products with no cost to you. Your support is greatly appreciated.
Teachers and chalkboards go together like peanut butter and jelly or they used to right, with all the new technology blackboards are probably extinct now- haha! Seriously though, I was picturing this sitting on the teachers desk as a reminder of the awesome inspiration they give everyday to their students.
Supplies for Cricut Teacher Gift Idea
Cricut Tools

White Vinyl

Cricut Adhesive Foil Matte

Transfer Paper

Lovesvg
Cricut Maker
Let's Create a Cute and Easy Handmade Teacher Gift
I found this SVG in Cricut DS. I sized the SVG to fit in the mini chalkboard easel. The teach and inspire is cut in white permanent vinyl and the love in Cricut Adhesive matte foil. For the foil, make sure you use the strong grip mat and select adhesive foil matte from materials.
As far as cost, I paid $1.99 for the mini chalkboard and I already had the vinyl. If you like to use vinyl, you really just need scrap pieces to make this because the design is so small. It's a very affordable teacher gift idea. Sometimes it's the thought that counts, not the cost.
Then weed the design by removing the excess vinyl that you don't need with the Cricut Weeding Tool. Next use your transfer paper to add the quote to the sign.

First I did teach, then I did inspire and I did love in the middle last. That way it gave me guidelines of where to place it.
Ideas of When to Give this DIY Gift
Back to School Gift
Teacher Appreciation
Christmas or End of the Year ( I would just add a gift card with it)
This gift is just the right size to say "I'm so glad you are my teacher" at back to school or is an easy gift to give along with a gift card at Christmas or the end of the year. For teacher appreciation, I like to send in a little something everyday like this or a mouse pad or survival kit or a clipboard, just to say thank you for all they do.
amzn_assoc_placement = "adunit0";
amzn_assoc_search_bar = "true";
amzn_assoc_tracking_id = "jsparmo-20";
amzn_assoc_search_bar_position = "bottom";
amzn_assoc_ad_mode = "search";
amzn_assoc_ad_type = "smart";
amzn_assoc_marketplace = "amazon";
amzn_assoc_region = "US";
amzn_assoc_title = "Shop Related Products";
amzn_assoc_default_search_phrase = "Vinyl";
amzn_assoc_default_category = "All";
amzn_assoc_linkid = "73b1170162c67cba0e9573ba1bbd1e00";