Happy Pumpkin Spice Sign for Fall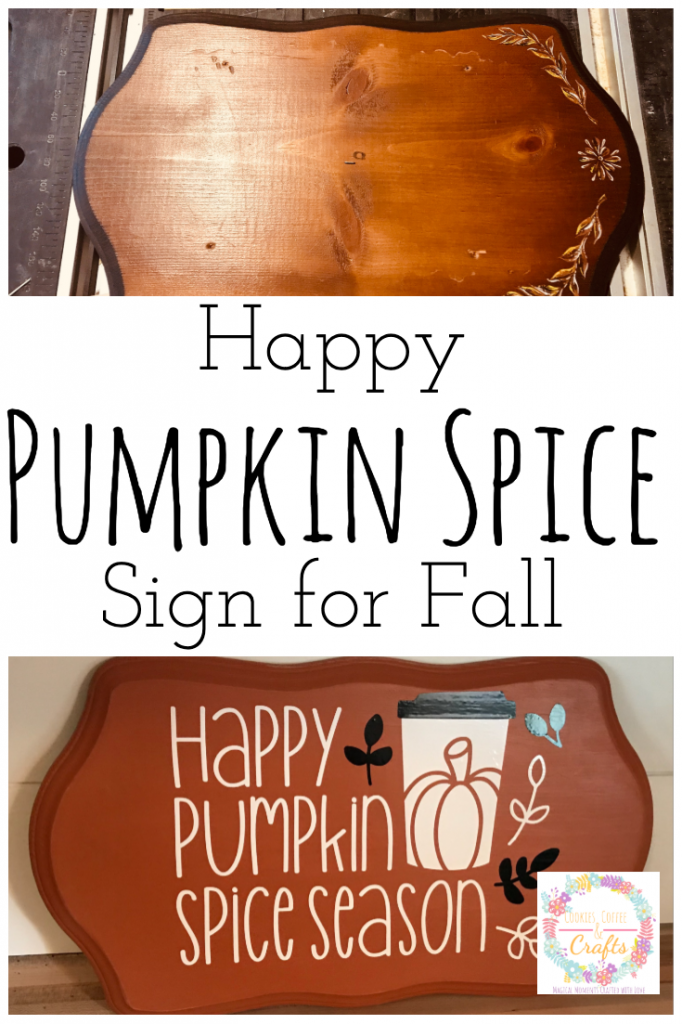 Note: As an Amazon Associate, I earn from qualifying purchases. If you click on a link from Amazon or another of my advertising affliates, I will earn a small commission at no additional cost to you. Please see my full disclosure policy here.
I'm totally in love with pumpkin spice lattes and I have it as much as I can throughout the fall. Since I'm a total pumpkin spice latte junkie, I decided I needed a happy pumpkin spice sign for fall. Why not celebrate my favorite season and drink?
If you like to save money on seasonal or home decor, the best place for signs to redo is the thrift store. All of my creative blogging friends are giving a thrift store item a makeover in this months blog hop. I have a neighbor who thinks of me before she throws out a wood sign or piece of wood and luckily she gave this sign. My husband reminded me it was in the basement a couple weeks ago and I knew it would be perfect, but wood signs like this can easily be found a the thrift store. Sometimes all you need is a little paint and some DIY.
This post contains affiliate links which means I may make a small comission of any sale that is made by clicking on any of the products with no cost to you. Your support is greatly appreciated.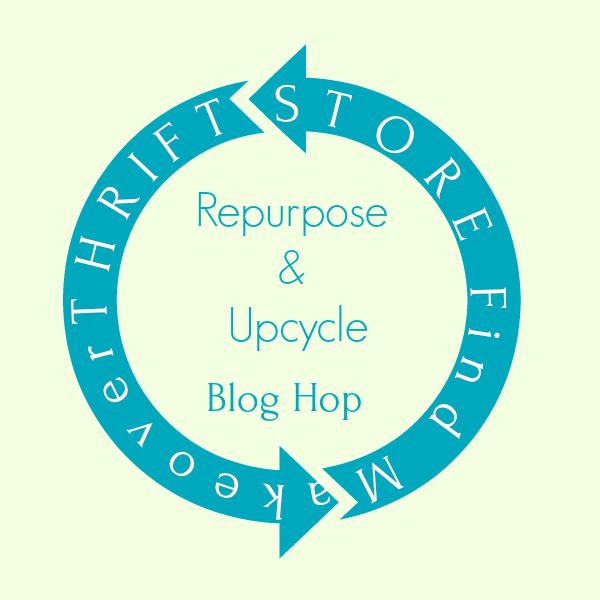 Meet this month's participants!
Across the Blvd | Coastal Bohemian
Domestic Deadline | Cookies, Coffee, & Crafts | Stone Cottage Adventures
Purple Hues & Me | This Autoimmune Life
Supplies for DIY Happy Pumpkin Spice Decor
Thrift Store Sign/Wooden Plaque
Sherwin Williams Pennywise Paint
Paint Brush
Fine Grit Sanding Block

Cricut Maker
White Vinyl
Black Permanent Vinyl
Transfer Paper
Let's Create a Happy Pumpkin Spice Sign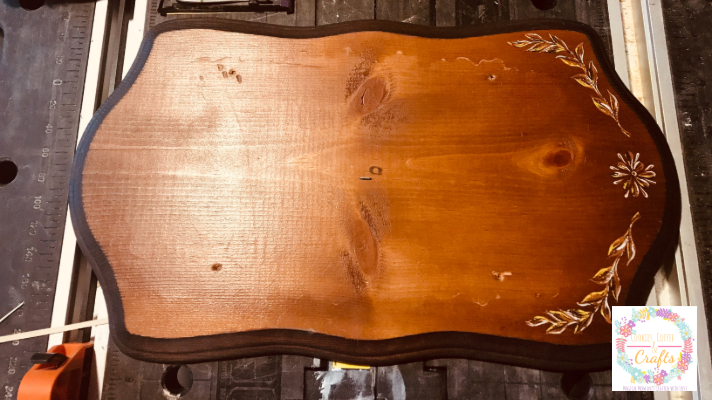 To get started I gave this sign a good sanding. The edges were hard to get to, but I decided to leave some of the brown so that I can give it a light sanding and a rustic touch. My husband filled the holes with Elmer's Carpenter's Wood Filler
and then sanded them down.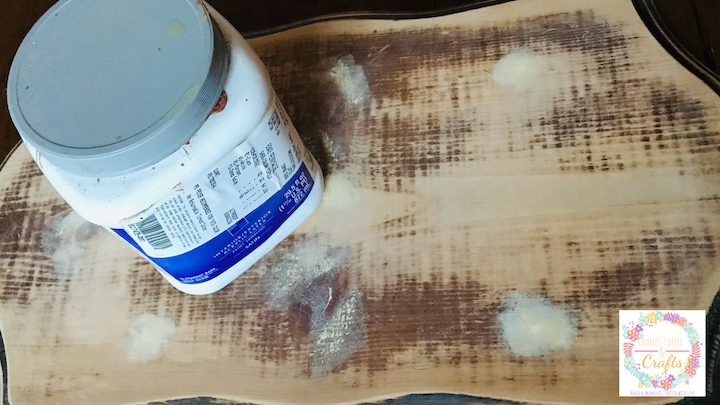 Before I paint any room in my house, I get a sample can of the color. They are perfect for projects too. Sherwin Williams Pennywise is a rust colored orange, if the fall season had a color this would be it.
I've used it before on my fall porch sign and my fall pallet sign. I gave the sign two coats and after it dried I sanded the edges lightly with the fine grit sandpaper.
For decoration on the fall decor, I chose an SVG from Cricut Design Space™ using my Cricut Access Premium. The coffee cup with the pumpkin on it is my favorite part of it.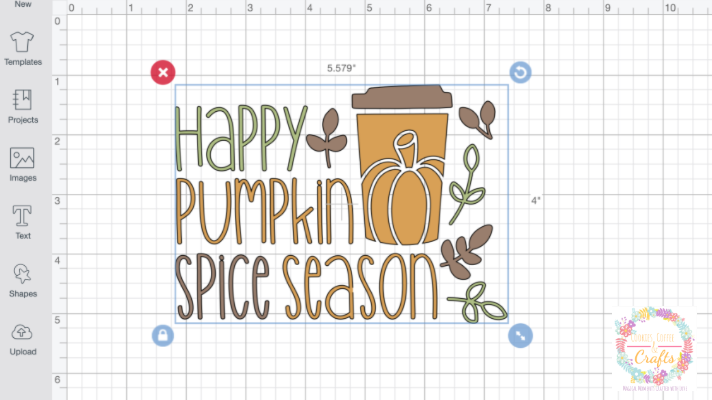 I changed the colors so all the words are cut in white and the lid and some leaves in black. I cut everything in permanent vinyl using my Cricut Maker.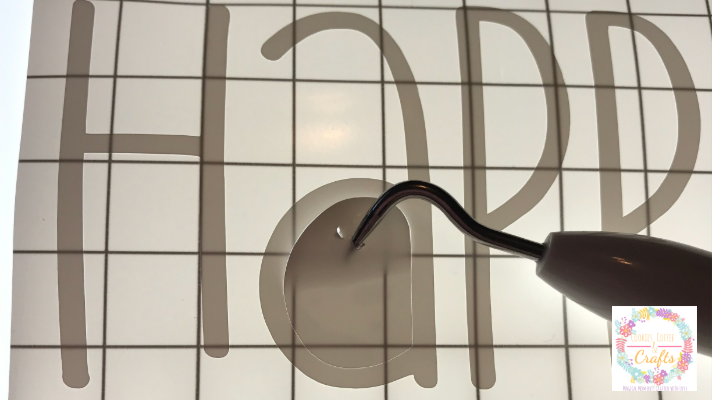 Next I weeded my design by removing all the access vinyl using my Cricut Bright Pad
.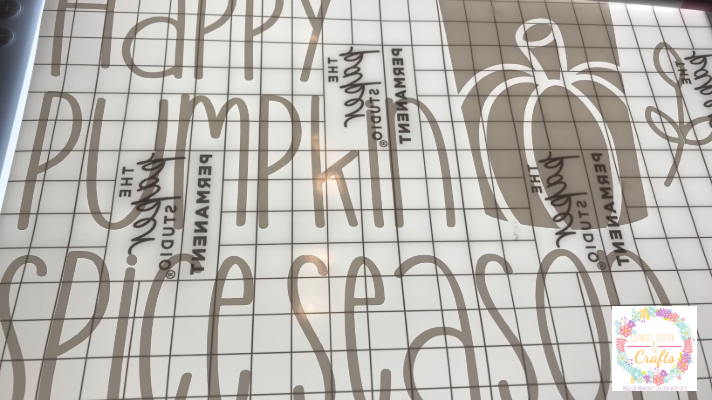 Using transfer paper
I added the vinyl to the sign.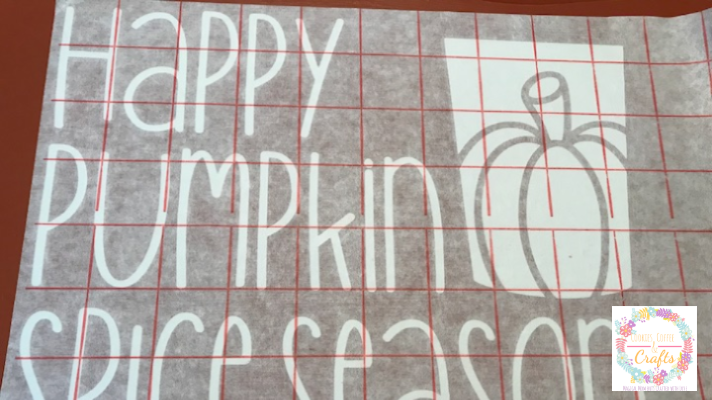 Now that I've created this Happy Pumpkin Spice sign, I can't wait for pumpkin spice latte season to begin. Fall is my favorite season and I look forward to it every year. Creating your own DIY fall decor (or any seasonal decor) with thrift store signs is a great way to save money and decorate at the same time.
Thrift Store Sign Makeover for Fall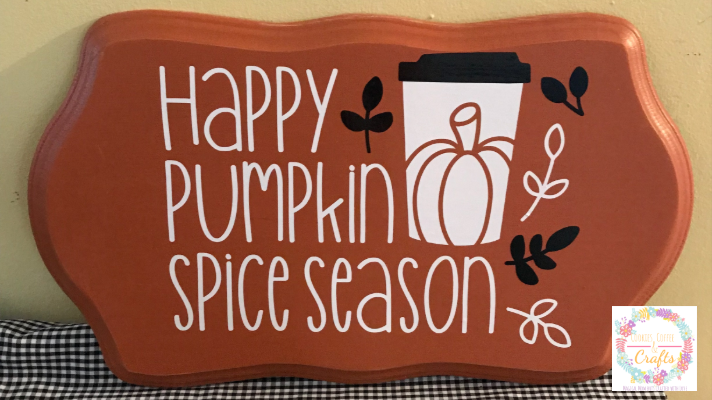 I just love how this sign came out and with the cool weather and this cute fall sign, I'm ready for fall.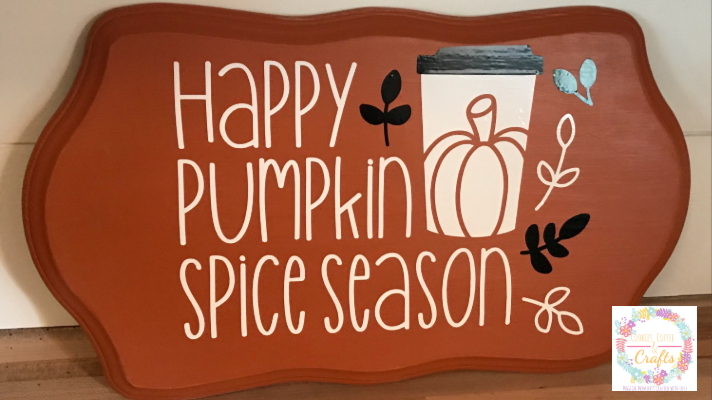 You are invited to the Inlinkz link party!
amzn_assoc_placement = "adunit0";
amzn_assoc_search_bar = "true";
amzn_assoc_tracking_id = "jsparmo-20";
amzn_assoc_search_bar_position = "bottom";
amzn_assoc_ad_mode = "search";
amzn_assoc_ad_type = "smart";
amzn_assoc_marketplace = "amazon";
amzn_assoc_region = "US";
amzn_assoc_title = "Shop Related Products";
amzn_assoc_default_search_phrase = "pumpkin spice latte";
amzn_assoc_default_category = "All";
amzn_assoc_linkid = "c495f9f94321433d996f99d5ebeafc76";