DIY Lighted Stocking Holder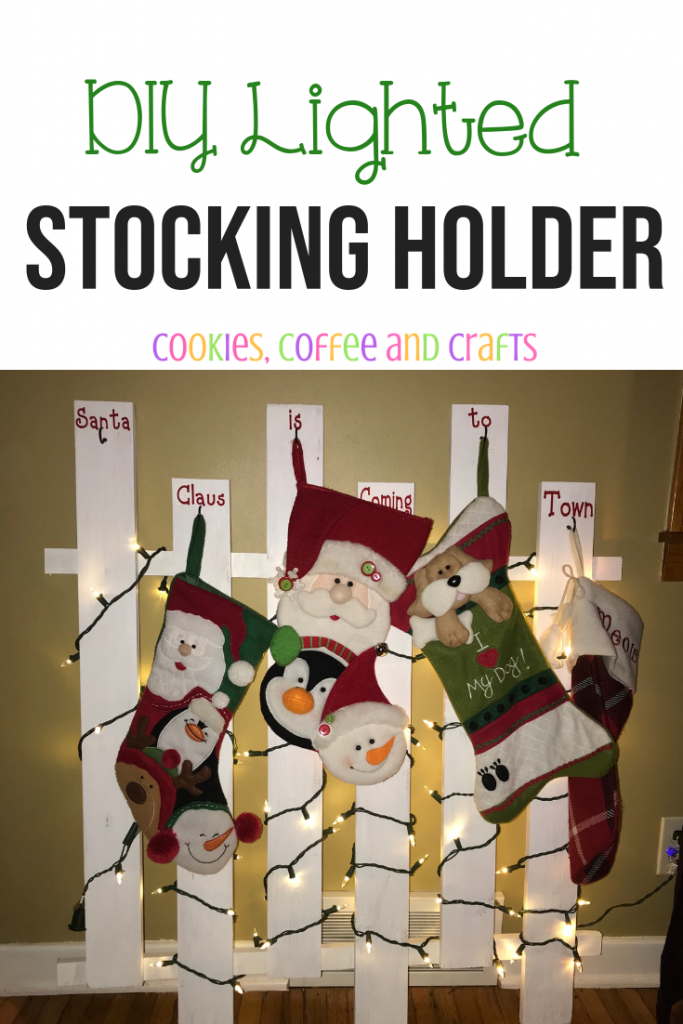 Note: As an Amazon Associate, I earn from qualifying purchases. If you click on a link from Amazon or another of my advertising affliates, I will earn a small commission at no additional cost to you. Please see my full disclosure policy here.
One of my favorite traditions growing up was opening my stocking on Christmas morning. My mom always went above and beyond with awesome stocking stuffers. The rule was you could open your stocking, but had to wait for presents. I have carried on the tradition of awesome stocking stuffers with my children. Our home doesn't have a mantel so my husband created a free standing stocking holder. It's super easy to create and makes a beautiful piece of decor.
Welcome to Day 12 of the Fourth Annual 12 Days of Christmas Series!
We have teamed up with 50 plus bloggers to bring you a oodles of DIY Ideas and Recipes to make your holiday season merrier. There are 12 different posts in the series and we have spread them out over a four week period with three posts per week. Now is the time to subscribe!
Go Here for the complete list of Dates and Topics plus a collection of most popular holiday ideas including ornaments, games, recipes and more from all 50 plus talented bloggers!
If you haven't had a chance to see all the Christmas magic and ideas, here they are:
Day 1: Buffalo Check Pine Berry Wreath
Day 2: How to Make a Personalized Cake Carrier
Day 3: DIY Candy Cane & Burlap Christmas Countdown
Day 4: DIY Kids Jingle Bell Bracelets
Day 5: Easy Spinach Artichoke Dip for a Christmas Party
Day 6: Jack Skellington Christmas Ornament
Day 7: Simple Farmhouse Christmas Entrance Decor
Day 8: Merry Crafters Christmas in a Jar
Day 9: Pretty Coffee Cup Gift Card Holder using the Cricut Maker
Day 10: Our Pretty Buffalo Check Christmas Tree
Day 11: Cute Snowman Christmas Cupcakes for Kids
It's Day 12 and we are ready to Hang the Stockings by the Chimney with Care!
---

Remember those awesome stocking stuffers I talked about, here are 151 Stocking Stuffer Ideas for Kids-No Junk . The kids can use this stuff all year long. Don't worry I didn't forget the adults, I love anything for crafting in my stocking. If you love Cricut here are 51 Christmas Gift Ideas for Cricut Users . I love vinyl or pens in my stocking- yes I'm a total crafting nerd.
You know that hustle and bustle right before Christmas, well we decided to make this right before Christmas last year. We were hustling to get it done. My husband used common boards for this project. I believe they are 1×4, but we can't remember. Each board is 36 inches long and he staggered nailing them to the back pieces to give it a fence look. Then I painted it white and added the vinyl on top "Santa Claus is coming to Town."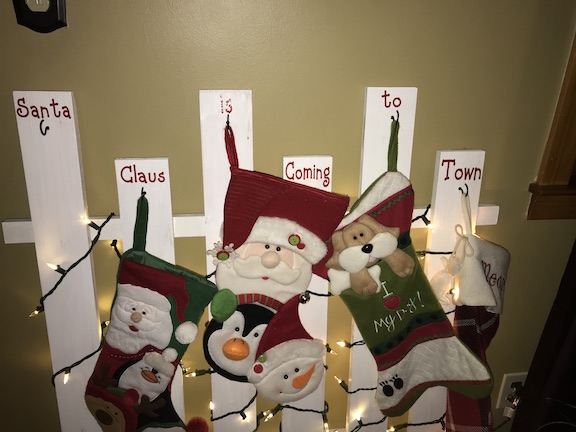 This year we went with white lights on our Our Pretty Buffalo Check Christmas Tree. We followed the recommendation for 100 lights per foot of tree, but we ended up having 2 extra boxes. Returning them sounded like a hassle, so I kept thinking about where I could use the lights. It finally came to me that the lights would be amazing on the stocking holder. I felt the stocking holder needed something, but I wanted the stockings to stand out, not the stocking holder.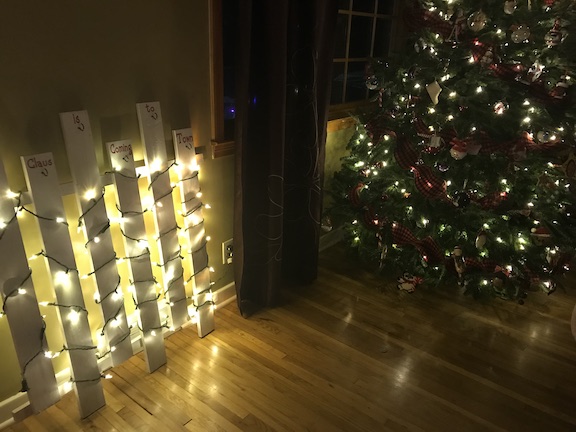 I'm going to be honest, when we built this we never thought of wrapping it in lights so it wasn't built for that. It was a struggle to get the lights in between the boards and I had to do it twice. I was a little short at the end the first time. Uhhh! If you are thinking about building a stocking holder and might put on lights, make extra space between the boards.
All that time and frustration was totally worth it. The stocking holder looks awesome with the lights on it. Every night it looks beautiful lit next to the tree. It just makes the stockings shine.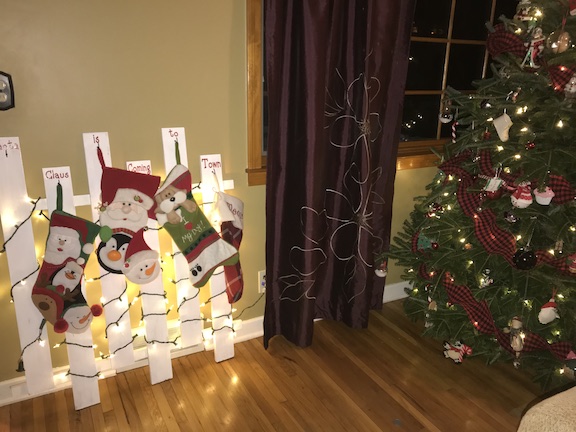 As for the stockings, we are still working on matching stockings. I never thought when I bought the first stocking to buy more so they all matched. I've tried matching them, but it hasn't really worked out. Plus my son doesn't want to give up the one he has. You can't forget your pets either!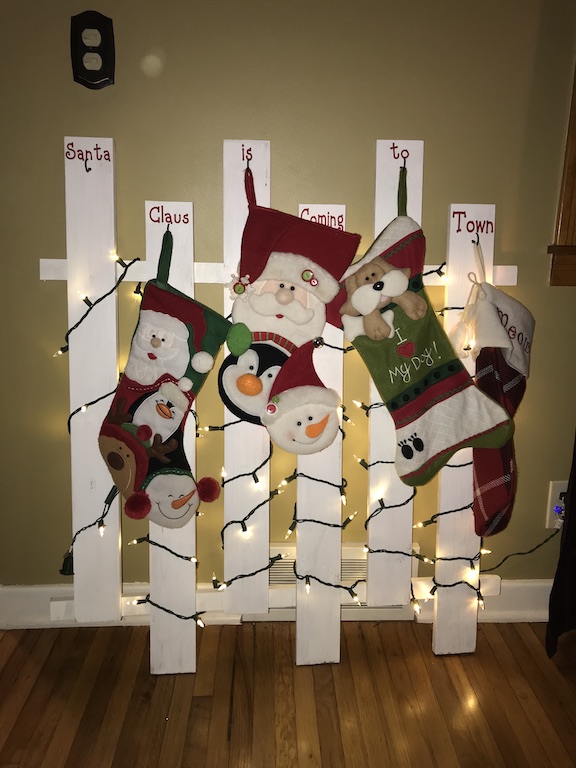 How do you hang your stockings? Merry Christmas!
Scroll down for even more Christmas Stocking Ideas you can use this holiday season!
---
Loading InLinkz ...