Outdoor Bubble Station Idea for Kids to Make Summer Easier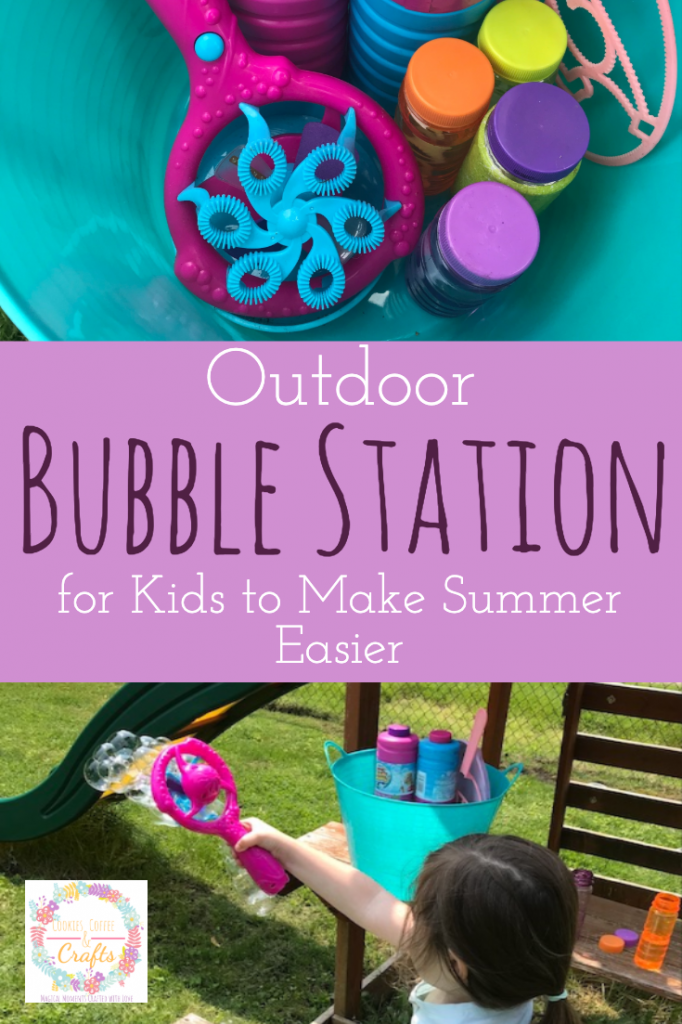 Note: As an Amazon Associate, I earn from qualifying purchases. If you click on a link from Amazon or another of my advertising affliates, I will earn a small commission at no additional cost to you. Please see my full disclosure policy here.
Summer is here and the one thing my kids love to do all summer long is bubbles! I think my kids keep the bubble business running because we are constantly buying them. Creating an outdoor bubble station for the kids will make summer so much easier. Plus all the bubbles will be in one place because I can't stand random bubbles anywhere and everywhere in the yard.
Getting outside with the kids can be challenging enough (shoes, sunglasses, and kid drama), then you have to get all the outdoor stuff outside. Our outdoor toys are in the garage and every time we go outside, I drag everything out. Honestly I'm tired of it. I know what you are thinking "why aren't the kids helping?" Well they are finally old enough to help with everything, but it's still a process. This summer I'm going to be prepared! You know all those summer toys you have, here is a way to use them all in this fun obstacle course .
Wondering how to keep the kids occupied all summer long? See our list of Summer Activities for Kids of All Ages! We have partnered with some savvy blogging Mom's and Grandma's to bring you a collection of summer fun ideas to do with kids of all ages from Pre K up to those precious teens. Be sure to scroll all the way down for even more ideas!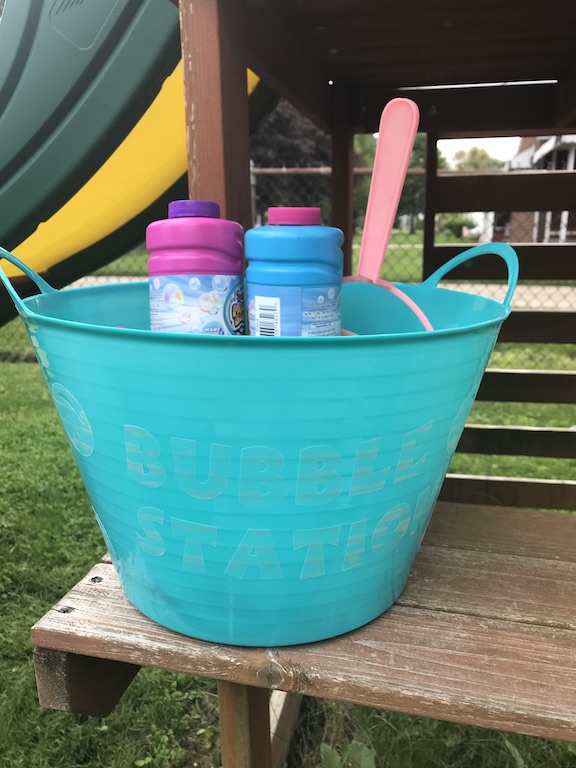 Let's Create a Dollar Tree Bubble Station
The Dollar Tree has some serious cute buckets, bins, and storage containers in some pretty colors, super cheap organization. I picked up some for my kids shoes and a bubble bucket.
Since the bucket will be staying outside (that's the plan), I had my husband drill some holes in the bottom so the water will run out when it rains. This bubble station will hold all the bubbles, wands, and bubble accessories we have. Seriously last year I lost a container of bubbles, a big container of bubbles and couldn't find it and the kids went crazy. It just ended up in a place in the garage I would have never ever looked for it. This DIY bubble station will keep that from happening.
DIY Fun Bubble Station Idea
A plain plastic storage bin is great, but I like to decorate things. It just makes it cute. Even outdoor toy storage ideas should be cute too.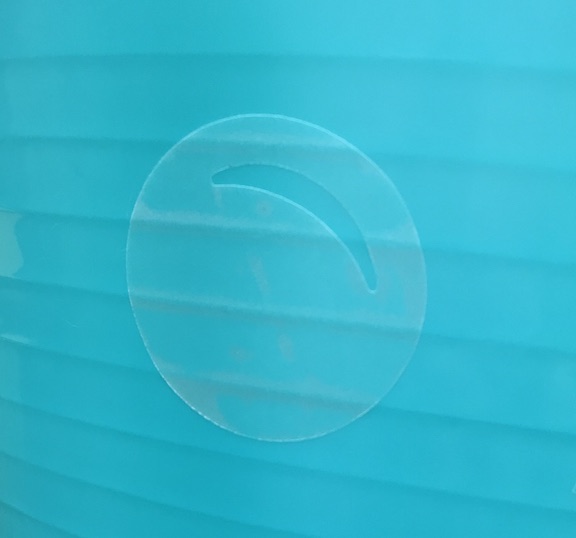 Using my Cricut Maker I created Bubble Station in Cricut Design Space™ and some bubbles to go on the bucket. The kids will love the decor and it's good reading practice, plus no one can say "where are the bubbles or where do they go." I cut the design in Cricut Permanent Frosted Opaque Vinyl by complete mistake. I thought I had bought Cricut Permanent White Vinyl, but when I opened it, I realized it wasn't white. I decided to use it anyways because bubbles are opaque and thought it would look cool on the bucket.
Then using transfer paper, I added the words to the bubble station. Next came the cute bubbles.
The font I used for Bubble Station is Boink Corn. Honestly the words are hard to read and it doesn't have the look I was hoping for, but the bubbles have a home. My kids think it's awesome, so I'm happy with that. Bubble Station is a lot easier to read in person, then in the pictures.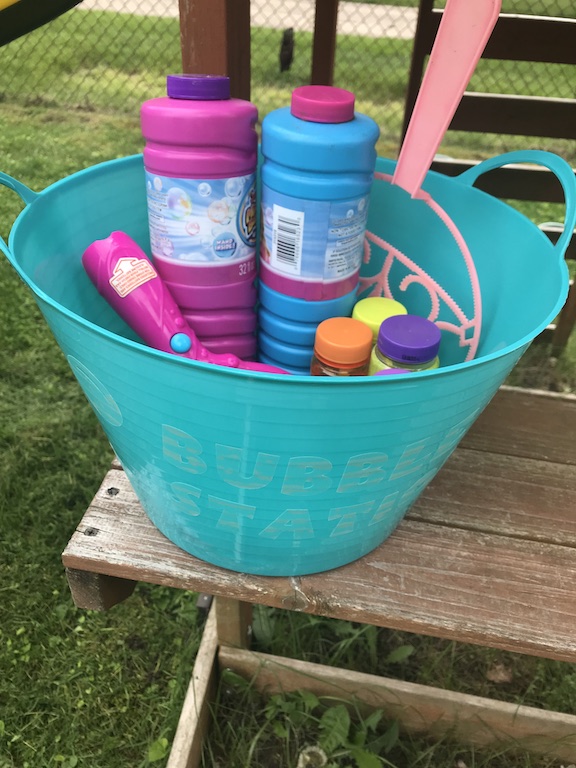 It's the perfect solution to our bubbles! It doesn't take up too much room outside and is an easy DIY for the backyard. The bubble station is perfect for a kids party or play date. The bubble station is a hit! The kids love playing with the bubbles and sitting on the bench.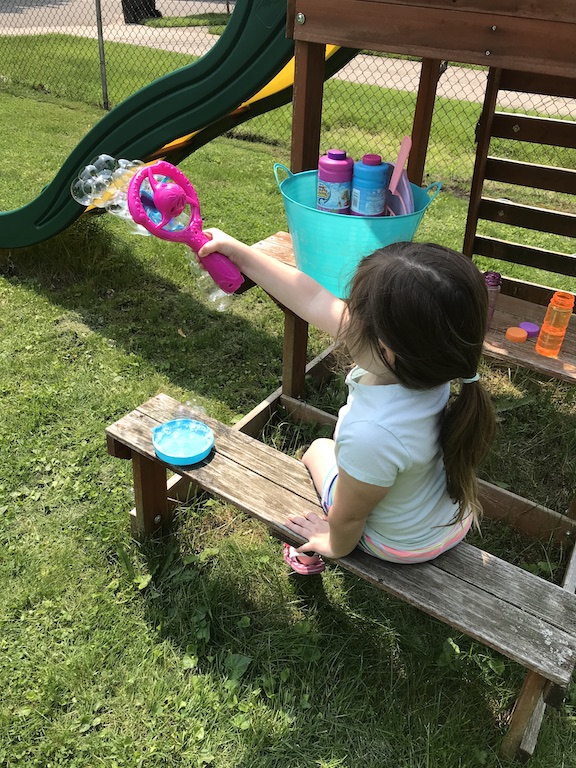 Monday
21 Fun Summer Activities to Enjoy with the Grandkids An Alli Event
Swing Painting Activity for Kids Glitter On a Dime
Kids Make Dinner- Summer Activity That Fit Fam
Tuesday
Water Tarp Game Inteligent Domestications
Toilet Paper Roll Butterfly Craft with Washi Tape Cookies Coffee and Crafts
Easy Outdoor Flying Disc Game DIY DIY Adulation
Wednesday
DIY Summer Boredeom Box For Kids DIY Adulation
Cousin Carnival Polka Dot Popular
Thursday
Kids Activities for Summer Creative Ramblings
Outdoor Bubble Station Idea for Kids to Make Summer Easier Cookies, Coffee and Crafts
Pool Noodle Sprinkler Fun Our Good Life
Friday
Butterfly Feeder Craft for Kids Glitter On a Dime
DIY Tic Tac Toe Game for Kids My Family Thyme