Toilet Paper Roll Butterfly Craft with Washi Tape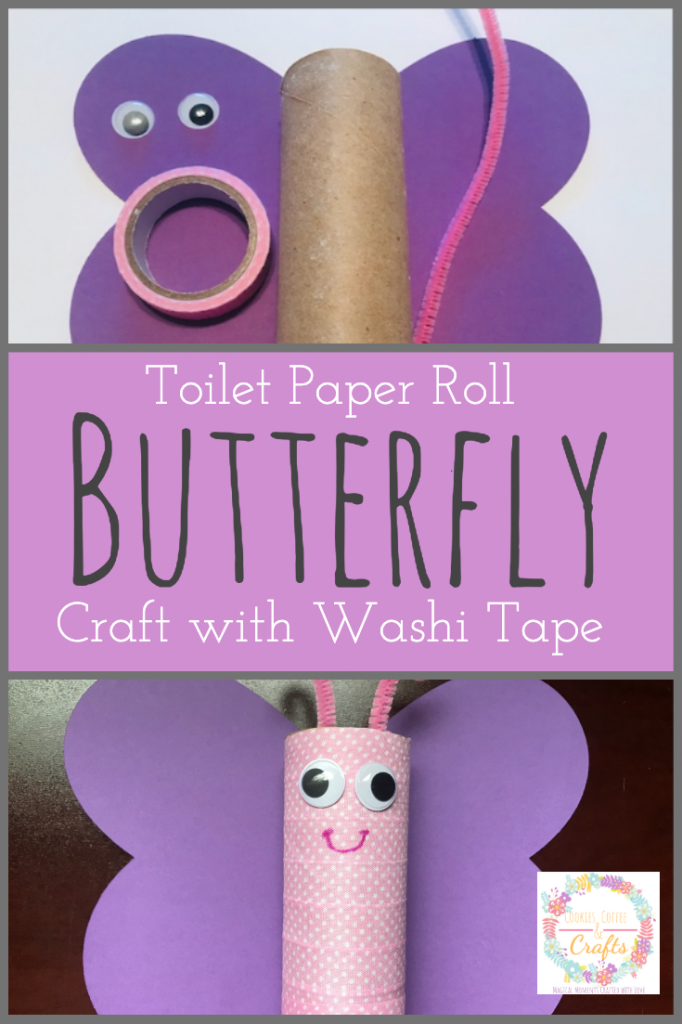 Note: As an Amazon Associate, I earn from qualifying purchases. If you click on a link from Amazon or another of my advertising affliates, I will earn a small commission at no additional cost to you. Please see my full disclosure policy here.
As a crafter and a mom, I always try to think of easy crafts for the kids to make. Even better are crafts with simple supplies and low prep work. Moms and teachers everywhere know exactly what I'm talking about. You know what's even better, is crafts that are cheap, yep just save some of your toilet paper roll. I've been saving them for this toilet paper roll butterfly craft with washi tape for a couple weeks now. Usually the toiler paper rolls get thrown out (by someone who will remain nameless), but not this time.
Wondering how to keep the kids occupied all summer long? See our list of Summer Activities for Kids of All Ages! We have partnered with some savvy blogging Mom's and Grandma's to bring you a collection of summer fun ideas to do with kids of all ages from Pre K up to those precious teens. Be sure to scroll all the way down for even more ideas!
My kids love crafting with washi tape, we have made washi tape popsicles and leaves for the fall. I find all of the washi tape for our crafts at the Dollar Tree or the Target Dollar Spot.
The kids get so excited when they see butterflies out in the yard and every time they yell "butterfly!" I was hoping we would have our caterpillars by now, but our weather has just been chilly. Our family tradition is getting a live butterfly garden every year. It's amazing to see the caterpillars change into butterflies and to be helping nature.
Supplies for the Butterfly Craft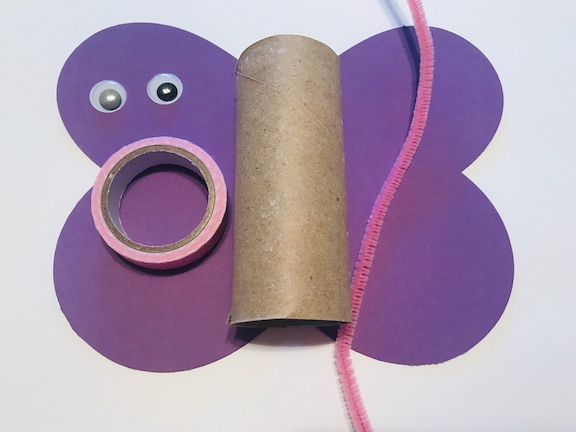 Toilet Paper Roll
Butterfly Wings Template
Construction Paper or Card Stock
Washi Tape
Scissors
Googly Eyes
Pipe Cleaner
Let's Create a Toilet Paper Roll Butterfly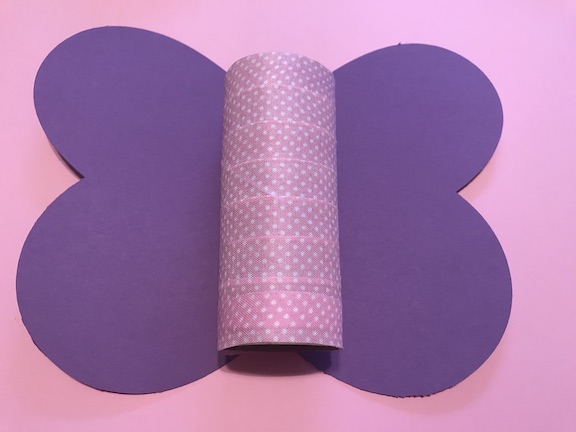 First cut out your butterfly wings from the template onto card stock or construction paper. Just click the template, save to your computer and print it.
Then wrap your toilet paper roll with washi tape to create your butterflies body. Depending on the age of your children, you might have to cut the washi tape for them.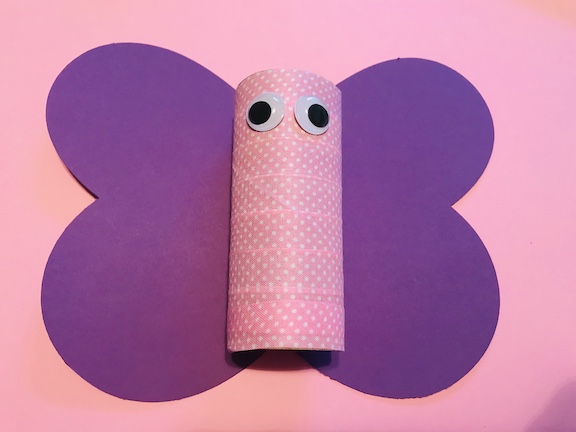 Next add your Googly Eyes
. If your eyes are not self-adhesive, then use glue dots. I found these glue dots at Joann for $1.99. For the antennas on the butterfly craft, use a half of a pipe, cut in half, then curl the ends. I used glue dots for them too.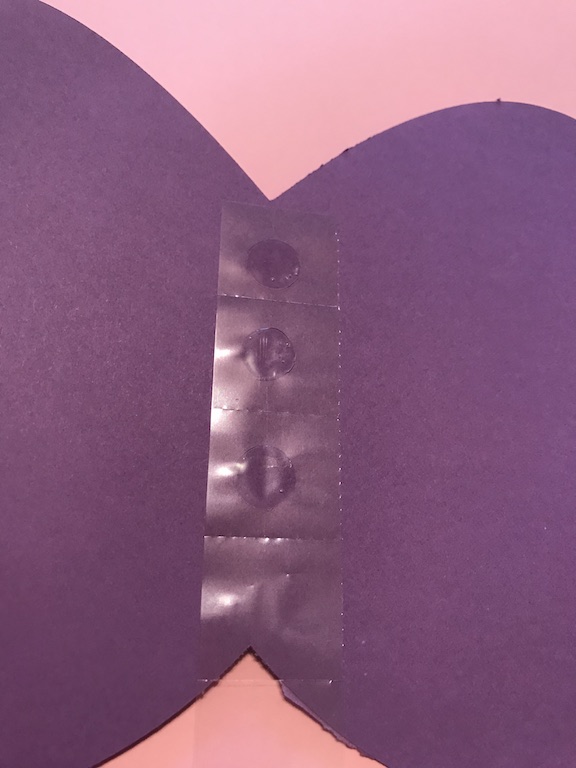 Once your butterfly toilet paper roll is ready, it's time to add it to the wings. I placed the glue dots in the center of the wings and then pressed down the toilet paper roll.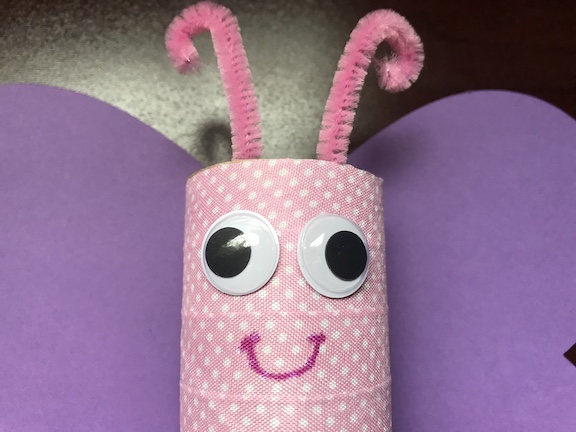 I thought I was done, but realized this cute fun butterfly needs a mouth, just take a marker and add a mouth.
What a fun crafty way to reuse a toilet paper roll. I hope you have fun making your own butterfly craft with this template. I like my wings purple, but you could always decorate your wings. Enjoy this easy butterfly craft for spring, summer, or Valentine's Day!
Monday
21 Fun Summer Activities to Enjoy with the Grandkids An Alli Event
Swing Painting Activity for Kids Glitter On a Dime
Kids Make Dinner- Summer Activity That Fit Fam
Tuesday
Water Tarp Game Inteligent Domestications
Toilet Paper Roll Butterfly Craft with Washi Tape Cookies Coffee and Crafts
Easy Outdoor Flying Disc Game DIY DIY Adulation
Wednesday
DIY Summer Boredeom Box For Kids DIY Adulation
Cousin Carnival Polka Dot Popular
Thursday
Kids Activities for Summer Creative Ramblings
Outdoor Bubble Station Idea for Kids to Make Summer Easier Cookies, Coffee and Crafts
Pool Noodle Sprinkler Fun Our Good Life
Friday
Butterfly Feeder Craft for Kids Glitter On a Dime
DIY Tic Tac Toe Game for Kids My Family Thyme