DIY Patriotic Fabric Garland
Note: As an Amazon Associate, I earn from qualifying purchases. If you click on a link from Amazon or another of my advertising affliates, I will earn a small commission at no additional cost to you. Please see my full disclosure policy here.
The 4th of July is such a fun time and the kids and I love decorating with red, white, blue. One of my favorite spots to decorate is my front window. It's perfect for hanging banners or garlands and it's so easy to decorate. Well it's easy once I get my husbands help because since I'm short it's just easier to have a taller person hang it. I love the way fabric garlands look with different fabrics and some burlap thrown in. I haven't used burlap in any of my projects lately and I'm missing it. Seriously burlap is just one of my favorite items to decorate with. For this DIY Patriotic Fabric Garland no sewing skills are needed, just cute fabric.
Bring on the Crafts — A Craft & DIY Blog Hop
On the first Friday through Sunday of each month, a group of DIY and crafty bloggers join forces to create a fun craft or DIY project to share that follows a monthly materials theme. Together, with hosts Marie from The Inspiration Vault and Habiba from Craftify My Love, they share the #BringontheCrafts blog hop with you. June's theme is Fabric! Each blogger chooses their own craft to make as long as they love it and it uses Fabric for the project.
Our May Co-hosts
Jenny at Cookies, Coffee and Crafts
Erlene at My Pinterventures • Marie at DIY Adulation • Michele at Coastal Bohemian • Beverly at Across the Blvd • Gail at Purple Hues & Me
Join in on the fun! If you'd like to participate next month, you can request to join our Bring on the Crafts Facebook Group. Next month's theme is Beads & Buttons!
Not a blogger, but a creative mind none the less!? Don't worry, Share your awesome creations in our Craft Cult Facebook Group. This is also a great place to ask craft & DIY related questions and find inspiration for your next project.
Now let's see all of those amazing Craft and DIY Projects!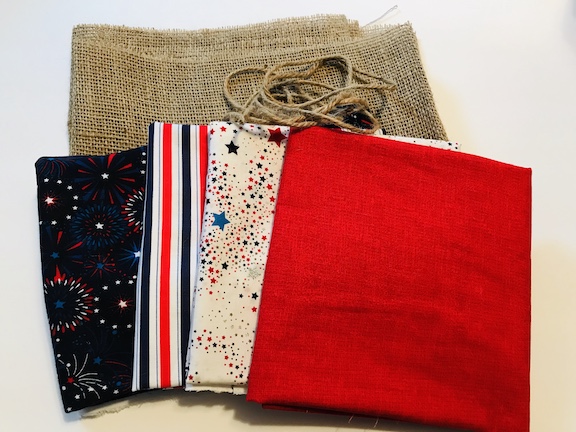 Supplies for Red, White, Blue Garland
Twine
Assorted Patriotic/Americana Fabric
Burlap Fabric
Scissors
Ruler/Crafting Mat
Let's Learn How to Make a Patriotic Garland for your Home
Gather up your basic supplies and let's make something beautiful! I love decorating with red, white, blue colors for the summer. I used to have no decorations, but my kids asked "where are the American decorations?" Oh no! So I got on it, this is my favorite patriotic song on a sign and these easy decorations from the Target Dollar Spot. We are ready for the 4th of July in our house now.
For the burlap I like to buy it by the yard. It's perfect for wreaths or garlands. It helps make my burlap habit cheaper-haha! If your not a fan of burlap, just leave it out.
Step by Step Instructions for a Patriotic Fabric Garland
Cut the twine to the length of where you want to hang it. For all of us this will be different.
My favorite place to put banners and garlands is my front window. It's an easy DIY and always adds charm to our home.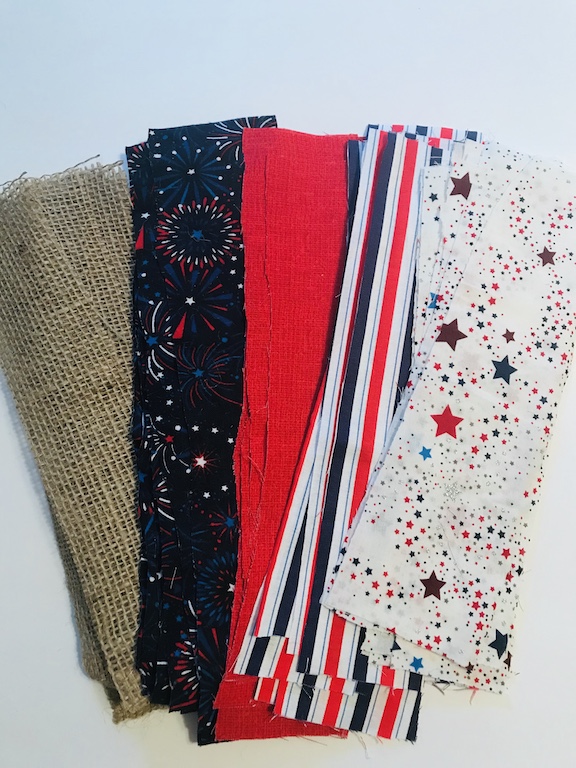 Then cut all your fabric about 2 inches wide and 10 inches long. Remember if you want your fabric longer on the garland, just cut it into longer strips. I bought 3/4 of a yard of each fabric, but it was way to much. A 1/2 yard would have been plenty, so now I can make more 4th of July decor.
I tape the one end of the twine to the table, so it stays in place as I tie on the fabric. I leave a piece of twine at the beginning and the end to hang the garland.
Choose the pattern you want for your garland.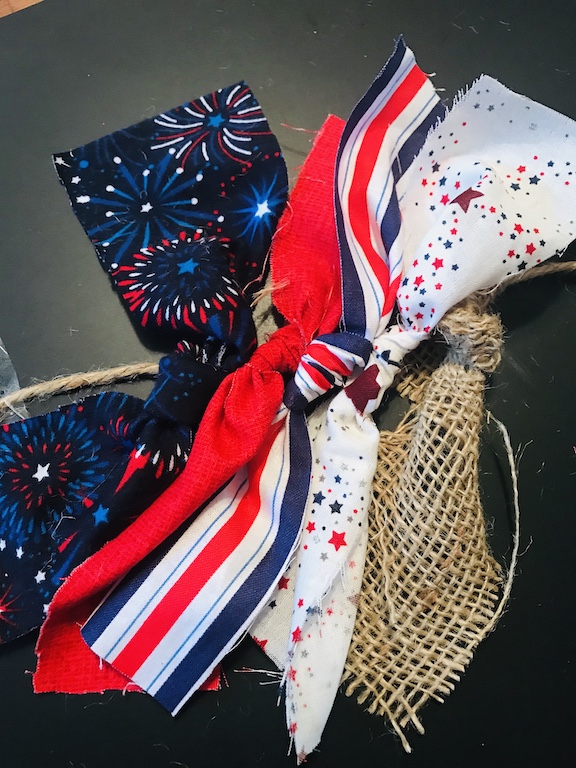 When you tie the fabric onto the twine, fold the fabric in half and then tie it onto the twine. This is the secret to only having your fabric show and not the plain inside of the fabric.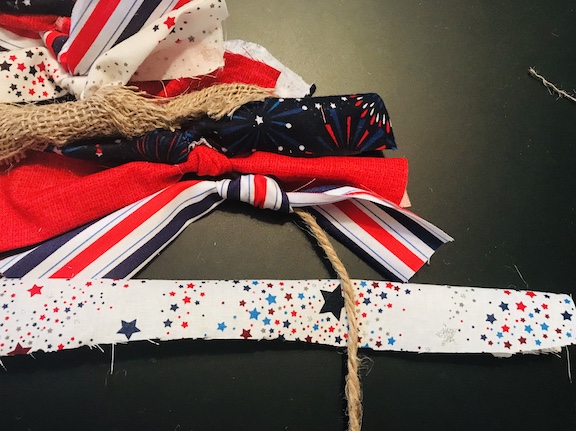 Just keep tying and tying some more until you get to the end. I can't really say how many of each I used because I didn't count them.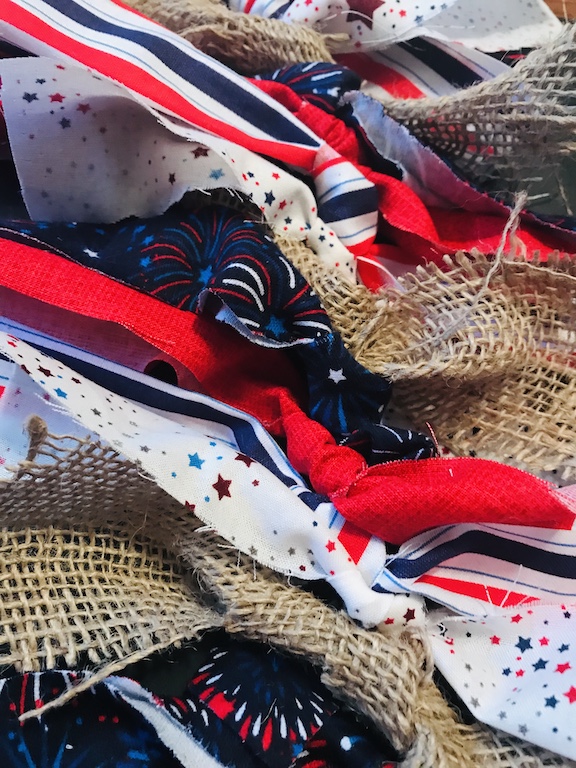 This would be great for an outdoor decoration too for a picnic or a backyard BBQ on the 4th of July or Memorial Day for table decor.
The front window is hard to get pictures in because it doesn't get a lot of sun. The cat is helping show off my new garland.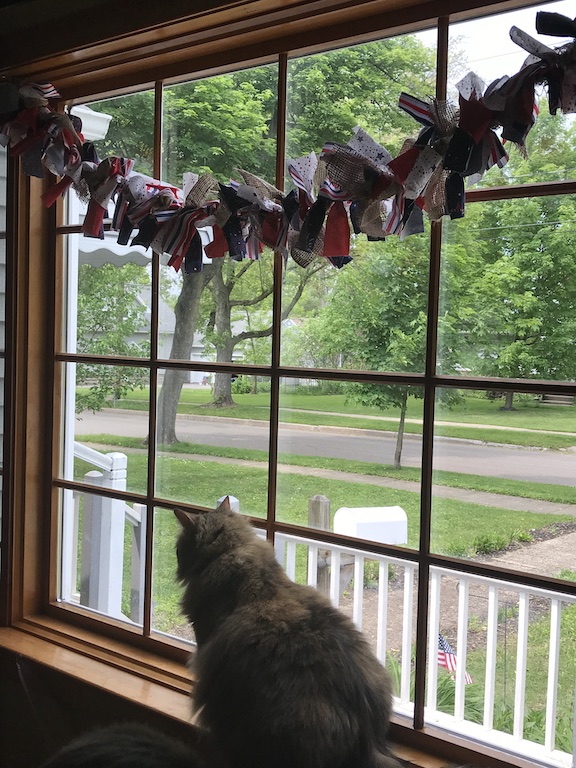 Here is an up close picture of all the pretty fabric together.
Just one more of this pretty garland!