3 Ways to Make Cricut Joy Gift Tags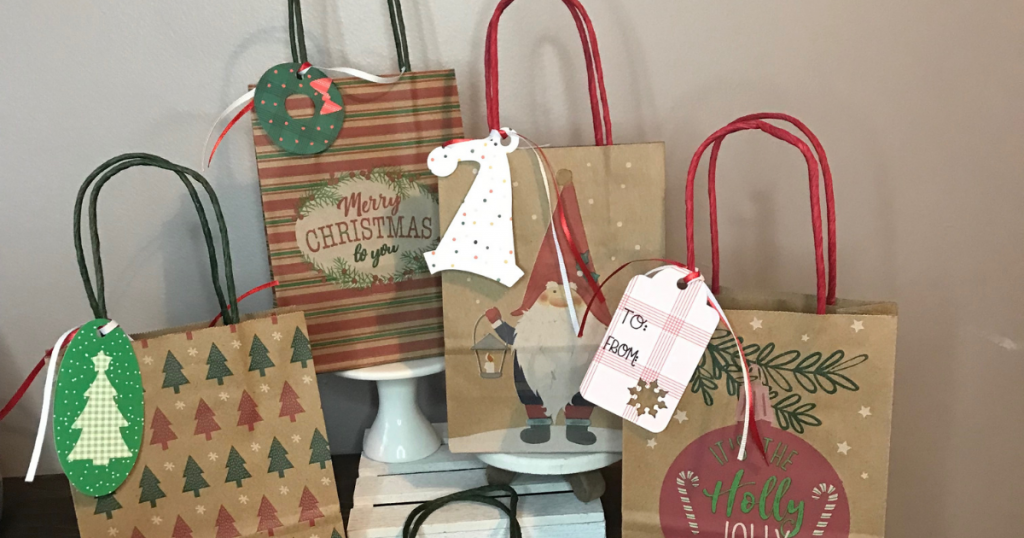 Note: As an Amazon Associate, I earn from qualifying purchases. If you click on a link from Amazon or another of my advertising affliates, I will earn a small commission at no additional cost to you. Please see my full disclosure policy here.
Do you want your gifts to have that extra special touch? Well it's super easy to do that with your Cricut Joy and all the gift tag designs in Design Space and the Cricut Joy App. Gift tags are perfect for birthdays, holidays, and any special occasions. Cricut Joy gift tags are super easy to make and I'm going to show you 3 ways to make Cricut Joy gift tags.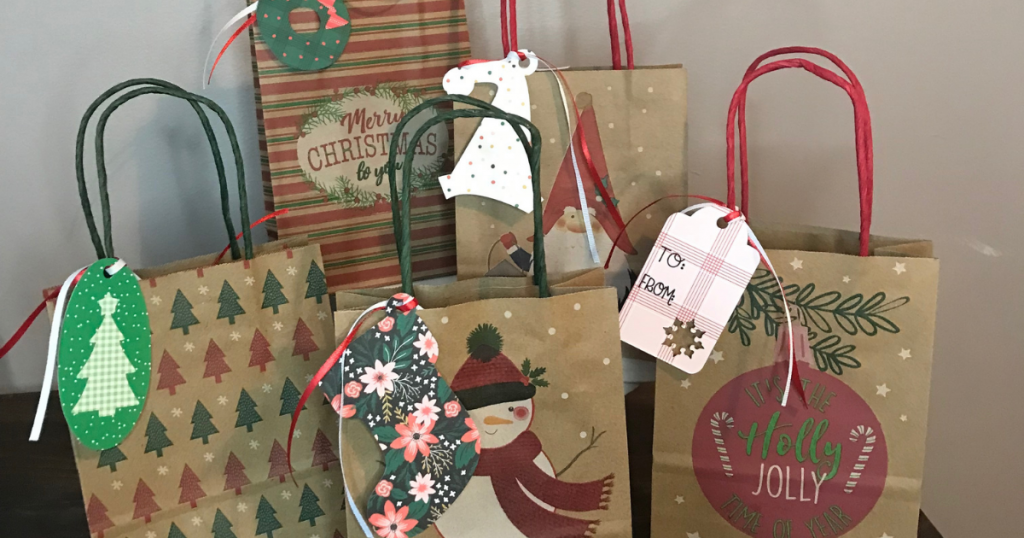 First though, if you have a Cricut Joy, have you downloaded the Cricut Joy App? This is a must have for any user because it's so simple and easy to use and allows you to create designs in minutes. Finding insert cards has never been so easy. Cricut did an amazing job with this app.
Cricut Joy App Tutorials
Basics of How to Use the Cricut Joy App
Making Insert Cards in 5 Minutes or Less
Shortcuts to Making Labels with the Cricut Joy App
Paper Projects with the Cricut Joy App
Easiest Way to Make Stickers
Iron On Projects with the Cricut Joy
The Cricut Joy gift tags I'm making today are Christmas themed because the holidays are upon us. However these tutorials can be used for any type of gift tag for any occasion.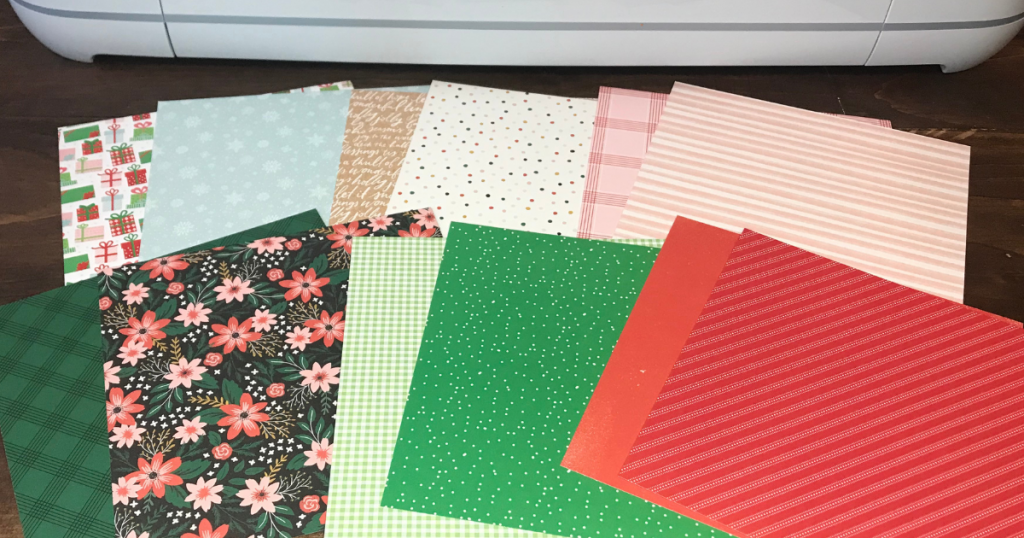 For all of these gift tags I used the Close To My Heart Holiday Stack. It's 48 sheets of double sided paper that is 6×6 and you can get two gift tags a sheet. There are several designs for Christmas and the paper has a little something for everyone. I can't say this enough, but Close To My Heart patterned paper and card stock are my favorite to use in my Cricut. It cuts smoothly and I hardly ever have an issue. I feel like I no longer waste pieces of paper anymore.
For any small paper craft (like these gift tags) this quickie glue pen is a must have. I am totally in love with this glue pen! Just a little at a time comes out, it stays in one place and you can reposition items. It left no glue residue and was so easy to use. Put this on your Christmas wish list!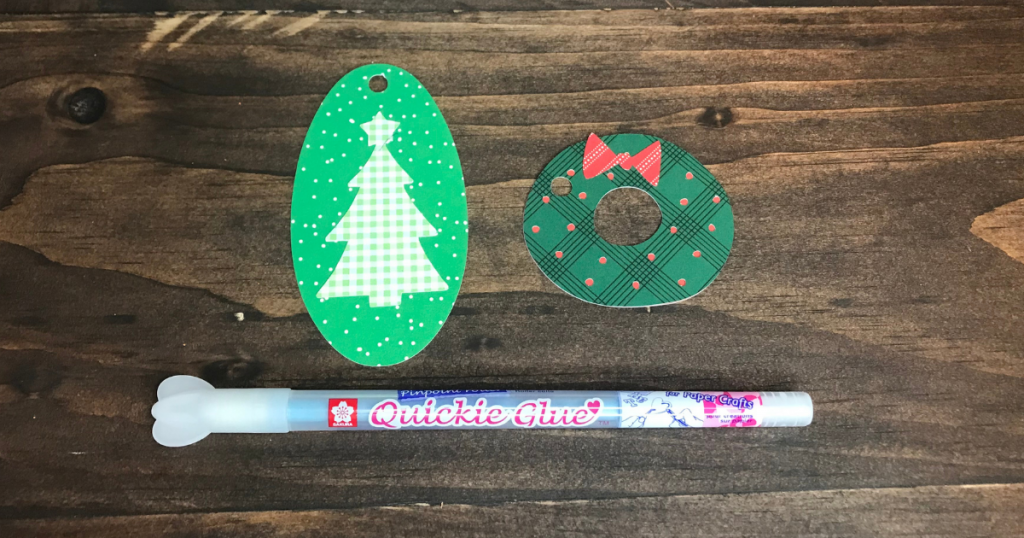 Supplies for Gift Tags
CTMH Holiday Stack
Cricut Joy
Quickie Glue Pen
Standard Mat for Cricut Joy
Black Fine Point Pen
How to Make Cricut Joy Gift Tags on the App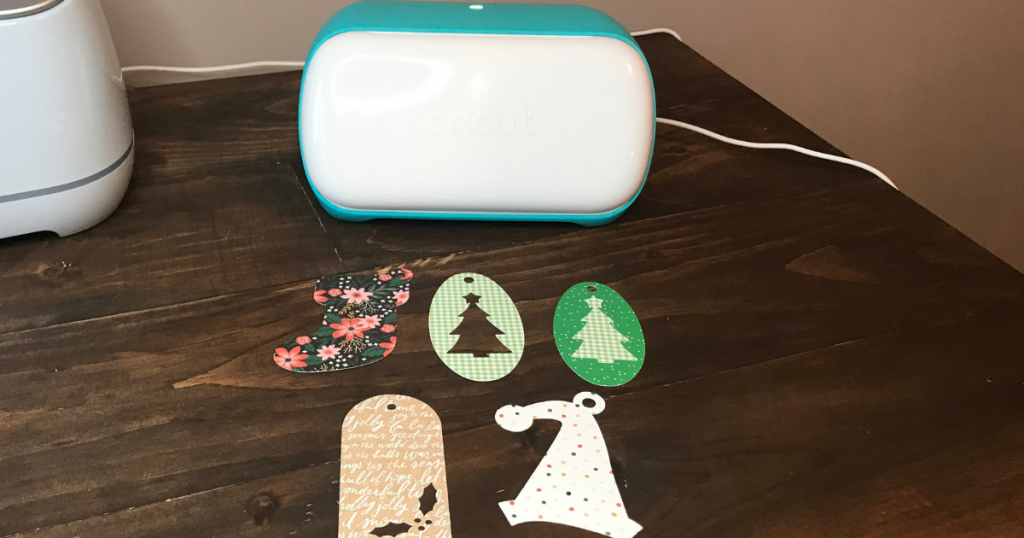 The major thing to remember about the app is that these designs are all single layer images, but I'm going to show you a little trick I've learned on how to cut one gift tag and use the cut pieces to create another. It's a great two for one.
Remember when you are using the Cricut Joy App to preview the design because sometimes it will be in the center of the mat. For my first gift tag with the stocking, I just assumed it would be on the edge at the top corner. I was totally wrong and ruined a piece of paper.
The Christmas gift tags with the Joy App are quick, easy, and simple. This is where the pretty paper really shines. How beautiful is this stocking with the floral paper?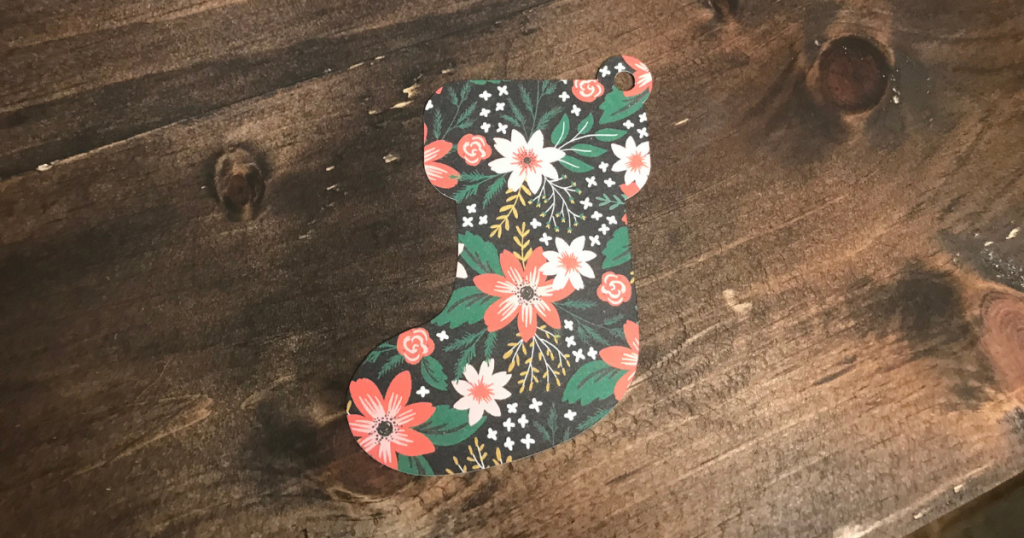 For the two in one gift tag, cut the Christmas tree tag in the oval. Save the cut Christmas tree, then in the app cut an oval gift tag that the tree will fit on. Glue the Christmas tree on the tag and you now have two gift tags. That's the other awesome thing about using double sided paper is that you can mix and match the paper easily. For example I used one side of the green for the tree and the other side for the tag. It's the perfect match.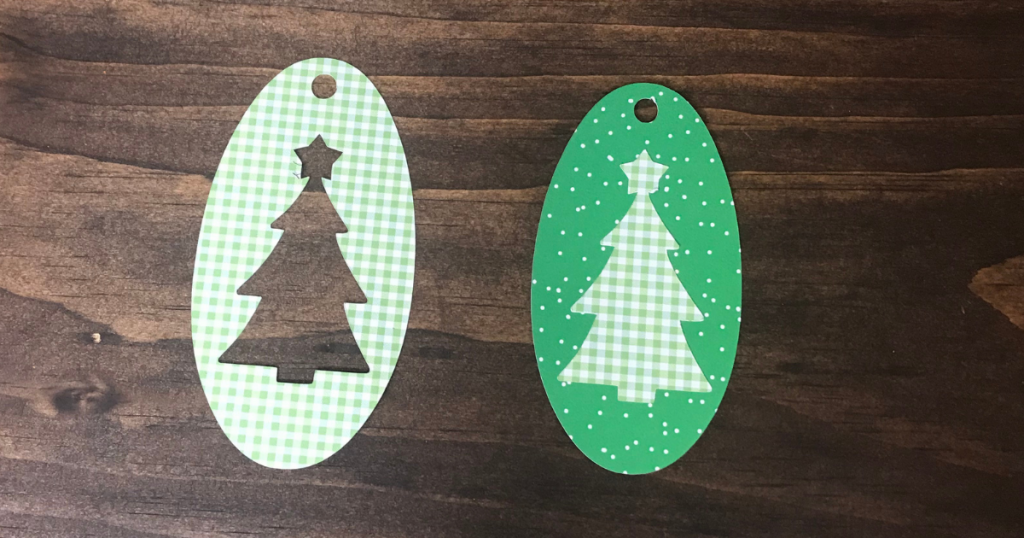 Turning Any Image into a Gift Tag with Cricut Joy
Just think about it, you can take any image in Design Space, add a hole punch and you have a gift tag. Don't forget you can make it any size you want to. Maybe something a little smaller for a smaller present or something larger for larger present. Or be like me and make themed gift tag to match the wrapping paper.
In Cricut Design Space™ , I found this cute wreath image in the Close To My Heart City Sidewalks collection. This collection is free if you have a Cricut Access Membership Plans. I tried to slice a circle out of the shape (for the ribbon to go), but it wouldn't let me do it with double layers. I played with it for awhile and decided it wasn't worth my time. A hole punch is super easy and works great too.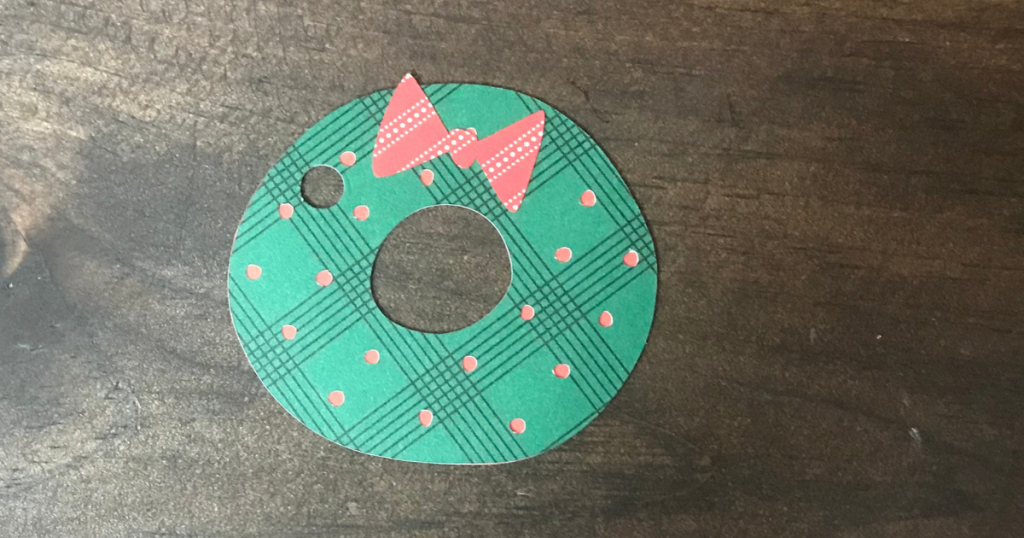 Just think of all the cute images you can turn into gift tags.
Writing on Cricut Joy Gift Tags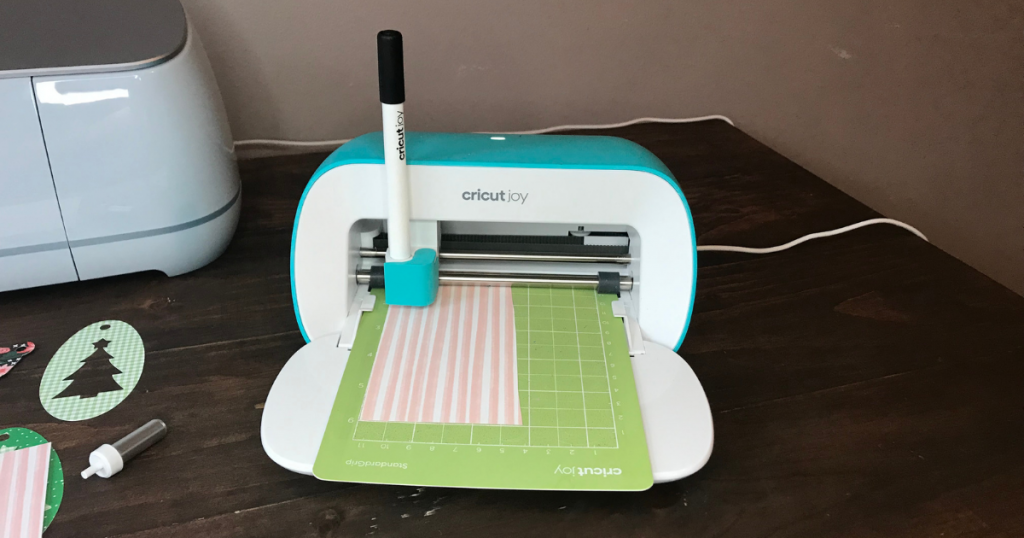 The last gift tag I'm going to show you how to create is a simple gift tag with to and from written on it. I like to handwrite my tags, but you can use the Cricut Joy to do it for you.
I chose this simple snowflake tag from the CTMH Art Philosophy design. If you want to add the writing on the front, leave the tag as is. For the writing on the back of the tag design, flip it horizontal then add the text.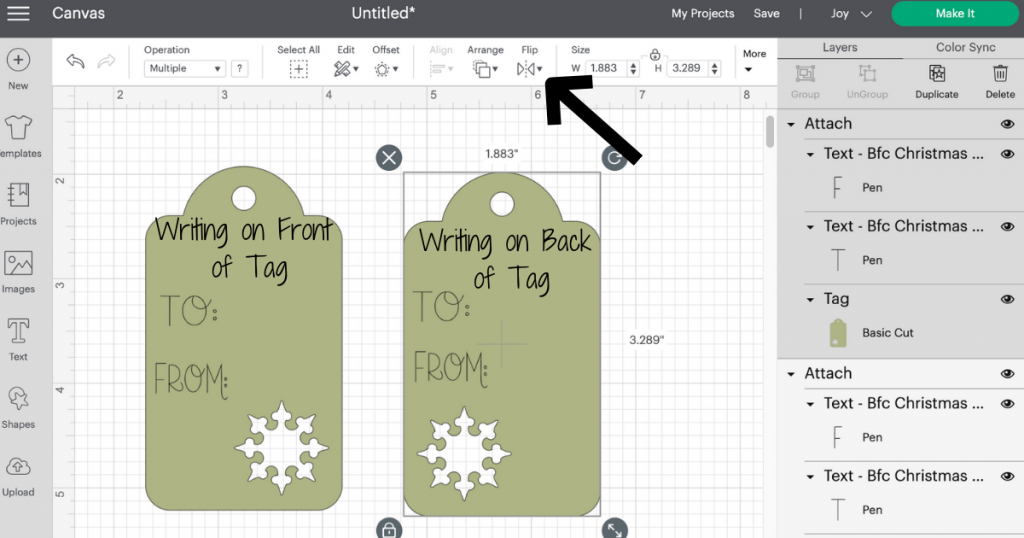 I used the BFC Christmas Card writing font (perfectly named) for the to and from. Write and size the text, then highlight all of it and click attach. Then click make it. Follow the screen prompts to add the pen and the blade.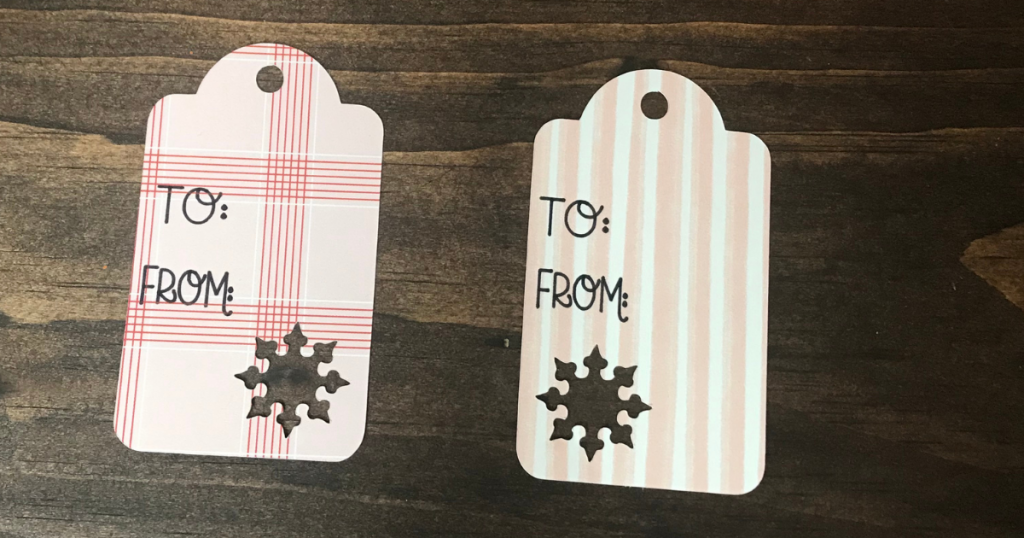 These 3 Cricut Joy gift tag ideas are perfect for all year. Pick the designs or gift tags that work for your holiday or occasion and start making. DIY gift tags give your gifts that special homemade touch and you can personalize them for everyone on your list.