Cute Spring Pizza Pan Wreath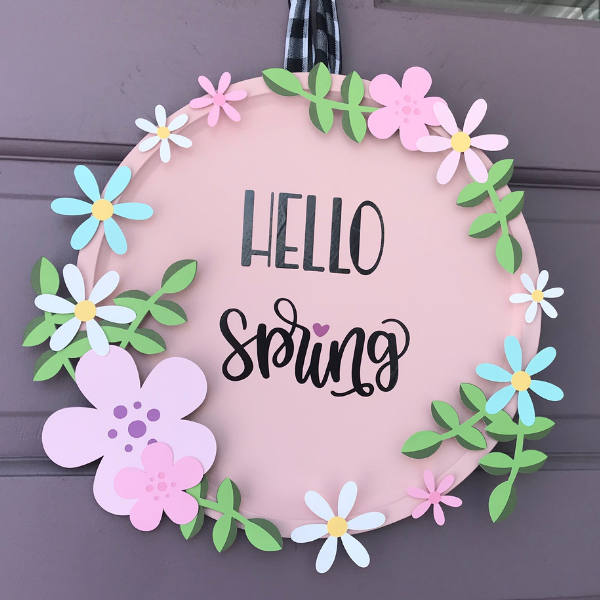 Note: As an Amazon Associate, I earn from qualifying purchases. If you click on a link from Amazon or another of my advertising affliates, I will earn a small commission at no additional cost to you. Please see my full disclosure policy here.
Every year spring always comes after winter. I can't complain to much about winter because it's been a decent winter so far. This weekend we are suppose to get lots of snow, but we will see what happens. When it's snowing and blowing outside, I just dream of spring. It's time for the February Pin Challenge! The purpose of the Pinterest Challenge is to motivate us to not just pin, but to make it happen! This month's challenge is all about Spring Wreaths. Just thinking about spring wreaths made me excited this week. For the last Pinterest Challenge, I was inspired by this pin to make a spring wreath with paper flowers.
I created this cute spring pizza pan wreath and it's so cute! Some might say a pizza pan wreath is not like a traditional wreath, but it's super cute. If you like traditntal here is a spring tulip wreath in a basket or a peony and burlap wreath or an Easter egg wreath. If you love pizza pan wreaths, than don't miss out on my fall pizza pan from the Dollar Tree.
Materials for Cricut Spring Wreath
Dollar Tree Pizza Pan Waverly Chalk Paint in Ballet Slipper
Lint Free Cloth Or Wax Brush
Close To My Heart Card Stock- white daisy, canary, eggplant, glacier, green apple, ballerina, New England ivy
Spring Pizza Pan Wreath in Cricut Design Space
Cricut Maker (Buy it on Amazon or Buy it on Cricut)
Buffalo Check Ribbon
Hot Glue Gun/Glue Sticks
Let's Create a Cute Spring Pizza Pan Wreath
Begin by painting the pizza pan. I painted mine with Waverly Chalk Paint in ballet slipper and gave it two coats.
Once the paint was dry, I used the lint free cloth to apply the clear wax. When you use chalk paint and clear wax, it has to dry for 24 hours and then buff it with the lint free cloth. The wax is optional, but I always use it on my projects.
When the pizza pan was drying, it was time to cut and create the flowers in Cricut Design Space™. Remember to measure the pizza pan before you paint it (I didn't). Just open the Design Space file in the materials list and you can just cut it and make it. The image is free if you have a Cricut Access Standard membership.
Cut all the flowers and leaves in card stock and start glueing them together. My favorite card stock to use with my Cricut is the Close To My Heart Card Stock. I really like it for projects like this when the projects use a combination of lighter and darker shades of the same colors. Each piece of card stock is double sided with one side a lighter shade and one side a darker shade. For example all the pink flowers are cut from the flamingo card stock. Isn't that awesome? It really saves on paper and gives you option. It also cuts smoothly with the Cricut and doesn't tear when it cuts.
Putting the Spring Pizza Pan Craft Together
Next cut the Hello Spring saying in permanent black Cricut vinyl. Weed the design and apply it to the center of the pizza pan using transfer paper. Do this after the 24 hours and the wax has been buffed.
I put the flowers around the edge of the pizza pan just as they will be so that I can make sure the wording can be seen and looks good with the flowers.
Now that the wreath is painted, waxed and has the saying on it, it's time to attach the spring flowers. To attach them to the pizza pan wreath, I'm going to use 3D foam tape (the Dollar Tree now carries this). This will give it a 3D look and some depth to the wreath. To hang the wreath, I hot glued buffalo check ribbon to the book and formed a loop.
Besides waiting for the wax to cure, this is a really simple and fast wreath craft. Just remember that this needs to be on an inside door and away from the elements. I've put paper wreaths on outside doors with storm doors and it works out great.
I can't wait for spring to come to put out my new Dollar Tree pizza pan wreath. As I'm taking these pictures, I'm standing in snow watching my kids play in it. Spring can't come soon enough. For more Pinterest inspired projects from this month's Pinterest Challenge hosts, check out the links below ↓
Spring Pizza Pan Wreath @Cookies Coffee and Crafts
Braided Rope Spring Wreath @Purple Hues and Me
Easy Two Color Burlap Wreath @Our Sutton Place
Spring Tulle Rainbow Wreath @My Pinterventures
St. Patrick's Day Shamrock Wreath @Little Vintage Cottage
St. Patrick's Day Wreath Using a Charger @Our Good Life
Spring Bird Grapevine Wreath with Lace and Ivy @Mom Home Guide