Easy Pizza Pan Craft Idea- Make a Tray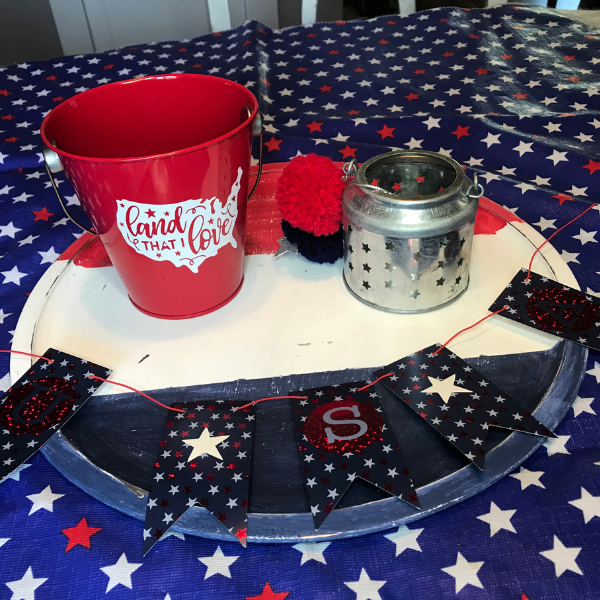 Note: As an Amazon Associate, I earn from qualifying purchases. If you click on a link from Amazon or another of my advertising affliates, I will earn a small commission at no additional cost to you. Please see my full disclosure policy here.
Pizza pan crafts are all the rage right now and it's such an easy way to make a door hanger for your home. But have you thought about different ways you can decorate or craft with them. How about a tray as a centerpiece. Is your crafty mind spinning with ideas? I'm going to show you how to make a tray with this easy pizza pan craft idea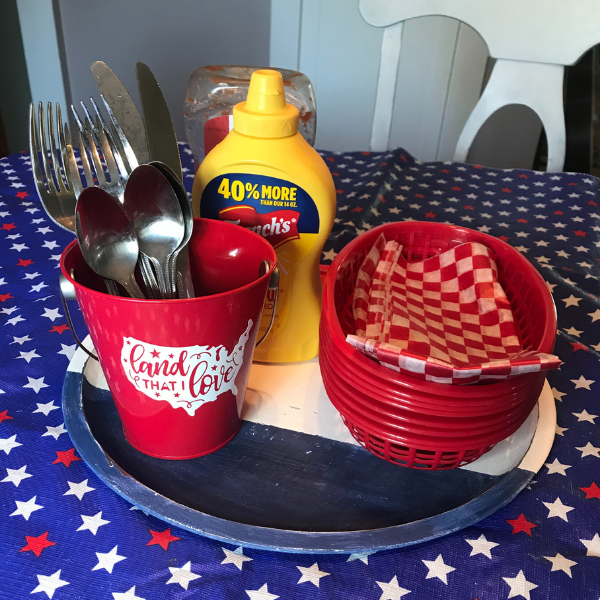 I have created my tray with a patriotic theme, but this craft idea can be used for any time of the year. Holidays, seasons or decor for your home. Easy, affordable, and fun to make.
Pizza Pan Door Hanger Ideas
Summer Pizza Pan Wreath
Cute Spring Pizza Pan Wreath
Fall Pizza Pan Wreath
I've made quite a few pizza pans and if you are going to paint them, make sure you use chalk paint. I've used chalk paint and craft paint on the pizza pans. The chalk paint covers nicer and uses less coats of paint. I had to try out craft paint so I could tell you about both. Again this is my opinion, but I would rather do two coats with chalk paint than 3 or 4 with craft paint. I tried out the craft paint on this tray and it still covers and works, but you need a lot more paint and time because of how many coats you have to add.
Easy Pizza Pan Craft Idea- Let's Make a Tray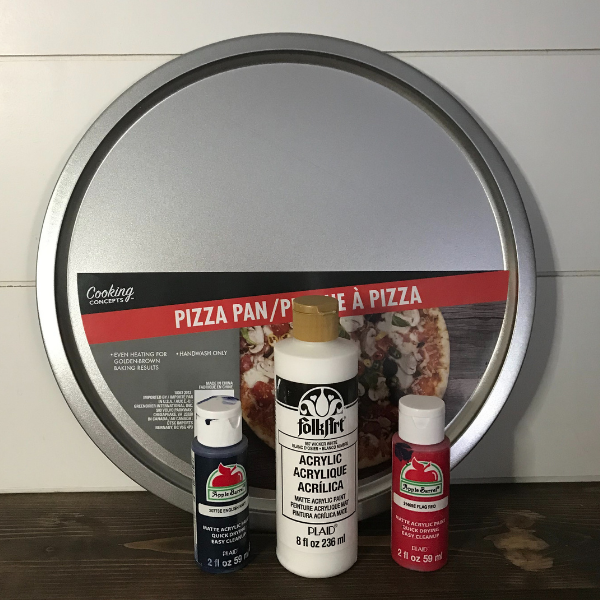 Dollar Tree Pizza Pan Tray Supplies
Pizza Pan
Craft Paint: Red, White, Blue
Paint Brushes
Painters Tape
220 Grit Sandpaper

My husband calls this pizza pan "the Pepsi tray" because it looks just like the Pepsi symbol. I didn't even realize it until he said it, but it's cool. So it's perfect for Pepsi fans too.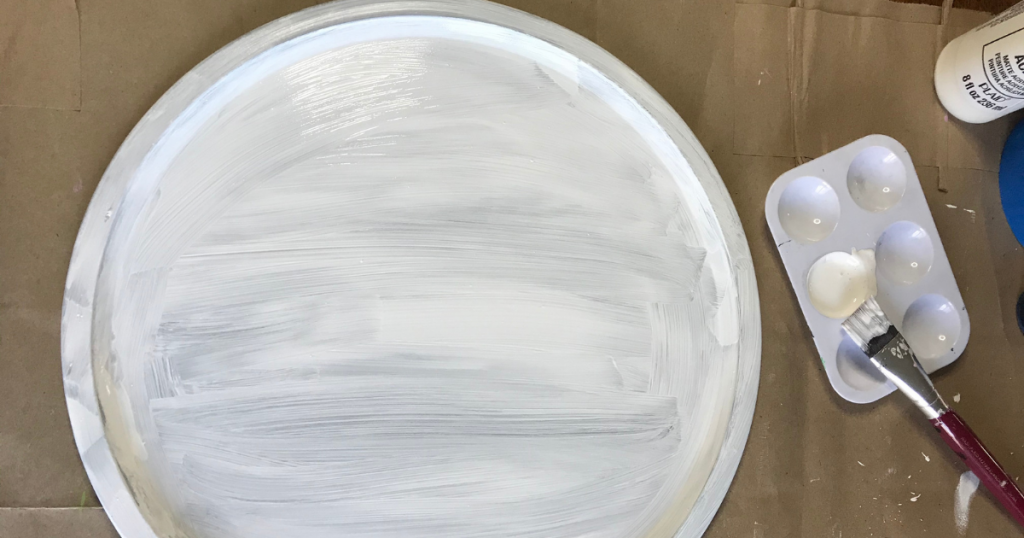 My Dollar Tree craft ideas are always easy. Start by painting the whole pizza pan white. I did 3 coats of the white because I used regular acrylic craft paint on this pizza pan craft. Make sure the white is complete dry before adding the painters tape to paint the red and blue parts.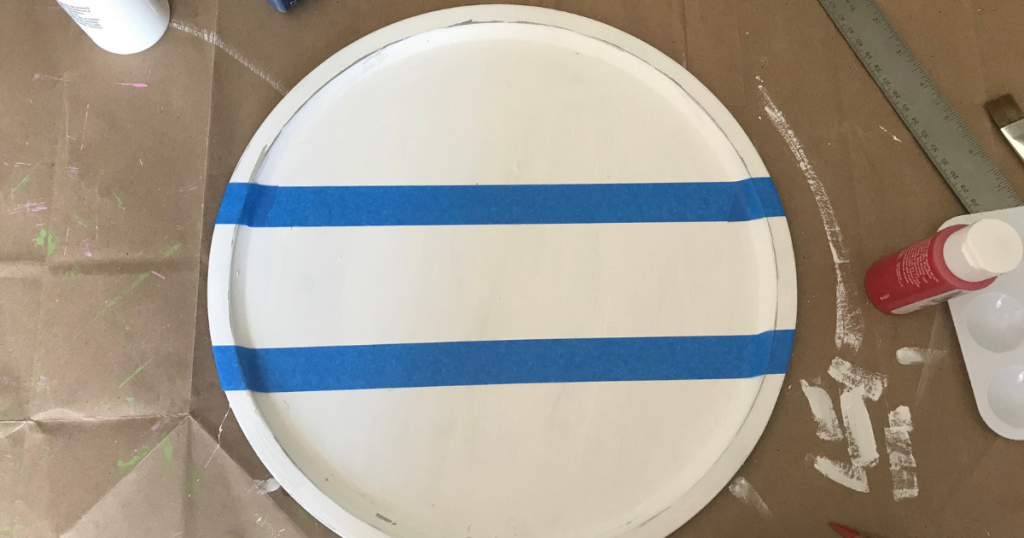 Next divide the tray in 3 sections with painters tape. The red section is about 4.25 inches, the white is about 4.5 inches and the blue is about 4 inches. I taped this so many times I was going crazy with the measurements. As you can read it's not divided perfectly (but I'm not a math wizard) so I'm okay with it. I like to craft and create by "eyeballing" it anyways. I did do a little sanding before I aded the blue and red paint. Paint the top red and the bottom blue when you have it divided the way that you want. Remember homemade doesn't have to be perfect, you just have to love it.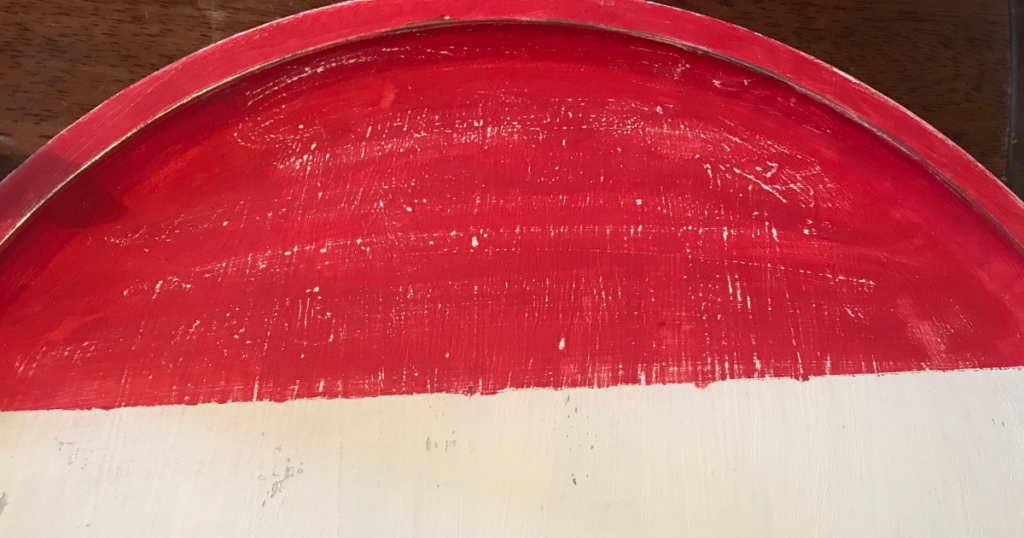 When it's completely dry, take a piece of sand paper and lightly sand the entire tray. Be careful with the sand paper, everything was going good until the blue part and I sanded too much. Don't let that happen to you. So my advice is to sand carefully and gently.
If you sand too much, it's easily fixable. Just paint the area with a couple coats of white, then touch up with the top coat color. Let it dry completely and sand gently again. It worked out great.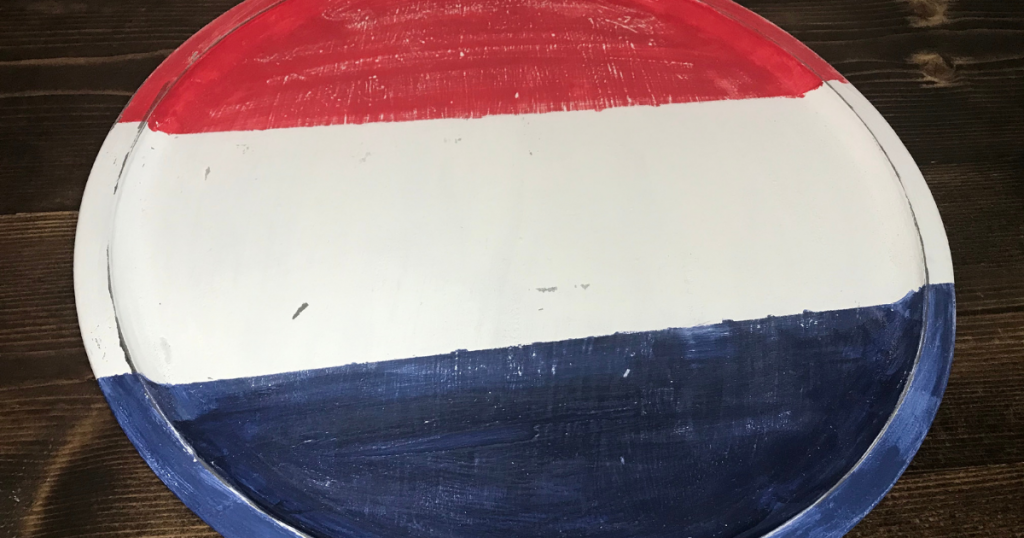 Now I like the rustic look of the non straight edges between the colors, it looks like it was meant to be that way. But if that's not for you, retape or use a small paint brush to fix it.
Decorating with the Patriotic Dollar Tree Tray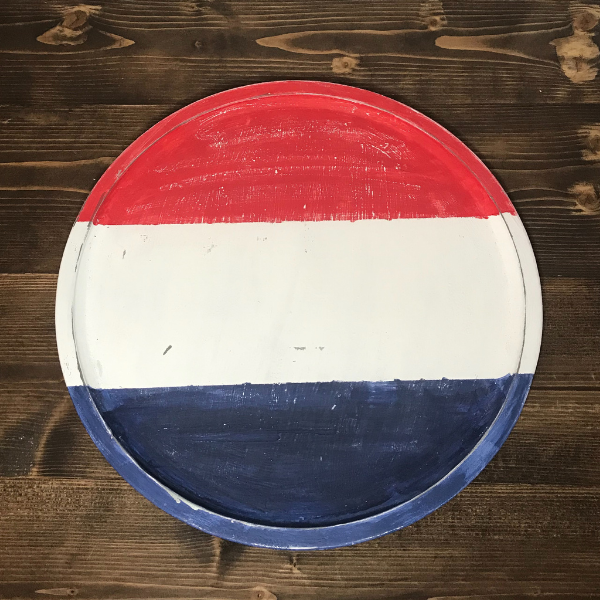 Place it in the center of a table, add a few decorations and you have the perfect centerpiece. How great would this be for a party? Picnic? You could have condiments on it or food or anything. They would look amazing on a table.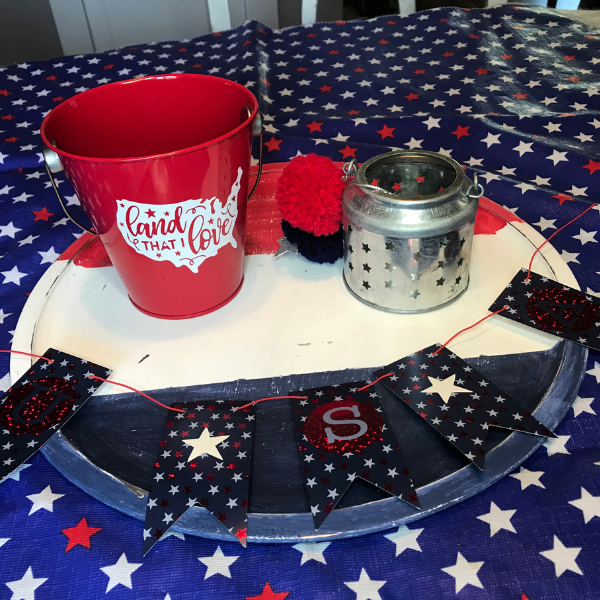 I really love this pizza pan craft idea because it can easily be used in a number of ways inside your home or outside your home. Perfect for an outdoor space as a centerpiece or indoors on a side table or dining table. Just decorate it for the space and use.
Who else thinks I need some more of these for different holidays. I'm picturing a buffalo plaid one for Christmas or orange and black for Halloween.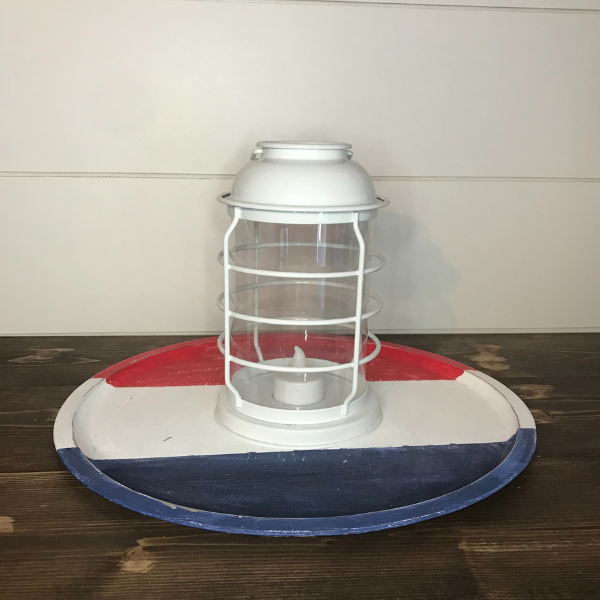 I'm loving how the lantern looks on it with a few signs and small decor. My new patriotic pizza pan tray looks store bought and awesome, but it only cost a $1 and a little bit of my time.