Fast and Easy Halloween Necklace Craft for Kids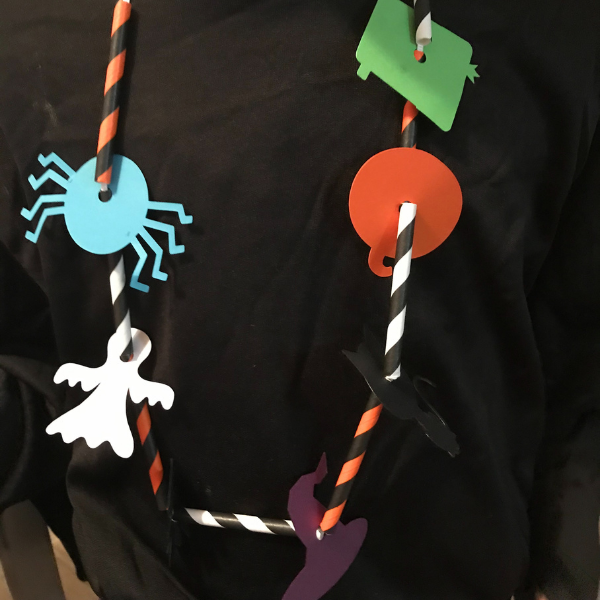 Note: As an Amazon Associate, I earn from qualifying purchases. If you click on a link from Amazon or another of my advertising affliates, I will earn a small commission at no additional cost to you. Please see my full disclosure policy here.
Quick, fun, cute, simple, and cheap are all words that parents and teachers love when it comes to an easy Halloween craft for kids. It even has easy prep work. The most important thing is that the kids will love it too. When it comes to Halloween crafts for kids, I think of bright colors and Halloween themed characters. My easy Halloween necklace craft has all of this.
I did this craft with my son's first grade class (before COVID) and it was a huge hit. The kids all enjoyed making it and proudly wore it at the party. It's also easy to put together and easy for the kids to independently make at a party.
If you are all about easy kids crafts, this paper bowl pumpkin is fun and so is this Dollar Tree Halloween Lantern.
Materials for Halloween Paper Straw Crafts
Halloween Paper Straws
White 1/8 Grosgrain Ribbon
Fiskars Scissors or Cricut Cutting Machine
Hole Punch
Card Stock
Ruler or Craft Mat
How To MaKe a Fun and Easy Halloween Necklace for Kids
Your little monsters of all ages are going to love this easy Halloween necklace craft. I give tips throughout the post of how to make it easier for toddlers and how to get it ready for a party (at home or school).
The first step is to cut all the Halloween straws about 2.5 inches. The last one might be a little shorter out of each straw, but that's fine. I always have the best luck finding paper straws at Walmart.
Cut the ribbon about 33 inches long. I made these for 1st graders (6-7 year olds) and that length was perfect. They could easily slip it over their head. At the ends of the ribbon, put clear nail polish on it so the ends don't fray. Plus this will make the end of the ribbon a little stiffer to push through the straw. I also recommend the grosgrain ribbon because it's a sturdier ribbon.
If you are making these for younger children, I would suggest cutting the straws smaller because fine motor skills come into play when creating this necklace.
Using a Cricut cutting machine or a stencils, cut out Halloween themed outlines for the craft to go in between the straws (like a lei). Use a variety of different colored card stock for the outlines. If you have a Cricut like me, here is the Cricut Design Space Project Link.
Outlines for the DIY Halloween Necklace
Spider
Cat
Witches Hat
Pumpkin
Ghost
Bat
Frankenstein
To create this easy Halloween paper straw necklace just start stringing the paper straws and outlines onto the ribbon. My son made a pattern by using an orange straw and then a white one all around his necklace.
If you are using this at a party or in the classroom for a Halloween Party, I put all the supplies for each necklace in a sandwich bag. In each bag I put an outline of each Halloween item, 8 paper straws, and a ribbon.
This easy Halloween craft for kids is quick, simple, easy to put together and loved by all! I forgot to mention how cheap it is to make too.