How To Make a Christmas Pizza Pan Craft in 4 Steps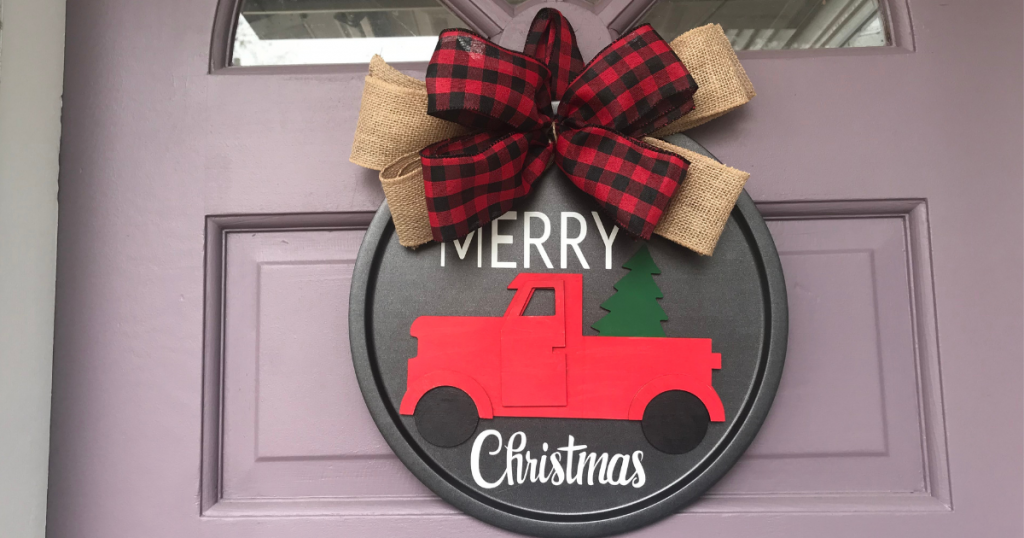 Note: As an Amazon Associate, I earn from qualifying purchases. If you click on a link from Amazon or another of my advertising affliates, I will earn a small commission at no additional cost to you. Please see my full disclosure policy here.
It's the most craftiest time of the year, seriously though who else is crafting like crazy? I have so many projects going on that I need my craft space, the kitchen table and I wish I had more tables. Homemade gifts are the best kind of gifts. They are creative, one of a kind and made with extra love. The fun thing about the Christmas pizza pan crafts is that you can give them as a gift or keep them for yourself (this one is for me).
I love making pizza pan wreaths/door hangers, it's become one of my favorite seasonal or holiday themed crafts. It's cheap, pretty, quick and simple to make. This time though I went to every Dollar Tree near me, but no pizza pans. If I had the time, you can order the pizza pans online in a set of 4, which I will be doing because you can get Free Shipping to your Local Store. You can never have too many pizza pan crafts going on.
I was so disappointed and tired from running around (like a crazy craft lady), but I found a new place to buy a pizza pan in a pinch- Walmart. They are $1.92, which is still a good deal! Even better is that the Walmart pizza pans are black so this one doesn't even have to be painted. I can just get to work decorating.
Dollar Tree Pizza Pan Wreaths
Sunflower Pizza Pan Door Hanger
DIY Summer Pizza Pan Wreath
Cute Spring Pizza Pan Wreath
Fall Dollar Tree Pizza Pan Craft
Remember how I said I went to a ton of Dollar Tree stores? Well it wasn't a waste because I found a new favorite that is full of craft supplies. That's how I found this truck with the Christmas tree in the back. Classic and cute.
Christmas Pizza Pan Craft Supplies
Pizza Pan
Wood Truck with Tree
Cordless Glue Gun (it's the best)
Hot Glue Sticks or 3D Foam Tape
Red and Black Check Ribbon
Burlap Wired Ribbon
Apple Barrel Bright Red, Christmas Green, Black Paint
Paint Brush Set
Cricut Maker 3
Cricut White Smart Vinyl
Transfer Tape
How To Make a
Christmas Pizza Pan Craft
#1- Decorate and Add the Truck to the Pizza Pan Decor
The first step is to paint the truck and the Christmas tree to decorate the wreath. The truck will take a few coats of paint because the wood really soaks it up.
Once the truck is complete dry decide how you want it on the pizza pan and glue it to the pan. I originally hot glued it to the pan, but because of the size of the truck it was hard to get a good grip. So I ended up using 3D foam tape instead.
#2- Create a Bow to Decorate the Pizza Pan Wreath
To top off the wreath, I'm making my favorite double layered wreath bow with burlap and red and black buffalo check ribbon. The double layered wreath bow is super easy to make and you will fall in love with it.
I made this one without tails because It would have covered up the truck.
#3- Add a Saying to the Christmas Pizza Pan
I was hoping to find the metal or wood letters to add to the pizza pan craft, but I couldn't find any. So I got out my Cricut and created the words Merry Christmas in white vinyl. Add the letters to the pizza pan door hanger/wreath and now it's time to ad don the finishing touches.
#4- Add a Ribbon to Hang It
Hot glue the ribbon to the wreath and a piece of ribbon to hang it onto the back.
Now it's time to decorate your front door and make everyone envious of your Christmas door hanger that they will never know is made out of a pizza pan. The whole craft cost about $3 for me because I already had the ribbon and the paint.
Who's ready to make an easy, but cute Christmas pizza pan craft?