Personalized Santa Gift Tags with Cricut | 3 Gift Tag Files Included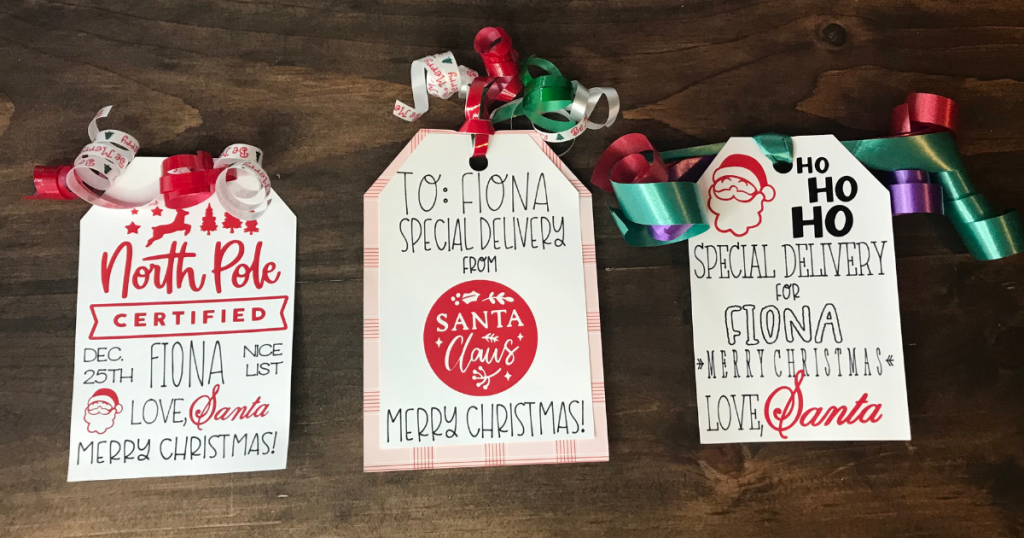 Note: As an Amazon Associate, I earn from qualifying purchases. If you click on a link from Amazon or another of my advertising affliates, I will earn a small commission at no additional cost to you. Please see my full disclosure policy here.
Believing in Santa, the magical reindeer, the elves and everything at the North Pole is something I don't want to ever end for my kids. I know someday "it will be the end of the magic" as they say in the Polar Express, but until then I'm going to do everything I can to keep the magic alive. One way I did this was making personalized Santa gift tags with Cricut. The kids loved them last year and totally believed in the magic again. There had been some iffy moments for my oldest last year.
To make it super easy for you, I've created 3 free Cricut gift tag templates in Cricut Design Space. Everything is free if you have a
Cricut Access Membership Plans, which I feel is totally worth it. The Santa gift tags use a combination of card stock, vinyl and drawing with the Cricut.
Did you know you can use your Cricut to make some cool Elf on the Shelf ideas? Get creative and crafty for your elf this year with these ideas. Since we are talking Christmas, here are some super cute Christmas Insert Cards to make.
Tips for Making Cricut Christmas Tags
smooth card stock works the best for writing

Removable vinyl is easier to work with and move around
Most of the vinyl can be added like a sticker (just peel and stick)

Gift tags can be matted or left alone
Using double sided paper works great for the mats

Choose one style of gift tag or make all three

Crafting & Cutting Machines | Cricut.com
from: Cricut
How to Make Personalized Santa Gift Tags with Cricut
First step is to open the Personalized Santa Gift Tags Design Space File. In the file are the Special delivery gift tag, the north pole certified gift tag, and the Ho Ho Ho Santa gift tag. How cute are these Santa tags? I just love them and I can't wait to see the kids faces on Christmas morning when they see them.
Then change the name to the name of the person receiving the gift. The writing is attached to the tag so once the name is changed, you can click Make It.
The tags are made on Close To My Heart White Daisy Card Stock (my favorite kind to use) and the mats are made with the Holiday Stack Paper. It's perfect for this because it's double sided so the Christmas gift tags will be pretty on both sides. Plus the paper in this stack is super cute.
Ho Ho Ho Personalized Santa Gift Tag
All the images (besides the tags) are cut in vinyl. They are easy to weed and work with to add them to the gift tags.
Look how cute this gift tag turned out with ribbon.
Special Delivery From Santa Clause Gift Tag
For the Special delivery circle Santa Clause image, you must add in the small triangles and shapes for the a's and the s.
North Pole Gift from Santa
For the "North Pole Certified" gift tag I did use transfer tape to add it to the gift tag. The image is just too big. I totally lost a star somehow on the black gift tag and I was all set to cut another one, when I found it on my finger. I was so happy to find it and have no idea how it got there.
Add some curling ribbon to the top to make them fancier and add them to the presents from Santa. These Christmas gift tags from Santa are timeless and perfect for all ages. I just love all the cool things my Cricut can do!