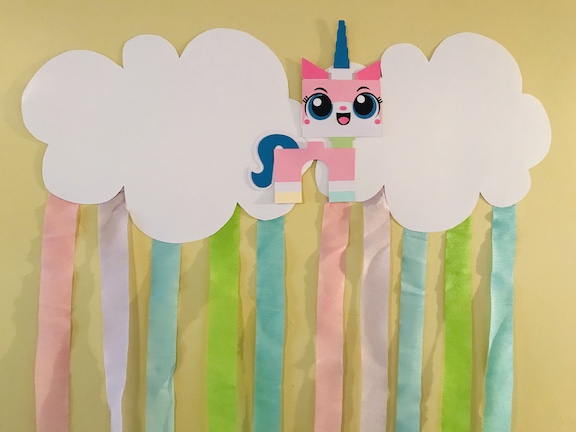 Note: As an Amazon Associate, I earn from qualifying purchases. If you click on a link from Amazon or another of my advertising affliates, I will earn a small commission at no additional cost to you. Please see my full disclosure policy here.
Do you have a Cricut? Have you thought about getting one- well if you have, you should! It's awesome! You can create and make any celebration exactly how you want it. I know you are probably saying, but it's so expensive. It's an expensive purchase, but it will save you money. Here is my daughters LEGO Unikitty Birthday Party that I created for her using my Cricut.
This post contains affiliate links which means I may make a small comission of any sale that is made by clicking on any of the products with no cost to you. Your support is greatly appreciated.

Bring on the Crafts — A Craft & DIY Blog Hop
On the first Friday through Sunday of each month, a group of DIY and crafty bloggers join forces to create a fun craft or DIY project to share that follows a monthly materials theme. Together, with hosts Marie from Elle Marie Home and Habiba from Craftify My Love, they share the #BringontheCrafts blog hop with you. August's theme is Cutting Machines! Each blogger chooses their own craft to make as long as they love it and it uses a Cutting Machine for the project.
Our August Co-hosts
Jenny at Cookies, Coffee and Crafts • Kim at Day to Day Adventures
Marie at DIY Adulation • Janet at Try It – Like It • Beverly at Across the Blvd
Join in on the fun! If you'd like to participate next month, you can request to join our Bring on the Crafts Facebook Group. Next month's theme is Wood!
Not a blogger, but a creative mind none the less!? Don't worry, Share your awesome creations in our Craft Cult Facebook Group. This is also a great place to ask craft & DIY related questions and find inspiration for your next project.
Now let's see all of those amazing Craft and DIY Projects!
Instead of giving you a tutorial today, I'm going to share how you can use your Cricut to create a memorable birthday party for anyone! When I started with my Cricut about 3 years ago, I had a Cricut Explore and just upgraded to the Cricut Maker. If your thinking about purchasing one I would recommend the Cricut Maker
because Cricut is constantly coming out with new blades and products for it.
Remember how I said it will save you money, all you need to create this party is card stock, poster board, crepe paper, paper straws, foam board, treat cups, shredded paper, glue and you can create a Unikitty Birthday Party (supplies are for all the Cricut projects). Plus you will have lots of fun creating all of these decorations.
Cricut Tutorials
7 Cricut Essentials You Must Have
How to Make a Fabric Banner with Cricut Maker
How to Use Cricut Iron On Vinyl
How to Use Cricut Pens and Writing Feature
I do a new Cricut Tutorial every month, so please sign up for the newsletter to get the latest in tutorials.
There is plenty of Lego Movie 2 Party Supplies
out there, but not LEGO Unikitty Birthday Decorations, so I created some of my own. Unikitty is so adorable and pink! My daughter just loves LEGOS and anything pink. My son also had a LEGO Movie 2 Party and this is his Awesome LEGO Movie 2 Party that I also did using my Cricut.
Birthday Party Themes Created with Cricut
Wild & Three Horse Themed Party
Ghostbuster Birthday Party
Race Car Birthday Banner
Cowgirl Birthday Board
Mickey and the Roadster Racers Photo Booth
For the Unikitty Party, I made a centerpiece, a backdrop for the party, a Unikitty Photo Booth Frame, a cake topper and a Happy Birthday Banner. For all of my kids birthday parties and themes I try to create practical awesome birthday parties that are creative and themed, but also planned on a budget.
Unikitty Happy Birthday Banner
For the birthday banner, I created a cloud in Cricut Design Space™ and did the letters in a pastel pattern. Since Unkitty lived on Cloud Cuckoo Land, it's perfect. My kids informed me of this as I made it and were super excited. At the beginning and end of the banner, I added Unikitty on a cloud. I used pink twine to string the birthday banner.
I used the extra crepe paper from the backdrop to create a rainbow backdrop behind the banner. I just cut the crepe paper strips and taped them to the shelf, then hung the banner on top of it. My daughter just loved it. I think this might be my favorite birthday banner yet. I found the Unikitty SVG on Etsy. My daughters smile made all my hard work worth it and I know it's a party she will always remember.
Unkitty Birthday Cake and Topper
The one thing my daughter asked for was a rainbow birthday cake. Now I dabble in cake and cookie decorating, but I'm no expert. Everything I have learned is from the Wilton How to Decorate Cakes and Desserts Kit
and watching Youtube videos. Seriously though, making and decorating your own cake is a huge budget saver. I bought the Wilton Easy Layers! 6 Inch (Set of 5)
and made the cake. Now this cake is small, so it will not feed a large party. It's perfect for the birthday girl to blow out candles on, but you will need more for a large party.
For the top of the cake, I made a large Unkitty and hot glued paper straws onto her. Then at cake time, I just added the Unikitty topper to the cake by pushing the straws in. Super cute right?
Unkitty Photo Booth Frame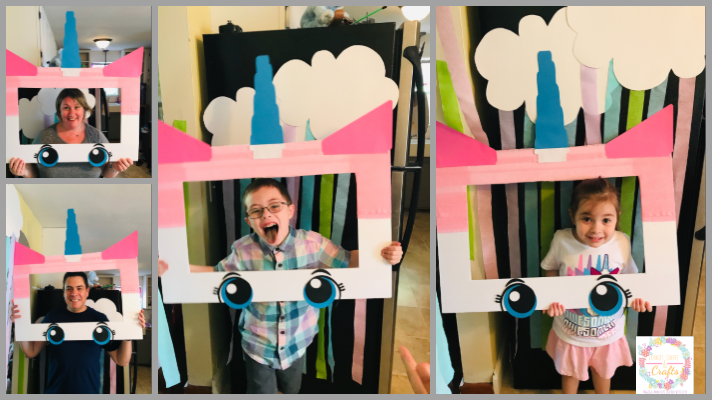 I just love photo booths or photo booth props and I make them for all of my kids birthdays. Did you know the easiest way to make a photo booth frame is with a *dollar tree foam board. Using my Cricut, I cut large pieces and made the photo booth. My daughter was so excited when she came home from preschool and saw it. Here is a step by step of how to make a Unikitty Photo Frame.
LEGO Unikitty Birthday Centerpiece
You are probably wondering what about the LEGOS or the LEGO Movie 2? No worries. I used the LEGO Movie 2 Paper plates, napkins for the cake and the treat cups for the centerpieces. For the centerpieces, I created Unikitty, a rainbow, and a cloud with the number 4 all out of card stock with my Cricut. Then I hot glued straws on the back to stand them up. In the bottom of the LEGO Treat Cups, I hot glued a small styrofoam ball to stick the paper straw into. Then I filled the treat cups with multicolored shredded paper from the Dollar Tree.
To add in more LEGOS, we put Unikitty LEGOS around the centerpiece. By the time I got to the pictures, the LEGOS were being played with and were somewhere in all the birthday fun.
Unikitty Rainbow Backdrop
Unikitty is all about glitter and rainbows and anything pink and being happy. I made a DIY Rainbow Party Backdrop for the photo frame and the party. Using my Cricut I created a **larger than mat cloud and created the top of the backdrop. Then I just hot glued on the crepe paper to make a rainbow off of the cloud. For the party backdrop, I added a large Unikitty in the center.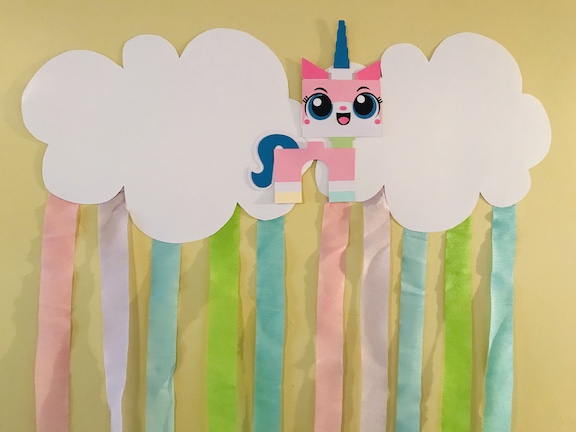 Are you thinking about party themes that you can create with a Cricut? I love creating signs, shirts, scrapbook pages, cards and so much more with my Cricut. It's an amazing cutting machine and does so much, the creative possibilities are endless.
You are invited to the Inlinkz link party!