Winter Dollar Tree Craft for your Door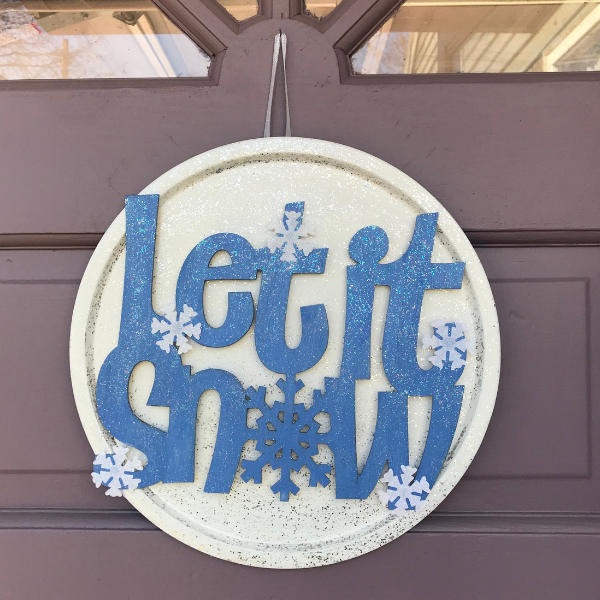 Note: As an Amazon Associate, I earn from qualifying purchases. If you click on a link from Amazon or another of my advertising affliates, I will earn a small commission at no additional cost to you. Please see my full disclosure policy here.
Now that the Christmas decorations are coming down, is your house feeling a little blah? What you need are some non Christmas winter decorations for your home. The Winter pizza pan door hanger is super easy to make with items from the Dollar Tree so it won't break the bank. I put up a few winter decorations, but this is my first time to decorate my doors for winter. Usually I leave up winter/Christmas themed wreaths until Valentines day. In four easy steps you can make this winter Dollar Tree craft for your home.
When I was looking for the Dollar Tree pizza pans, I couldn't find any. I went to every store in my area and came up short. If this happens to you, you can get the pizza pan that I used at Walmart. It was a !.87 (or something like that) so it's really only about 50 cents more.
This winter Dollar Tree craft is super simple to make and all you really need to know how to do is paint and hot glue. So if you can do that, then this winter pizza pan is for you! I love making pizza pan crafts so at the end of the post, I'm sharing all of my links to other pizza pan crafts that I have made.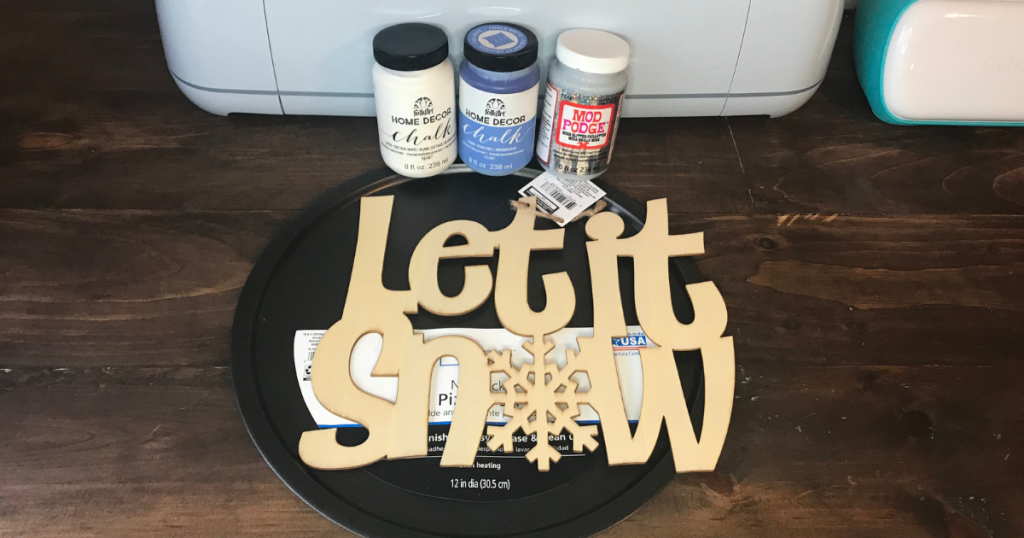 Winter Pizza Pan Craft Supplies
Pizza Pan
Hot Glue Gun
Wooden Let It Snow
Folkart Home Decor Chalk Paint in Blue Chill and Cottage White
Mega Glitter Silver Mod Podge
Sparkle Mod Podge
Chalk Brushes
Mod Podge Brushes
Let's Create a Winter Dollar Tree Craft
As I was creating this winter craft, my daughter was watching Frozen so this was definitely Frozen inspired. It would make a great decoration for winter and a Frozen birthday party. I was unsure what color to paint the let it snow, but the blue chill chalk paint just said Frozen to me, so I used it.
Step 1:
Paint the pizza pan with the Cottage White chalk paint and paint the Let it Snow with the Blue Chill chalk paint. Give each piece two coats and let them dry completely.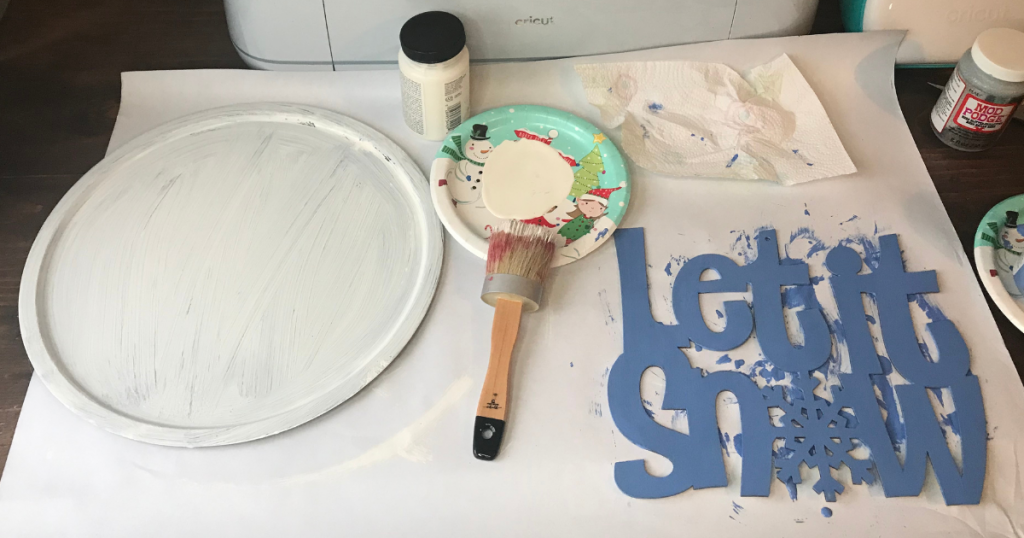 Step 2:
Seal the chalk paint with the Mod Podge. Cover the pizza pan with the Mega Glitter Silver Mod Podge and the let it snow with the Sparkle Mod Podge. In the Mega Glitter you will see large chunks of glitter, however the sparkle is like a fine glitter and just gives it a pretty shine. Wait about 20 minutes for the Mod Podge to dry and then apply a second coat. The Mod Podge brushes are a must for any crafter that uses Mod Podge. They make it applying it so easy.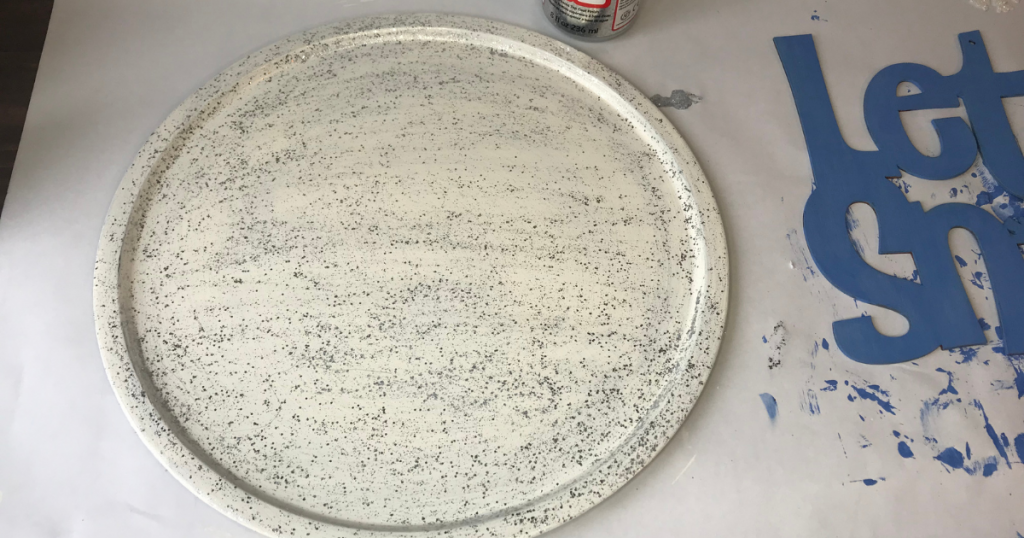 Step 3:
I found some leftover snowflakes from my reversible snowman/scarecrow and added them to the let it snow sign with hot glue.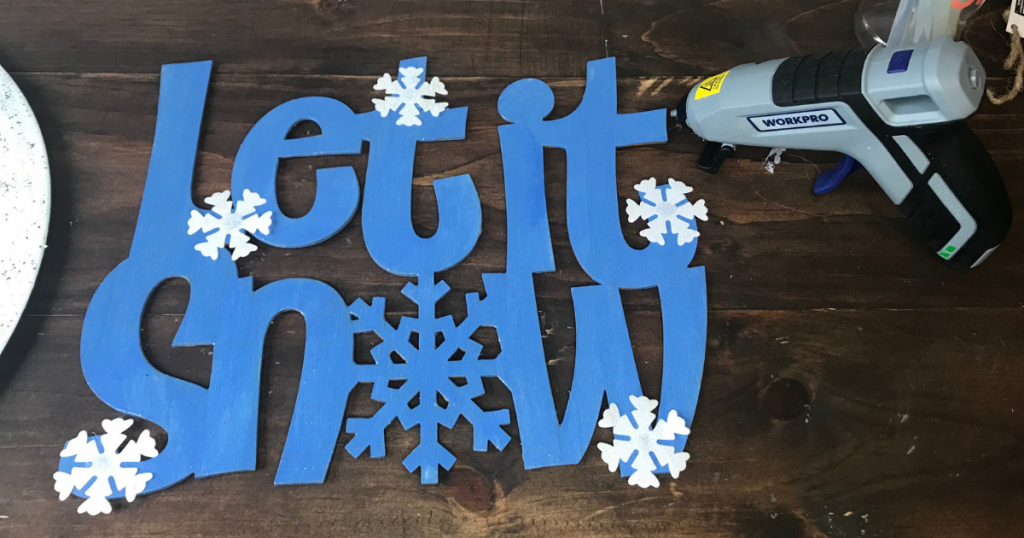 Step 4:
Hot glue the let it snow to the pizza pan and hot glue a ribbon on the back to hang it. I cut the ribbon about 8 inches long, folded it in half and glued the ends to the back of the pizza pan.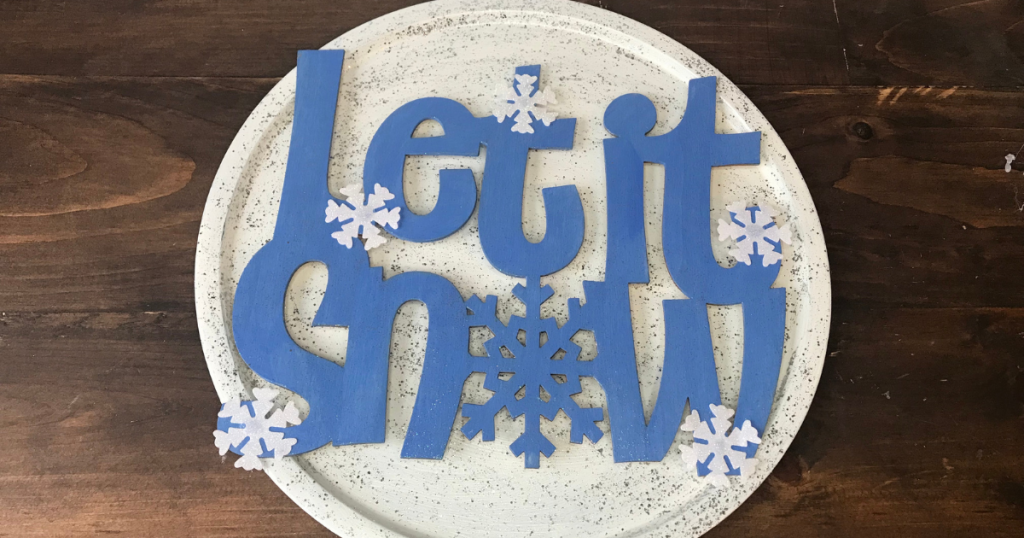 I'm so happy with how this looks hanging on my door that I need to make something else with a winter feel for my other door. I'm thinking white, blue and silver are my new go to's for non Christmas winter decor.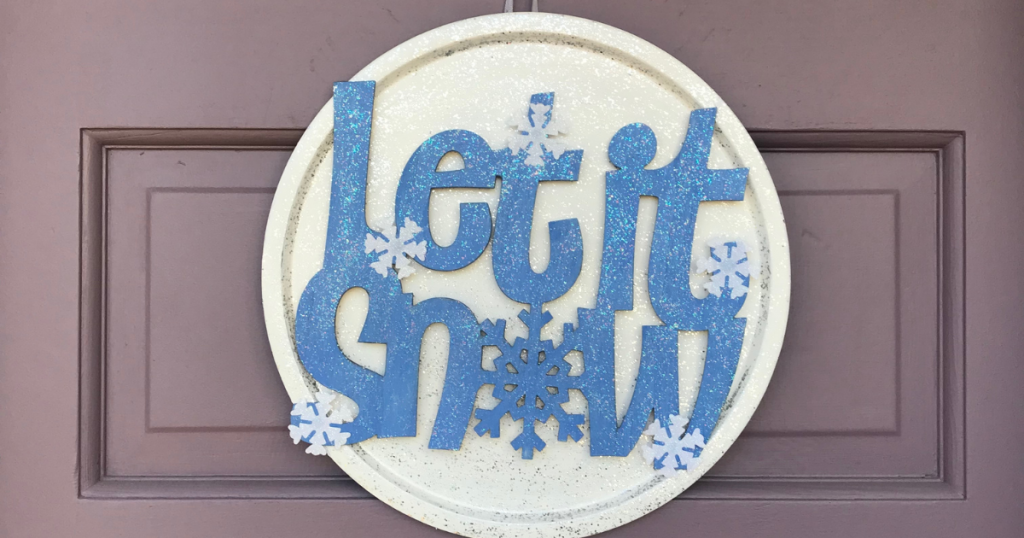 Dollar Tree Pizza Pan Crafts
Spring Pizza Pan Wreath
Summer Pizza Pan Wreath
Fall Dollar Tree Pizza Pan Craft
Pizza Pan Patriotic Tray
Sunflower Pizza Pan Door Hanger
How To Make a Christmas Pizza Pan Door Hanger